At some point before 3 p.m. Tuesday, Sayfullo Habibullaevic Saipov took the white Home Depot pickup truck he had rented in Passaic, New Jersey, and drove it across the George Washington Bridge into Manhattan.
It was a chilly evening and the streets were beginning to fill up with kids who had just been let out of school for Halloween.
Saipov, a 29-year-old Uzbek immigrant, headed south toward the West Side Highway cycle path, a tree-lined route along the Hudson River, officials said.
It was here he would commit what New York Mayor Bill de Blasio called a "particularly cowardly act of terror."
The suspect, an Uber driver who entered the United States in 2010, left the road and veered onto the cycle path near Houston Street, an area between the West Village and Soho districts of lower Manhattan, according to law enforcement officials.
He continued at high speed for almost a mile, officials said, striking cyclists and pedestrians and leaving a trail of debris and bodies in his wake. The rampage lasted for around 20 blocks and finished a few hundred yards from the 9/11 World Trade Center memorial.
Six people were pronounced dead at the scene and two died later, and a dozen more were injured during the assault. Five of those killed were Argentine and one was Belgian, according to officials from those countries.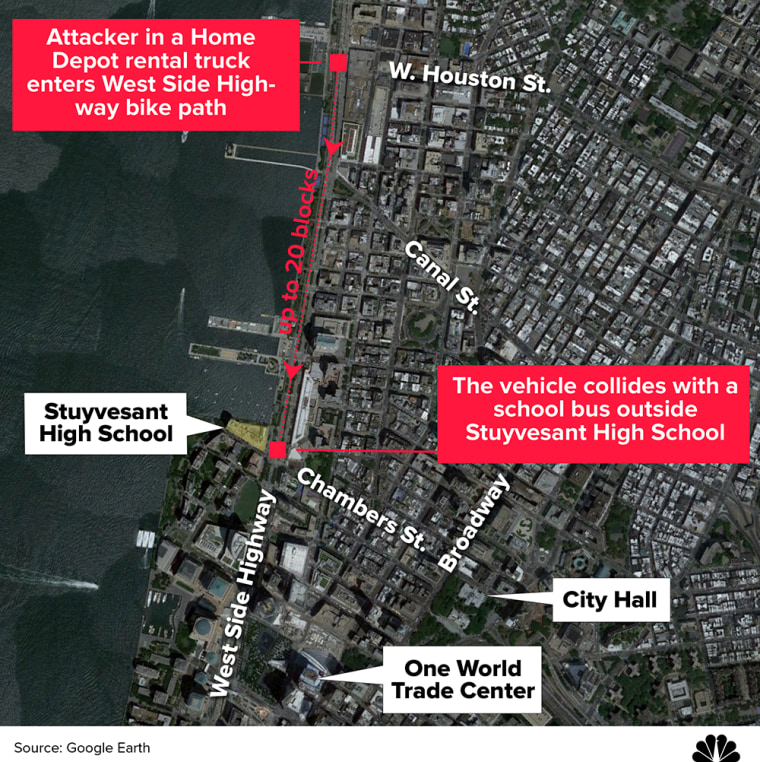 Investigators would later find a note that Saipov left in the truck, claiming he carried out the attack in the name of the Islamic State terrorist group.
As its caliphate crumbles in the Middle East, ISIS has been encouraging its sympathizers in the West to stay in their home countries, directing them to carrying out low-tech terror attacks using vehicles.
PHOTOS: Terrorist Truck Attack Shocks New York City
This latest example echoed other attacks in Europe — namely Barcelona, London, Nice and Berlin — where attackers have plowed vehicles through crowds of unsuspecting pedestrians.
New York Gov. Andrew Cuomo said it appeared to be the work of a "lone wolf."
Saipov only came to a halt after striking a school bus outside Stuyvesant High School on Chambers Street, injuring two adults and two children on board, according to police.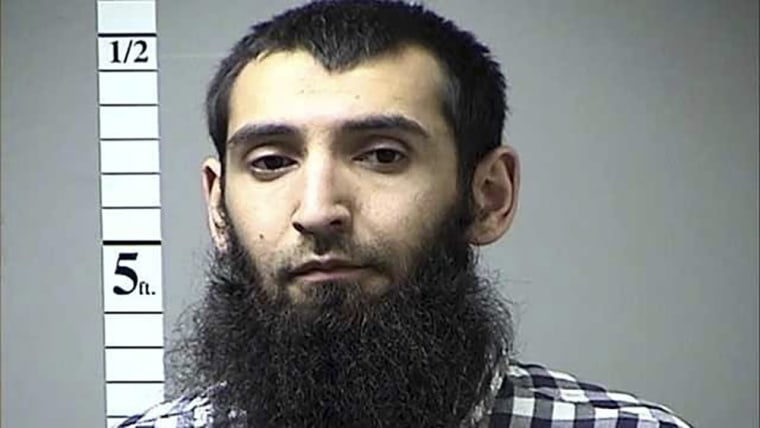 Officials said that, with his truck wrecked, Saipov jumped out and shouted "Allahu Akbar" — meaning "God is great" in Arabic — while brandishing what was later found to be a pellet gun and a paintball gun.
A uniformed police officer, who was on patrol assigned to the 1st Precinct, confronted Saipov and shot him in the abdomen. He was detained and taken to hospital.
It was not immediately clear why Saipov moved to the U.S. in 2010.
He has lived in Cincinnati and Florida, according to friends, and was a commercial truck driver who registered a pair of businesses in Ohio — Sayf Motors Inc. in 2011 and Bright Auto LLC in 2013.
He was issued traffic citations in Maryland in 2011, in Pennsylvania in 2012 and 2015 and in Missouri in 2016, where records showed he was driving a tractor-trailer.