The Uzbek immigrant accused of renting a pickup truck and turning it into a killing machine was hit with federal charges Wednesday in connection with the deadliest terrorist attack in New York City since Sept. 11, 2001.
Sayfullo Habibullaevic Saipov, 29, who police say was inspired by the Islamic State terrorist group, or ISIS, was charged by the U.S. attorney's office with one count of material support to a terrorist organization and one count of violence and destruction of a motor vehicle. He said almost nothing at his initial court appearance Wednesday night, which he entered in a wheelchair.
After Tuesday's bloody attack in lower Manhattan, which killed eight people and injured a dozen more, Saipov told the FBI that he "felt good about what he did" and that he wanted to kill as many people as possible, the criminal complaint alleged.
Saipov told the FBI that he planned to plow the pickup into pedestrians on the West Side Highway and then drive to the Brooklyn Bridge and strike more people, according to the complaint. He said he intended to festoon the truck with ISIS flags but "decided against it because he did not want to draw attention to himself."
The court records said, among other things, that Saipov's cellphone was crammed with 90 gruesome ISIS videos and thousands of images containing ISIS-related propaganda, that he had been planning the mayhem for about a year and that he rented the truck from a Home Depot in Passaic, New Jersey, on Oct. 22.
Saipov wanted to "practice making turns with the truck in advance of the attack," said Joon Kim, the acting U.S. attorney for Manhattan.
Just before Kim spoke, the FBI announced that it was seeking a second Uzbek national, identified as Mukhammadzoir Kadirov, 32, in connection with Tuesday's attack. A short time later, the FBI said it had found Kadirov, whom it didn't describe as a suspect, but it still urged anyone with information about him to call 1-800-CALL-FBI (1-800-225-5324).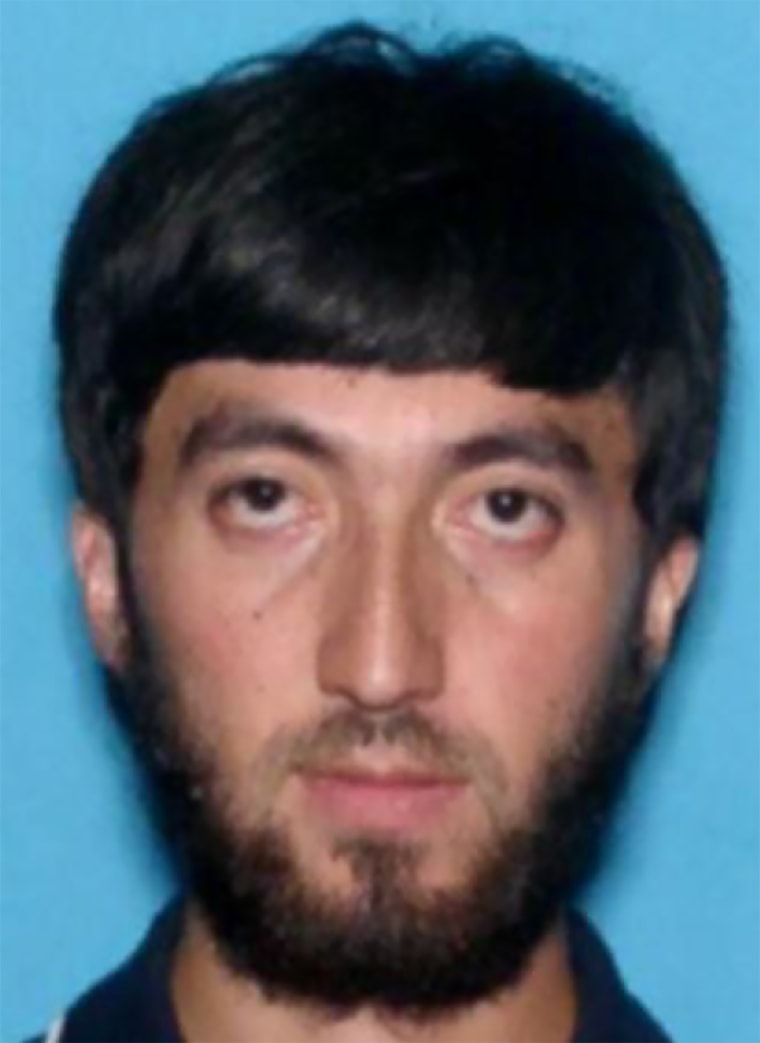 The charges against Saipov came just hours after the top New York police anti-terrorism official said the suspect had been following the IS playbook "to a T" when he plowed the pickup into bicyclists and pedestrians.
"He did this in the name of ISIS," John Miller, the deputy commissioner for intelligence, said at a briefing. "He seems to have followed the regimen prescribed."
Miller said investigators reached that conclusion after detectives tried to question Saipov at Bellevue Hospital and recovered a note written in Arabic that he said revealed Saipov's allegiance to ISIS.
NBC News reported earlier that the note found in Saipov's rented pickup said, "ISIS Lives Forever."
"It appears he had been planning this for a number of weeks," Miller said. "He appears to have followed, almost exactly to a 'T,' the ISIS instructions on how to carry out an attack." But officials said there was no indication that Saipov was in direct contact with ISIS.
Related: Trump Says Gitmo Could Be Right Place for NYC Terrorist
Saipov, who came to the United States in 2010 and lives in Paterson with his wife, wasn't on the New York Police Department's or the FBI's radars, Miller said. He said they suspected that "he will have some connectivity to subjects who were under investigation."
Saipov was questioned in 2015 by an investigator with Homeland Security Investigations in New York because he was linked to two men who drew the attention of federal agents for allegedly having overstayed their tourist visas, a senior law enforcement official told NBC News.
New York Gov. Andrew Cuomo said earlier that investigators believe Saipov was a "lone wolf" and not part of a wider plot.
Related: Suspect's Path From Truck Driver to Terrorist Suspect
Investigators don't know for certain why Saipov targeted that section of the West Side Highway. But he appears to have "self-radicalized" after having just recently started consuming ISIS propaganda, and he appears to have been in the area before, a federal law enforcement official told NBC News.
Carlos Batista, one of Saipov's neighbors in Paterson, said he'd seen the suspect and two friends driving around in a rented Home Depot truck four or five times in the last three weeks.
"I did find it a little suspicious," said Batista, 23. "You know, you got a truck box vehicle, and you're not doing anything with it. You're not doing construction. ... You're just getting in it with two other guys every day, every other day for the past three weeks and you come back, same clothes, not even dirty or anything. It's a little weird."
Saipov, a truck driver who most recently drove for Uber, had previously lived in Tampa, Florida, and the Cleveland suburb of Stow, Ohio, which was reeling Wednesday from revelations that one of their own was accused of terrorism.
"This is like a nightmare for us," Mirrakhmat Muminov, an Uzbek community leader, told NBC News. "I didn't see clear signs of him becoming a terrorist. He was OK in the beginning. He wasn't religious at the time, ... but then I had the impression he was a little aggressive."
Muminov, who said he met Saipov at their local mosque, said Saipov lived in the area for a little more than two years before moving to Florida. "He didn't even say goodbye," Muminov said.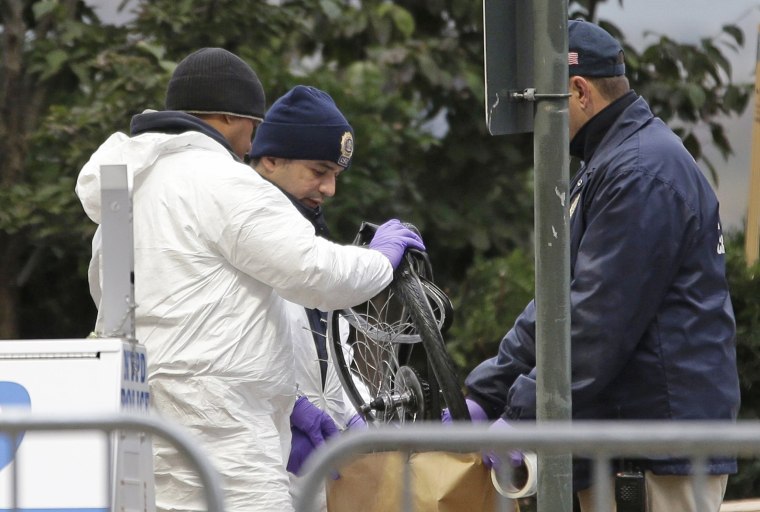 Then he began hearing through the grapevine that Saipov was having money trouble, that he had blown out his truck engine and that he'd lost his job.
"He called a couple of months ago and asked me if I had an insurance agent making cheaper insurance," Muminov said. "He said his insurance went up because he had a ticket, and I said, 'Sorry I can't help you.' I knew he was aggressive and not loyal, so I just ignored him."
Related: Five Friends Were on Reunion in NYC When Terrorist Struck
Much of lower Manhattan remained an armed camp Wednesday.
Miller said Saipov took off from the Home Depot at 2:06 p.m. Tuesday and crossed the George Washington Bridge into Manhattan 37 minutes later.
At 3:04 p.m., Miller said, Saipov steered the pickup into the bike lane, and "he appears to target bicycle riders and pedestrians."
"That ends when he collides with the school bus," Miller said.
At that point, Saipov hopped out of the smashed pickup and yelled "Allahu Akbar," or "God is great," Miller said. He was armed with a pellet gun and a paint ball gun and had several knives in the vehicle, Miller said.
It was Officer Ryan Nash, 28, a five-year veteran, who stopped Saipov in his tracks by shooting him in the abdomen, Miller said.
Cuomo said: "He was a hero."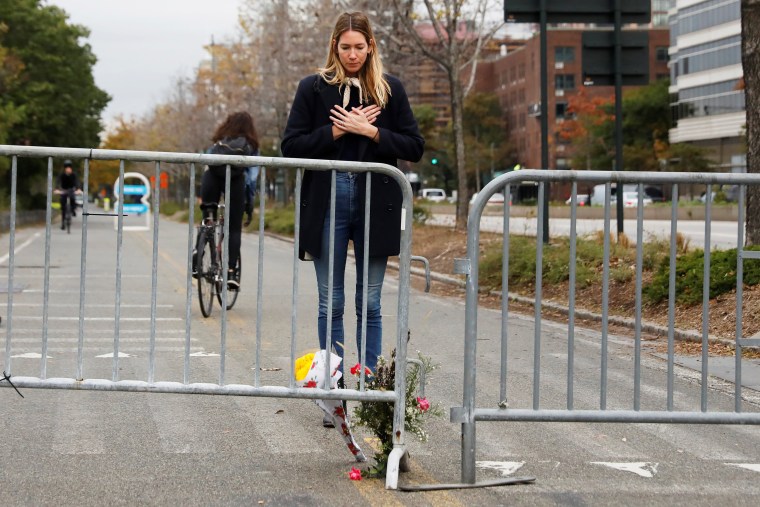 Nine of the injured remain in the hospital, four of them listed as critical but stable, New York City Fire Commissioner Daniel Nigro said. One of the survivors underwent a "bilateral amputation," he added without elaborating.