There is a simple reason why investigators were able to quickly confirm that the Uzbek immigrant charged with the deadly pickup-truck attack in New York City was under the influence of the Islamic State — his iPhone wasn't password protected.
So detectives had no problem finding the ISIS propaganda and gruesome videos on Sayfullo Habibullaevic Saipov's cellphone or figuring out who he called Tuesday before allegedly embarking on the deadliest terrorist attack in New York City since Sept. 11, 2001, law enforcement sources told NBC News.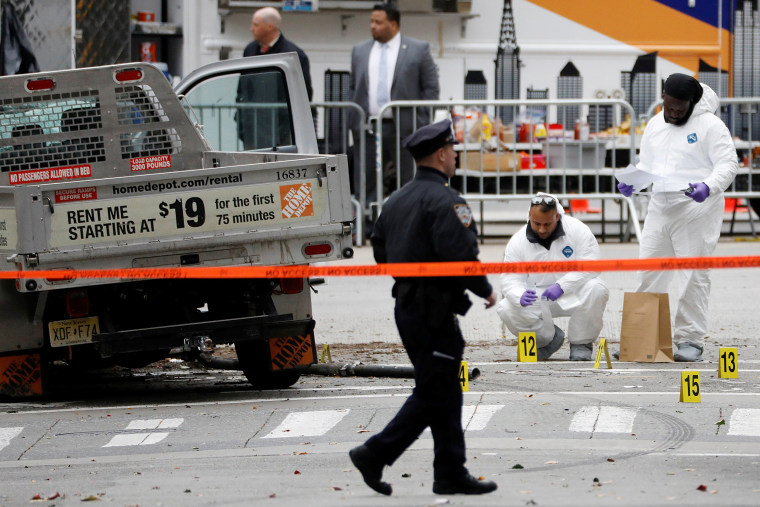 Those contacts are now being questioned by investigators who have not ruled out the possibility that others knew what Saipov was up to when he rented the pickup from a Home Depot in Passaic, New Jersey, on Oct. 22, the sources said.
Saipov, who is 29 and lived in Paterson, New Jersey, was hit with federal charges on Wednesday for the bloody attack in lower Manhattan that left eight dead and a dozen more injured.
The rampage ended when Saipov was shot in the abdomen by New York City police Officer Ryan Nash.
An "ISIS lives forever" note was found in the smashed truck and the suspect later told investigators "that he felt good about what he had done," the criminal complaint states.
ISIS has claimed credit for the carnage and called Saipov a "soldier of the Islamic State" without offering any proof.
Federal investigators, however, say Saipov was sucked into the fanatical group's way of thinking several years after he arrived in the U.S. in 2010.
Related: New York Terrorist Attack: Suspect Hit With Federal Charges
Saipov himself told detectives he became radicalized by watching ISIS videos on his phone and was inspired by ISIS leader Abu Bakr al-Baghdadi's call for revenge on the U.S., the federal complaint states.
Brazenly, Saipov asked investigators if he could display the ISIS flag in his hospital room, according to the complaint.
That request was denied and Saipov is now recovering from his gunshot wound in federal lockup and awaiting trial on charges of material support to a terrorist organization and violence and destruction of a motor vehicle.
President Donald Trump has repeatedly called for Saipov to get the death penalty. Former federal prosecutors say the president's comments could actually undermine any attempt to sentence him to the death penalty.
In Saipov's hometown of Tashkent, his sister Umida Saipova told Reuters she hoped Trump would ensure that her brother got a "fair trial" and insisted he was "brainwashed."
"I don't know, honestly, how long it will take for his head to get rid of that poison, but I'm sure he will come to his senses, God willing," she told Radio Free Europe.
Saipova said she spoke to him the day before the attack and "he was in a good mood."
"It was a usual, good conversation," she said
Saipov's mother, Mukaddas, told Reuters she last saw her son in August when she visited the U.S. and word of the attack came as a "total shock" to the family. She said he missed Tashkent but never complained about life in America. And she insisted he was no religious fanatic.
"No, he was not religious and never visited mosques because he was always busy with studying and then working," his mother told Reuters.