Five longtime friends visiting from Argentina, a Belgian woman, and two New York-area men were killed Tuesday when a driver in a rental truck plowed through a scenic bike path along Manhattan's West Side.
The New York Police Department released the identities of all eight victims Wednesday afternoon. Their ages ranged from 23 to 48 years old.
The five Argentines were celebrating the 30th anniversary of their high school graduation, Argentina's minister of foreign affairs said in a statement on Twitter.
Ann-Laure Decadt, 31, of Belgium, was the only female victim who died.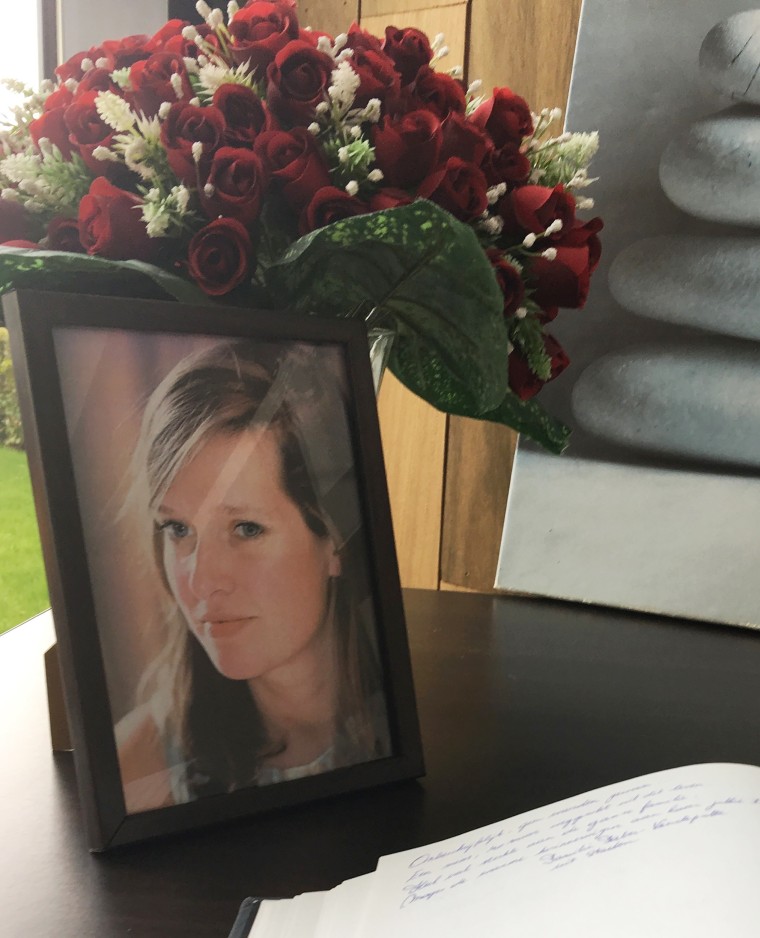 In a press conference on Wednesday, New York City Mayor Bill de Blasio said the six foreigners would be remembered as locals.
"Six of them came from other nations because they saw New York as a special place to be, and we now and forever will consider them New Yorkers," he said. "They shared this tragedy with us. We will remember them as New Yorkers."
The Argentines were identified as Hernán Diego Mendoza, Diego Enrique Angelini, Alejandro Damián Pagnucco, Ariel Erlij and Hernán Ferruchi. A sixth Argentine, Martin Ludovico Marro, was injured and is recovering in the hospital, the foreign minister said.
Their alma mater, La Comunidad Educativa del Instituto Politécnico in Rosario, in central Argentina, confirmed on Facebook that the victims graduated in 1987 and expressed "sincere condolences."
According to Argentine newspaper Clarín, the group had planned on celebrating in New York and then reuniting in Rosario with more alums who couldn't make the trip.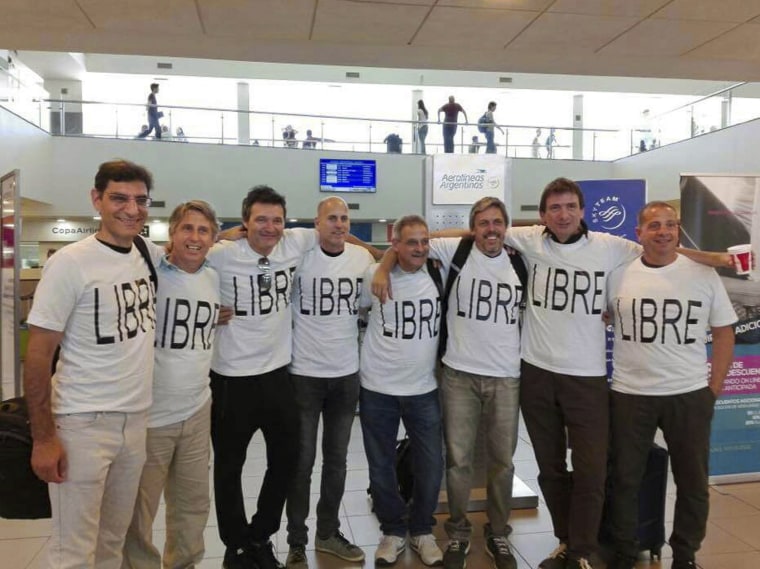 In total, 10 friends had gone to New York, the paper reported.
One survivor who wasn't hurt, Ariel Benvenuto, called his wife, Cecilia Piedrabuena, back home in Argentina around 5:45 p.m. ET to tell her something serious had happened in New York, Piedrabuena told LT8, a radio station in Rosario. The news hadn't yet been publicly reported in Argentina.
"The 10 of them were on bicycles, chatting in groups of two. He was closer to the center. All of those on the right were run over," Piedrabuena told the radio station. "He felt a vehicle speed up and go over his five friends."
Piedrabuena said it was the first time the group traveled together, and in addition to celebrating the anniversary of their graduation, they were visiting two friends who lived in New York.
"They were 10 high school friends that would always get together. It's terrible what happened," she said.
President Donald Trump said Wednesday that he spoke with Argentina's president and expressed his condolences.
'If there was one guy that the terrorist was going to kill, it wouldn't be my son'
The two Americans killed were Darren Drake, 32, of New Milford, New Jersey, and Nicholas Cleves, 23, of New York.
Drake, who was run over on his bike, was a program manager at Moody's Analytics and a graduate of Rutgers University, his distraught father, Jimmy Drake, told NBC New York.
Having just finished his first master's degree and started in on a second master's in management information systems, Drake had recently decided to focus on his health, his father said. He had had weight-loss surgery and had lost nearly 100 pounds. To stay fit, he was biking more than 25 miles a day, Jimmy Drake said.
Drake would step away from work for 10 or 15 minutes to get some biking in, Jimmy said.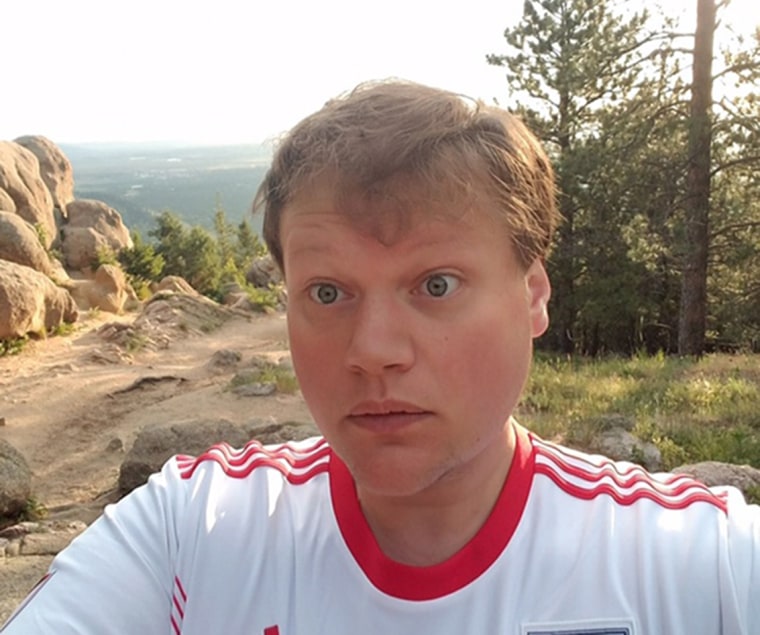 "When normal people take a coffee break, he took a bike break," Jimmy said. "I said, Darren, don't ride the bike in that lane because your boss is going to get mad. He said, Dad, these people go out on smoke breaks, they go on coffee breaks."
Drake lived with his parents and told his father Tuesday morning before leaving for work that he had so many meetings, he didn't think he'd get his bike break in that day. But committed to his "lifestyle change," he made the time to step away from his desk, Jimmy said.
"He'd ride for 10 minutes. That was all it took," he said.
Drake was the former president of the New Milford Board of Education and was kind to everyone, his father added.
"If he was a drug addict or something like that, you could understand early death, but this kid went to mass, and if there was one guy that the terrorist was going to kill, it wouldn't be my son. My son wouldn't swat a fly. He'd make me do it!" Jimmy said.
"He had everything going for him," he said through tears.
Tuesday's terror attack is the deadliest in New York City since Sept. 11, 2001. In addition to the eight killed, about a dozen were wounded.
Related: Note About ISIS Found in Terror Suspect's Truck, Sources Say
Belgium's deputy prime minister and foreign affairs minister Didier Reynders tweeted in French that in addition to the woman who died, three other Belgians had been hurt and were undergoing surgery.
The suspect in the attack, Sayfullo Habibullaevic Saipov, 29, is an Uzbekistan native who came to the U.S. in 2010, officials said. Authorities say he mowed over several people in the bike path and then crashed into a school bus and shouted "Allahu Akbar," Arabic for "God is great," before he was shot and wounded by police.
De Blasio called the attack "an act of terror" Tuesday and said it was "aimed at innocent civilians, aimed at people going about their lives who had no idea what was about to hit them."
Related: New York Officials, Residents Say They Won't Be Intimidated by Terror
"We know that this action was intended to break our spirit," the mayor said. "But we also know that New Yorkers are strong, New Yorkers are resilient, and our spirit will never be moved by an act of violence, an act meant to intimidate us."