The line started just after 6 a.m. Monday outside the Montgomery County, Md., health department office in Silver Spring, as people trying to get health insurance joined the 11th-hour deluge on the last day to sign up under the Affordable Care Act.
There's a huge last-minute crush of people signing on nationally as Healthcare.gov froze under the pressure, but nowhere like in Maryland, where the state-run exchange has been a failure from the beginning, thwarting all but the most determined comers. Maryland officials embraced Obamacare with enthusiasm, and were among the first to announce they would run their own exchange.
But it went downhill from there. The Maryland state exchange signed up just 49,000 people in one of the most liberal states in the union, and people have been waiting in long lines to try to join them. The state legislature is investigating how things got so bad, and the board that runs the exchange has decided to dump the entire thing for next year and instead buy the same technology that Connecticut's far more successful website is using.
That change won't come in time for Ava Esteban of Hyattsville, Md., who was sitting in front of a frozen computer screen along with a handful of other applicants waiting for help from certified navigators working for the county. "I created an account Thursday," Esteban said, speaking softly in Spanish. "But when I came back this morning, we couldn't do anything."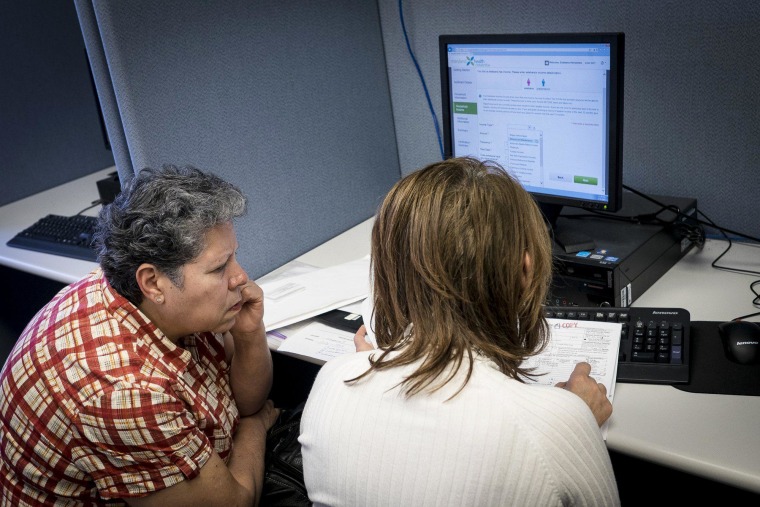 Esteban, a self-employed housekeeper, lost her health insurance a year ago when her husband lost his full-time job and the coverage that went with it. She had been waiting for her chance to sign up for the new exchanges made possible by the 2010 Affordable Care Act, and she is among the millions of Americans who say they want health insurance if they can possibly get it.
"It's important if you get sick," said Esteban as she clutched a sheaf of W-2 forms, her passport and her husband's, and other documentation needed to sign up. But the website was frozen.
The federal website, HealthCare.gov, also stumbled several times Monday as million rushed to get signed up on the last day possible in 2014. It went offline for several hours Monday morning and froze again for many users Monday afternoon, a worrying reprise of the disastrous October rollout when almost no one could sign up.
Federal Health and Human Services Department officials say 8.7 million people visited the website over the past week, and 2 million on Monday alone as of 3 p.m.. They say 6 million people had signed up for private health insurance on the site as of mid-month. The federal government runs the sites for 36 states; the rest are operating their own.
Some states and the federal government have offered a break to people trying to sign up in the last-minute crush. In both cases, people who have started the process may continue the enrollment past midnight Monday.
Even some successful states, like Connecticut, offered a last-minute break. Anyone who calls the AccessHealthCT number by midnight Monday can get in line, says the exchange CEO Kevin Counihan. "All messages left before midnight, March 31st will be considered as meeting the enrollment deadline," Counihan said in a statement.
"We continue to see crushing interest in healthcare, with consumers literally lining up."
At the Silver Spring office, country health officials were asking people to leave their names and numbers, rather than wait for help that would not be coming that day.
"We have got too many people waiting here today to help anybody else," said Vineda Myers, who is helping triage visitors crowding into the small waiting room at the county health department office.
"We will call them back after tomorrow and make an appointment" to sign them up, said Mary Anderson, a spokeswoman for the Montgomery County Health and Human Services Department.
Last week, the line to get signed up overflowed the small building and spilled out into the parking lot. "Cars were everywhere," said Anderson.
When residents of the nearby neighborhood started complaining about vehicles parked in front of their houses, county officials invested in a roll of pink numbered paper tickets and told people they could leave and come back later, when their turn would be more likely to be called.
"We can take care of 150 people today," Dom Terry, a security guard at the facility, told a new customer who walked in and gawked at the overflowing waiting room. Another room next door was also filled to overflowing.
As of lunchtime, navigators in a small room with seven computers had gotten through 28 clients.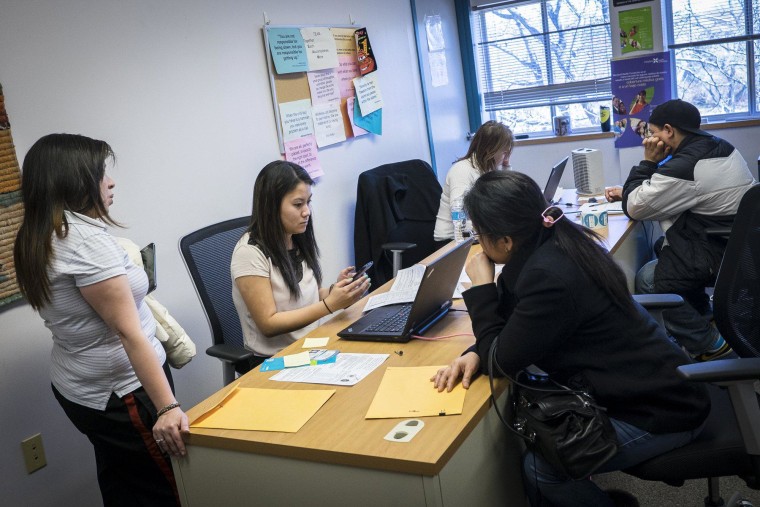 One of them was Gumercinda Santos. She's 72 and retired, but may not be eligible for Medicare if she hasn't worked in the United States and paid taxes for at least five years, Anderson explained. "I have never had health insurance before," Santos said, but she added that she is confused about the difference between Medicare and the newly available insurance on the exchanges.
"We'll find a way to help her," Anderson said, putting Santos gently into a chair to wait.
Some of the woes for both the federal and the Maryland state website seemed to be due to demand; the Obama administration and supporters of the health reform law have been waging a huge public relations effort to get people signed up, flooding social media, entertainment websites and traditional news outlets with ads and announcements.
Both President Barack Obama and first lady Michelle Obama have been making appearances and offering interviews, including a high-profile appearance by the president on the spoof web-based talk show "Between Two Ferns."
In the last week or so, the administration has been focusing on Hispanics, with Spanish-language outreach. It appears to be working, said Myra Alvarez, assistant director of the Office on Minority Health at HHS.
"We continue to see crushing interest in healthcare, with consumers literally lining up," Alvarez told a news conference.
"I had to choose between health insurance and my home. I chose my home."
White House spokesman Jay Carney said the pile-on is vindication of the administration's steady support of the health insurance exchanges despite criticism from supporters and detractors alike. "No one expected us to come back from the brink, but we have," Carney told reporters Monday.
For Nancy Beigel of Beltsville, Md., perservering through all the delays paid off. Beigel, 55, who runs a cleaning service, said she dropped health insurance in 2003, when her monthly premium shot up to $650 a month.
"I ran up credit card debt and I emptied my savings account trying to keep up," Beigel told a news conference Monday morning. "I had to choose between health insurance and my home. I chose my home."
Beigel got signed up for federally subsidized health insurance in January.
"I was literally counting the days until the Affordable Care Act started," Beigel said, bursting into tears.
Esteban was still waiting, hours later. "Luckily, I am patient," she said, smiling. "I understand that these things take time."