ROSEBURG, Oregon — The debate over whether students or teachers carrying concealed weapons could have averted — or at least diminished — this week's tragedy at Oregon's Umpqua Community College has intensified in the aftermath of the deadly shooting here on Thursday.
By Friday morning, social media sites and political talk shows were buzzing with accusations by gun rights advocates that the rural college was effectively a "gun-free zone" due to a school security policy that they said flew in the face of state law allowing permit holders to carry concealed weapons on campus.
Backers of tighter gun controls pointed out that Oregon is one of just eight states that legally permit concealed weapons to be carried on campus and that the UCC security policy allowed users to carry weapons "expressly authorized by law." They in turn charged that gun control foes were trying to steer the conversation away from the latest in a series of deadly school shootings.
UCC officials, who might have been able to arbitrate the dueling claims, could not be reached for comment Friday.
That left John Parker standing squarely in the middle of the rhetorical hurricane — and not bothering to duck for cover.
The 36-year-old Air Force veteran became the human face of the concealed carry debate by giving numerous network interviews Thursday in which he said that he had his handgun with him on campus that morning but was not in a position to use it — he was locked down in the school's veterans center several hundred yards away from the science hall where the shooting took place.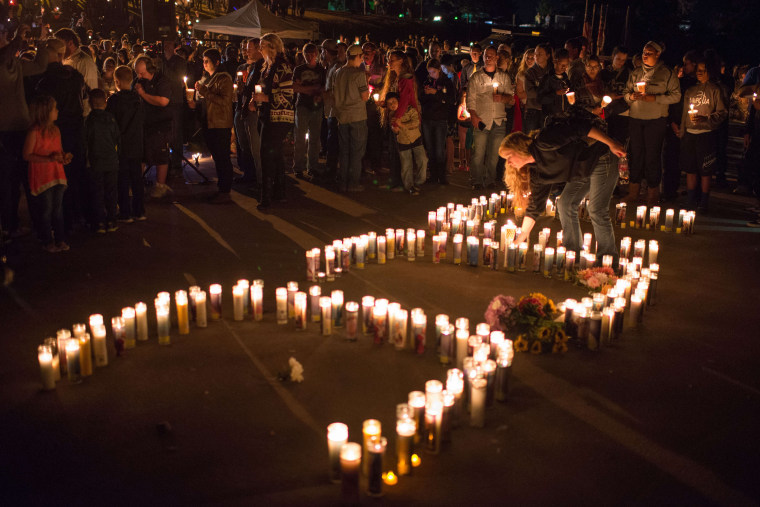 Thinking Parker might be able to clear up the confusion about the UCC policy on concealed weapons, NBC News paid a visit to his home on Friday morning.
While he generously shared his views about guns in general and the politicization of a debate that he said should be focused on mental health — not the "perverted fear of an inanimate object" — Parker said he had no idea what the UCC policy is on concealed carry and hadn't bothered to check.
"I don't care what the policy is," he said. "I know what the law is."
Parker says his right to carry a gun wherever he pleases derives not just from the 2nd Amendment to the U.S. Constitution, but from Article 1, Section 27, of the Oregon Constitution, which states, "The people shall have the right to bear arms for the defence of themselves, and the State, but the Military shall be kept in strict subordination to the civil power."
Parker also obtained a concealed carry permit, which he characterized as having "purchased my rights back from the federal government."
With the permit, Parker said he had no doubt that he had the right to carry the weapon onto the UCC campus and was only sorry that he didn't have the opportunity to use it.
Oregon is one of just eight states that allow carrying of concealed weapons on campus, according to the National Conference of State Legislatures.
The state has had its share of fiery debates when it comes to enacting gun legislation or policy — largely dividing on the issues between more urban coastal areas and rural areas to the east, which are home to a large number of hunters.
But even within individual communities, views on gun ownership stir emotions. UCC itself had in recent months considered hiring an armed security guard — a proposal that essentially divided the student body in two — before ultimately deciding against it, the school's retired president said.
The fact that so much confusion surrounds Oregon's laws regarding concealed carry is no accident, according to Kevin Starrett, executive director of the Oregon Firearms Education Foundation.
Oregon had a ban on carrying guns on campus dating to the 1970s, but it was challenged in 2009 by a Marine veteran attending Western Oregon University who was arrested and suspended for possessing a firearm in a public building.
Starrett's group filed a lawsuit on his behalf, arguing that the Oregon University System, which includes Western Oregon University, lacked authority to alter state law allowing licensed gun owners to carry their weapons on public property.
The case eventually landed on the docket of an Oregon Appeals Court, which agreed with the plaintiffs and ended the ban.
Starrett told NBC News Friday that while the court's ruling didn't directly address community colleges like UCC, "It's doubtful that community colleges could make the case that they have the right to do it (ban guns on campus)."
Much of the remaining confusion about whether licensed concealed carry is allowed, Starrett said, arises from the fact that many schools, fair boards and other entities continue to post signs and adopt policies either stating or strongly implying that guns are not allowed.
For example, he said, Oregon's State Board of Higher Education responded to the court loss by adopting a new policy in 2012 that banned guns from dormitories, buildings, classrooms and sports arenas. But as individuals challenge those policies, he said, administrators backed down, preventing a test case that could have drawn a bright legal line from being litigated.
"As a result, I think it will be nebulous for a long time until not only someone is willing to fight it or the school takes a hard stance and decides to fight it," Starrett said.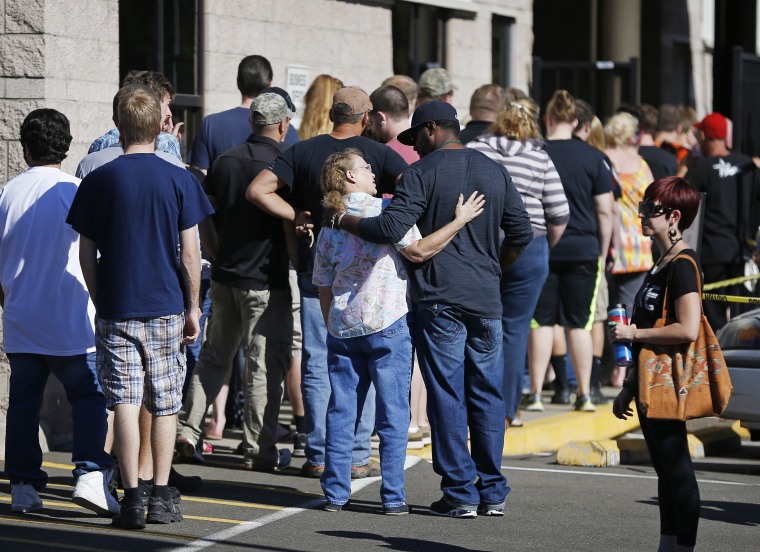 Two officials with the State Board of Higher Education did not respond to requests for comment from NBC News.
Regarding UCC's policy on concealed carry, Starrett said, that may explain why gun control advocates could have gotten the impression that it was a "gun-free zone," despite law to the contrary.
Umpqua Community College says "possession, use, or threatened use of firearms ... except as expressly authorized by law or college regulations, is prohibited," according to its website.
Starrett said arguments — which his group has encountered in the past — that state statute doesn't expressly allow guns on school campuses are incorrect. "Most students see the rules and they just think that's what it means and they obey them," he said.
Penny Okamoto, executive director of Ceasefire Oregon, said she, too, is not clear what the UCC's policy on carrying concealed weapons on campus or how it was enforced.
But she said the debate over the ins and outs of concealed carry policy misses the broader point: that putting more guns on campus is not an effective way to prevent or limit violence.
"We can argue that until we're blue in the face," Okamoto said. "It's an intellectual argument, a way for the gun lobby to feel good about themselves."
"But they are in no way deterring these shootings," she said. "It's a way to obfuscate what we really need to talk about, which is how guns are completely out of control."