The mother of the gunman who killed nine people in a rampage at an Oregon community college wrote in online postings years ago that she was a gun enthusiast and her son had a form of autism.
Christopher Harper-Mercer, 26, killed himself as police responded to the scene of the shooting at Umpqua Community College in Roseburg on Thursday, authorities have said.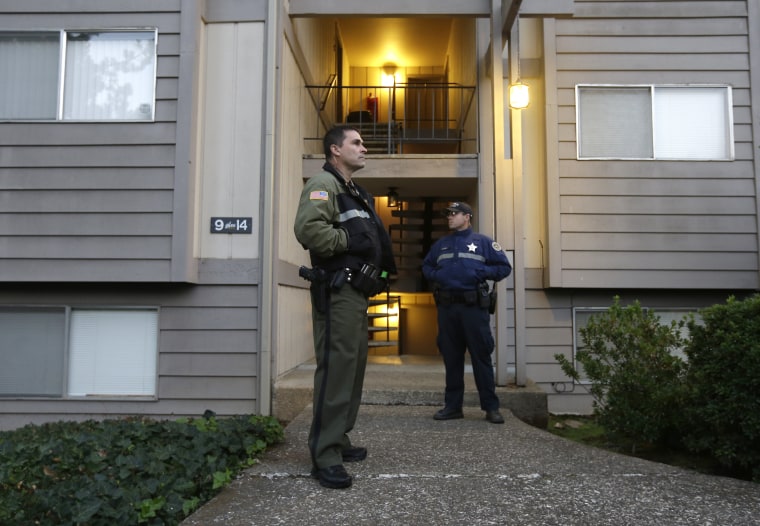 His mother, Laurel Harper, wrote about her passion for firearms in online postings to Yahoo! Answers three years ago.
"I keep all my mags full. I keep two full mags in my Glock case. And the ARs & AKs all have loaded mags," she wrote, referring to magazines of ammunition, a Glock handgun and military-style rifles.
"No one will be 'dropping' by my house uninvited without acknowledgement," the post went on to say. Another post criticizes another person over poor judgment using "airsoft" pellet guns, and emphasizes gun safety.
Related: Oregon School Shooting Victim 'Doesn't Hate' Gunman
Harper did not return phone calls and emails from NBC News. The email address used in some of the postings appears to be linked to her.
In another post nine years ago about autism, Laurel Harper said: "My son has Asperger's. He's no babbling idiot nor is his life worthless. He's very intelligent and is working on a career in film making."
Asperger's syndrome is the name sometimes used for a form of disorder on the mild end of the autism spectrum. Many of those posts offered advice for parents of children with autism.
Experts note that people with autism are no more violent than anyone else. "They have no higher rate of committing crimes," Dr. Andrew Solomon, an expert on autism and author of "Far From The Tree," said.
Alexis Jefferson, a nurse who said she had worked with Laurel Harper in 2005 and remained friends with her on Facebook, recalled her seeming disheartened over her son's issues.
"I know sometimes she sounded very low and then sometimes she'd say, 'Oh, my son, I'm having problems with my son,'" Jefferson told NBC News on Tuesday.
A note was found at the scene of the rampage in which Christopher Harper-Mercer said he was "in a bad way" and was depressed, law enforcement officials said. His mother told investigators that he struggled with mental health issues, The Associated Press reported.
Related: Gunman Spared 'Lucky One' to Deliver Message to Police
Authorities recovered 14 firearms in all from the home Christopher Harper-Mercer shared with his mother and from the scene of the Thursday's shooting. All were legally purchased.
Neighbors of the mother and son from when they lived in California told The Associated Press that Laurel Harper and her son went target shooting together.
In one of the online posts, Harper discussed her passion for firearms that she shared with her son.
"My son ... has much knowledge in this field," one post said.
Investigators have not released a motive in the killings. President Barack Obama plans to meet with the families of victims in Oregon later this week.