The heartbroken mother of one of the Oregon college students slain in Thursday's horrific shooting spree spoke proudly of her son, who she said was excited to be turning his life around.
Jason Johnson, 33, had struggled with drug abuse, but completed a six-month rehab program with The Salvation Army in Portland and wanted to continue his education, his mother, Tonja Johnson Engel, said Friday.
Related: 'Heroic' Veteran Chris Mintz Was Shot 7 Times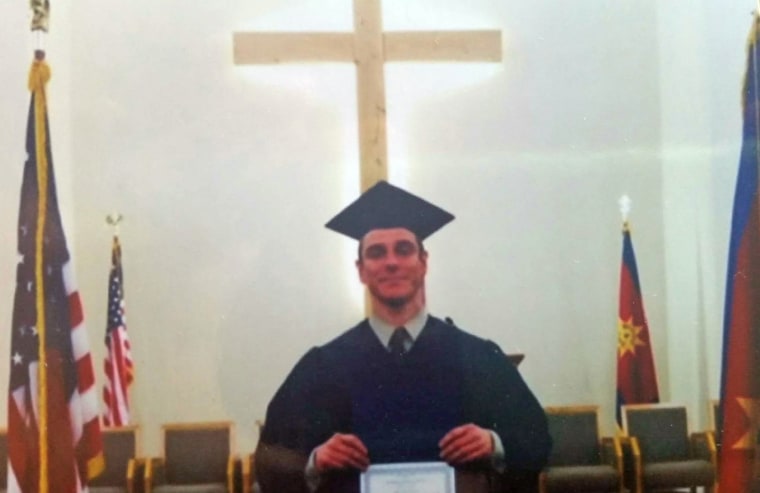 This was Johnson's first week as a student at Umpqua Community College.
"He started Monday and he was so proud of what he had accomplished, and rightly so," Johnson Engel tearfully told NBC News. "The other day he looked at me and hugged me and said, 'Mom, how long have you been waiting for one of your kids to go to college?' And I said, 'Oh, about 20 years.'"
Related: Umpqua student witness recalls 'panic mode' on campus
Thursday morning would be the final time she would see her son alive. Johnson kissed his mother before racing off to class.
"Love ya," he told her. "I'll see you this afternoon."
After hearing that shots were fired on campus, she immediately tried to call him. When he didn't pick up, she went to the local fairgrounds where students were reuniting with family. He never showed up.
"I had a bad feeling about it," Johnson Engel said.
On Thursday night, after she said she contacted police about her son, deputies knocked at her door to break the news. The gunman killed nine people before he also died in a firefight with police. Authorities were not immediately naming any of the deceased — but Johnson was among them.
Family friend Donald Noble said Johnson was dedicated to changing his life after completing the rehab program two months ago.
"Love ya. I'll see you this afternoon."
"He came back home and said he was going back to school," Noble said. "He just started and then this happened."
Noble said he had not seen Johnson in a week, but on Wednesday night, decided to call him because his truck was in the shop and he needed to go to the store.
"He was there in 10 minutes, because that's what he was like, always helping," Noble said. "He took me to the store and then we went to Walmart. So I'm glad I got to see him one last time."
"He was the most trusting person," Noble added, "and he was so loyal."