President Barack Obama, as he has done too many times before, turned consoler-in-chief Sunday in the wake of the Orlando, Florida, massacre.
"Today, as Americans, we grieve the brutal murder — a horrific massacre — of dozens of innocent people," a somber Obama told the nation. "This was an act of terror and an act of hate."
Obama said he has been briefed by the FBI and national security officials. And as he addressed the nation, the flag over the White House was lowered to half-staff.
Related: Orlando Nightclub Shooter Called 911 to Pledge Allegiance to ISIS: Sources
Careful not to get ahead of investigators, Obama did not mention massacre suspect Omar Mateen by name or lay out a possible motive for why he opened fire inside an Orlando gay nightclub, killing 49 people and wounding 53 more.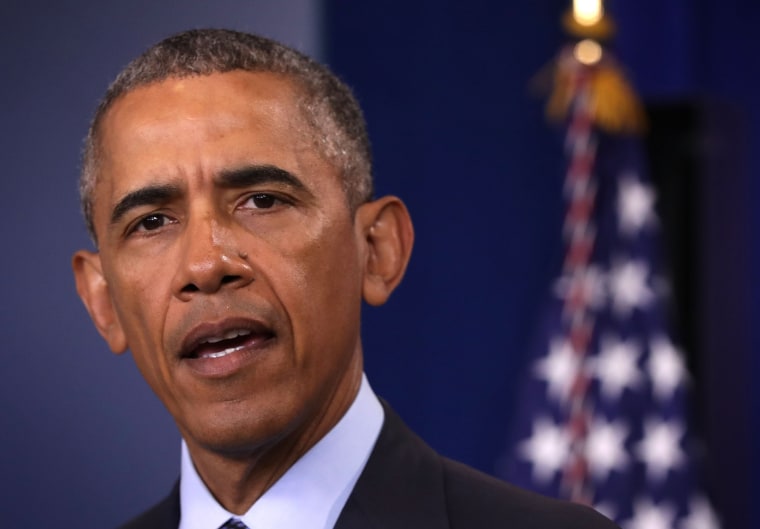 "We are still learning all the facts," he said. "We've reached no definitive judgment on the precise motivations of the killer.
"What is clear is that he was a person filled with hatred," Obama added. "This could have been any one of our communities. ... As a country, we will be there for Orlando today, tomorrow and for all the days to come."
Obama also praised the officers who risked their lives to rescue the captives trapped inside the nightclub.
Related: 'Absolute Devastation' Among LGBTQ Community
Those brave officers, Obama said, prevented the "carnage from being worse."
"This is an especially heartbreaking day for all our friends — our fellow Americans — who are lesbian, gay, bisexual or transgender," he said. "The shooter targeted a nightclub where people came together to be with friends, to dance and to sing and to live."
Once again, Obama decried the ease with which mass murderers can obtain lethal weapons like the Sig Sauer MCX — an AR-15-style rifle — used by Mateen.
"The shooter was apparently armed with a handgun and a powerful assault rifle," he said. " This massacre is therefore a further reminder of how easy it is for someone to get their hands on a weapon that lets them shoot people in a school or in a house of worship or a movie theater or in a nightclub. And we have to decide if that's the kind of country we want to be. And to actively do nothing is a decision, as well."
Obama called for tighter gun control after several other bloody mass murders, including the massacre of 26 students and staff at Sandy Hook Elementary School in Newtown, Connecticut. In January, Obama wept in memory of the slaughtered first-graders as he unveiled a series of executive actions aimed at preventing more mass killings.