An al Qaeda franchise is praising Orlando gunman Omar Mateen — but chiding him for targeting gay Latinos instead of straight whites.
A snarky public statement purportedly released by Inspire, the online magazine of Al Qaeda in the Arabian Peninsula, says that by mowing down 49 people at a gay nightclub full of Latinos instead of setting his sights on a crowd of "Anglo-Saxons," Mateen muddled his message.
As a result, media coverage focused on whether Mateen was driven by hatred of gays — even though he professed allegiance to ISIS, and not its rival al Qaeda, in a 911 call during the June 12 massacre.
"The attacker chose a nightclub of homosexuals specifically," the Inspire statement said, adding that "better than that is to choose the places that do not specify a certain sect."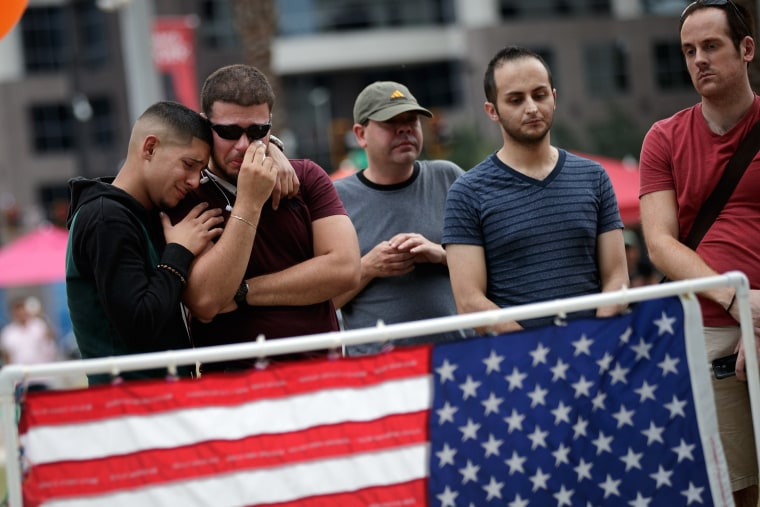 The statement, which was translated by the Flashpoint threat intelligence firm, also said that Mateen made a strategic misstep by launching his attack on a night when the club was full of Latinos.
"We see, and Allah knows, that we avoid targeting places and crowds of the minorities," it said.
"So we see that targeting should be against the general places or the places where Anglo-Saxons are concentrated, as this sect of the American fabric is truly who leads American [sic] and it is the majority of the population there."
Flashpoint co-founder Evan Kohlmann, an NBC terrorism analyst pointed out that even though Mateen cited ISIS as the inspiration for the attack, al Qaeda seemed to be claiming some responsibility because it has called for "lone wolf" attacks against the West.
"This is the first thing they have released in quite a while," Kohlmann said, "and it looks like they are trying to attract attention in a rather desperate way."
Kohlmann said the statement — which lauded Mateen as a heroic "lone jihad" holy warrior — appears to be an official Inspire release. But he said it was far less professional than others, including one after the 2013 Boston Marathon bombings that went to great lengths to praise the Tsarnaev brothers, who said they learned to make their explosive devices from another Inspire publication.
ISIS has also released statements praising Mateen, and there is no indication al Qaeda or any of its regional franchises played even an inspirational role in the Orlando shootings.