Juan Ramon Guerrero was a homebody and student who'd recently come out to his family. Luis Vielma reportedly worked on a "Harry Potter" ride at Universal Studios. Stanley Almodovar III was a cheery pharmacy technician from Massachusetts. Kimberly "KJ" Morris was a bouncer with an independent streak.
All four were at a gay nightclub in Orlando, Florida, that became the scene of the country's worst mass shooting in recent history. They were among the 48 of the 49 victims identified by authorities by late Monday afternoon:
Edward Sotomayor Jr., 34.
Stanley Almodovar III, 23.
Luis Omar Ocasio-Capo, 20.
Juan Ramon Guerrero, 22.
Eric Ivan Ortiz-Rivera, 36.
Peter O. Gonzalez-Cruz, 22.
Luis S. Vielma, 22.
Kimberly Morris, 37.
Eddie Jamoldroy Justice, 30.
Darryl Roman Burt II, 29.
Deonka Deidra Drayton, 32.
Alejandro Barrios Martinez, 21.

Anthony Luis Laureanodisla, 25.

Jean Carlos Mendez Perez, 35.

Franky Jimmy Dejesus Velazquez, 50.

Amanda Alvear, 25.

Martin Benitez Torres, 33.

Luis Daniel Wilson-Leon, 37.

Mercedez Marisol Flores, 26.

Xavier Emmanuel Serrano Rosado, 35.

Gilberto Ramon Silva Menendez, 25.

Simon Adrian Carrillo Fernandez, 31.
Oscar A. Aracena-Montero, 26.
Enrique L. Rios Jr., 25.
Miguel Angel Honorato, 30.
Javier Jorge-Reyes, 40.

Joel Rayon Paniagua, 32.

Jason Benjamin Josaphat, 19.

Cory James Connell, 21.

Luis Daniel Conde, 39.

Shane Evan Tomlinson, 33.

Juan Chevez-Martinez, 25.

Jerald Arthur Wright, 31.

Leroy Valentin Fernandez, 25.

Tevin Eugene Crosby, 25.

Jonathan Antonio Camuy Vega, 24.

Jean C. Nives Rodriguez, 27.

Rodolfo Ayala-Ayala, 33.

Brenda Lee Marquez McCool, 49.

Yilmary Rodriguez Sulivan, 24.

Christopher Andrew Leinonen, 32.

Angel L. Candelario-Padro, 28.

Frank Hernandez, 27.

Paul Terrell Henry, 41.

Antonio Davon Brown, 29.

Christopher Joseph Sanfeliz, 24.

Akyra Monet Murray, 18.

Geraldo A. Ortiz-Jimenez, 25.
Dozens of vigils were being held across the country. By early Monday, more than $1.3 million had been raised by a local LGBT group, Equality Florida, for victims and their families.
Friends and relatives were still struggling to make sense of what happened.
"Completely in shock," a friend of Almodovar's wrote on his Facebook page. "I can't believe you are one of the victims."
Another recalled how Almodovar always "[b]rought a smile to my face every time I was down. It's going to be hard walking into work and not seeing you bounce around like you always do."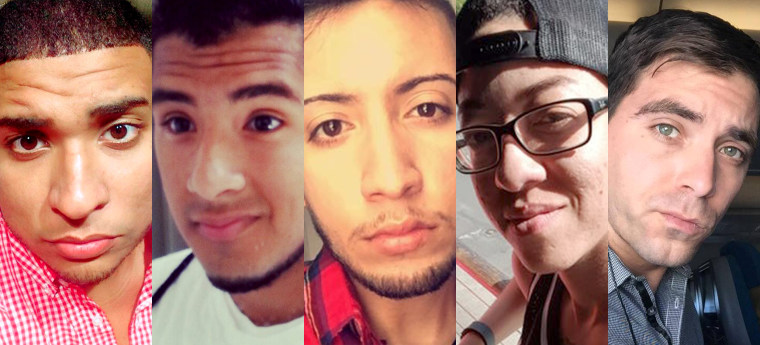 David Sotomayor, Edward Sotomayor's cousin, put it this way. "You never think that's going to be the last time you speak to him," he told The Associated Press. "It's just heartbreaking to know it just can happen any time."
Jennifer Eastman, who used to work with Morris, called her friend "an amazing woman."
"She didn't live her life according to anyone's guidelines," Morris told NBC News. "She was simply Kimberly. And she expected you to treat her as such."
Some relatives were still awaiting news.
Felipe "Tony" Marrero, a ride attendant at Universal Studios, was shot several times and remained in critical condition, his family told NBC News.
Marrero's friend and colleague Luis Vielma is on Orlando's list of fatalities. A photo of the pair with several friends was posted on Vielma's Facebook page Saturday under the caption: "True friends who become family."
Vielma was an emergency medical services student at Seminole State College, according to a statement from the school.
He was taking summer CPR classes at Seminole and also reportedly worked on the "Harry Potter" ride at Universal Studios. J.K. Rowling, who wrote the novels, tweeted that she "can't stop crying."
Marrero's mother, Jacqueline Perez, told NBC News she grieved for Vielma's family but was overjoyed when she learned that her son had survived.
"I was so relieved," she said. "It's like seeing your baby all over again."
Perez said she'd been expecting bad news, "because Tony is not the type of person never to contact me or not keep in contact."
Another woman who suffered six gunshot wounds, Marissa Delgado, lost a lot of blood and wasn't doing well, a relative who did not wish to be identified told NBC New York. The relative asked that people pray for Delgado.
One woman, Mina Justice, recalled how her son, Eddie, sent her a flurry of panicked texts from the club's bathroom in the middle of the night.
"He's coming," he wrote, according to the AP. "I'm gonna die."
A few minutes later, after Justice had called the police, she asked whether he was in the bathroom, according to the AP. "Yes," he responded.
It was the last thing Eddie wrote. The city of Orlando confirmed late Sunday that he was among the dead.