It was last call at Pulse, but the place was showing few signs of emptying.
Saturday was Latin night at the gay nightclub south of downtown Orlando. Some 300 revelers still remained inside the cavernous club into early Sunday morning, dancing shoulder-to-shoulder to loud, thumping music.
On the back patio, others sipped their last drinks. Some headed to the bar to settle their tabs.
Out front, on South Orange Avenue, the street was alive with revelers who'd not yet headed home.
Related: Orlando Massacre: What We Know About the Victims
It was 2 a.m., a half hour till closing. A man approached. He had a 9mm handgun and an AR-15-style rifle with large capacity magazines. While bouncers and a security guard are typically at the front entrance, there is no metal detector or pat-down, and it is unclear how the man, Omar Mateen, got inside.
He began to shoot.
The gunfire was difficult to discern at first, because the music was so loud, the beat so heavy. But as those near Mateen began to fall, and people began to scream, a wave of realization passed through the crowd. People ran: to the exit, to the back, to the bathrooms. Other dropped to the floor and cowered.
"You're sitting there having a great time at a club and then you hear what sounds like fireworks or balloons popping and you assume it's part of the show," patron Andy Moss, told local NBC affiliate WESH. "And then when you hear people start screaming and the sound doesn't stop and people start falling, you realize it's not a show anymore, and at that point, I realized I needed to get out."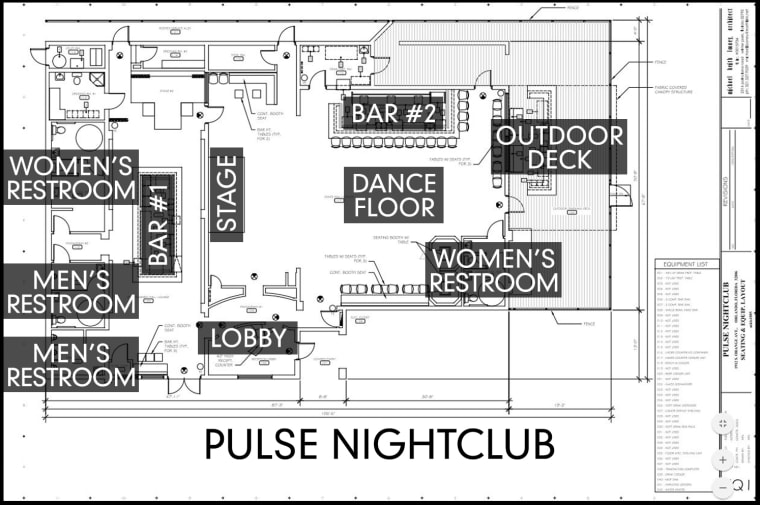 An off-duty Orlando police officer working security ran to Mateen and fired.
Mateen, a 29-year-old son of Afghan immigrants who himself worked as a security guard, fired back. He fled deeper into the club, and kept shooting — mowing through bodies almost mechanically, witnesses said.
The officer called for backup. It was 2:02 a.m.
"He started shooting everybody," said Tony Marrero, 32, who was at Pulse with a friend from work. They got separated in the chaos, and as Marrero saw the gunman blow victims' bodies apart, he tried to play dead under a sofa.
Related: Portrait of a Killer: Who Was Orlando Nightclub Shooter Omar Mateen?
"He saw that I didn't have much blood so he shot me in the back," Marrero recalled Monday from his hospital bed, where he was recovering from four gunshot wounds. He thought to himself, "Is this it?"
Jose Colom, who lives across the street from Pulse, said he heard the shots and ran to take a look. He said Mateen appeared to have killed three people in the parking lot before shooting his way into the club.
"You could just hear the shots from inside," Colom said.
The blasts went on and on, with momentary pauses as Mateen switched magazines, making it seem to some that there was more than one person firing, witnesses said. The smell of gunsmoke filled the club.
"I just saw bodies going down. Bang, bang, bang," Christopher Hansen told NBC News. He hit the floor and crawled, feet pounding his back, the gunfire still blasting: 20, 30, 40, 50 shots.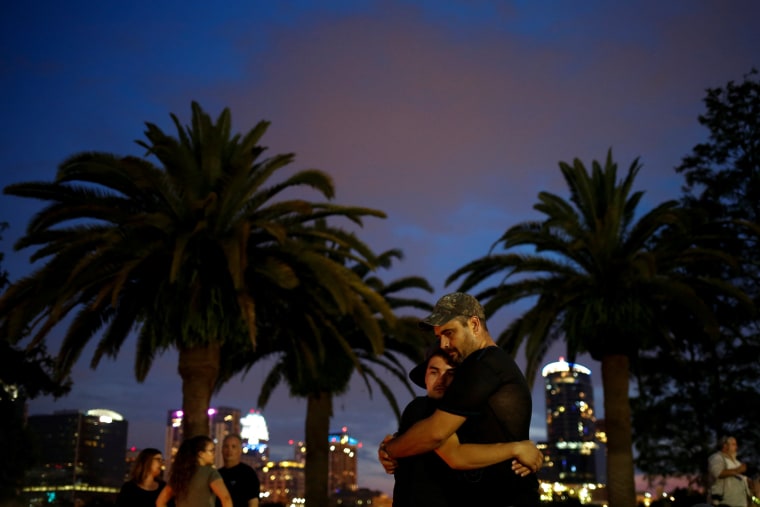 "People are screaming, 'Help me, help me, I'm trapped.' And people are getting trampled," survivor Janiel Gonzalez told NBC News. "There was no clear exit sign at the club so we didn't know which door to take or where to go."
He made it outside and took shelter in the back of a nearby 7-Eleven. "There was guys, some of them had had gotten shot, there was blood all over the floor, and I remember telling myself, 'This is not how I die. It's not today. This isn't really happening.'"
From a woman's bathroom, 30-year-old Eddie Justice texted his mother, Mina Justice, waking her. "Mommy I love you," he wrote. "In club they shooting." It was 2:06 a.m.
She called him; he didn't answer. "U ok" she texted him. He replied: "Trapp in bathroom." He told her where he was, and to call police. Then he wrote: "I'm gonna die." She called 911.
At 2:09, a message appeared on the club's Facebook page: "Everyone get out of pulse and keep running."
More police arrived, and a second gun battle with Mateen broke out, Orlando Police Chief John Mina said. The gunman stopped shooting and retreated to a bathroom, barricading himself there with about four hostages. Dozens of survivors ran from the building. Police backed away, treating the scene as a hostage situation.
A bouncer knocked down a partition in front of an employees' area, allowing many to escape through the back door. Throughout the club, there were still dozens of trapped victims, some of whom called police and pleaded for help on social media and in text messages.
Police began assembling a SWAT team and preparing force their way into the club.
Marrero, still lying in the club, heard a police officer call out for people who were alive. He dragged himself to the cop, using one good arm to move over bloody bodies. The cop retrieved him, and led him to safety.
He learned later that his friend, Luis Vielma, had died.
Just before 2:30 a.m. Mateen began a series of calls with 911 in which Mateen "said he was doing this for the leader of ISIS, whom he named and pledged allegiance to," FBI Director James Comey said. Mateen also "appeared to claim solidarity with" the brothers who bombed the 2013 Boston Marathon and with a fellow former Fort Pierce resident who became a suicide bomber in Syria on behalf of the Nusra Front, an ISIS rival, Comey said.
Mateen called the brothers his "homeboys," according to Hank Shaw, who runs the FBI's Boston office.
The calls led to talks with police negotiators, in which he sounded "cool and calm," Mina said. The negotiators "focused on what we could do to resolve the situation," but Mateen "really wasn't asking for a whole lot. We were doing most of the asking."
Eddie Justice wrote his mom again at 2:39 a.m. He was still in the bathroom. "He's coming I'm gonna die."
Ten minutes later, he wrote, "He's in the bathroom with us."
He added: "He's a terror."
His final text said, simply, "Yes." He was later confirmed dead.
Around 3 a.m., Orlando's bomb squad and SWAT teams were called in. As police devised a plan to end the siege, they heard from hostages that indicated things would soon unravel. Mateen also gave "a timeline" that Mina took as a sign that he would kill more people. They decided to storm the club.
First, they used an explosive and an armored vehicle to break through a wall on the other side of a bathroom where police believed about 15 people were holed up, Mina said. Adjacent to that bathroom, Mateen was holding the smaller group of hostages.
The breach left a hole about 2 or 3 feet wide. The SWAT team followed. It was about 4:15 a.m., according two senior law enforcement officials familiar with the case.
Dozens of people climbed through the hole, Mina said. Then came Mateen.
There was a furious exchange of gunfire in which 14 officers shot at Mateen, who died at the scene. One of the gunman's rounds hit an officer's bulletproof helmet, saving his life.
Another of the officers later told Orange County Sheriff Jerry Demings: "Sheriff, there are multiple bodies in there. I just saw something I've never seen before."
Police sent in a bomb-detecting robot, which relayed an image of a battery part next to a body, raising fears of an explosive. Paramedics delayed going in until police could confirm it was not, Orlando Mayor Buddy Dyer said.
More than 30 people were taken out alive. But 38 were found dead. Another two died outside. Nine more died after being taken to a hospital. Dozens more were wounded. As of Monday morning, 29 people remained hospitalized. Five remained in grave condition.
"We are dealing with something we never imagined," Dyer said.
Moss began a frantic search for friends.
"I don't know if I saw the shooter, I don't really know what all I did see," he told WESH. "It's all a blur. I kinda wish I could still wake up from it, but I can't."
On Sunday afternoon, the Orlando Sentinel posted an editorial online.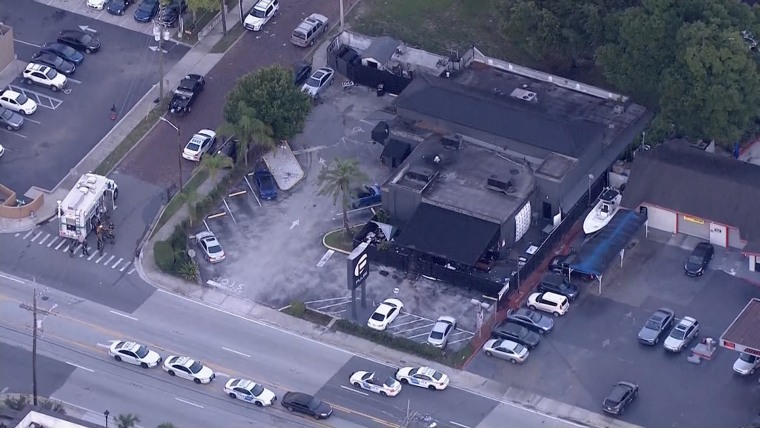 "Orlando now tragically sits atop a list of infamy, sharing the sorrow of Virginia Tech, Newtown, Conn., and Aurora, Colo. We will not — we must not — let Sunday's heinous act of brutality and cowardice define our community."
At 2 p.m., President Obama addressed the nation from the White House, calling it the most deadly shooting in U.S. history.
Obama said: "The shooter targeted a nightclub where people came together to be with friends, to dance and to sing, and to live. The place where they were attacked is more than a nightclub — it is a place of solidarity and empowerment where people have come together to raise awareness, to speak their minds, and to advocate for their civil rights. So this is a sobering reminder that attacks on any American, regardless of race, ethnicity, religion or sexual orientation, is an attack on all of us and on the fundamental values of equality and dignity that define us as a country."