From $2 individual donations to million-dollar state funding programs and generous pledges from corporate America, donations for victims of the Orlando mass shooting have poured in, breaking online giving records and bringing in millions of dollars within hours of the attack.
But with an urgent need to provide appropriate and reliable support quickly to victims and their families, charitable organizations are treading lightly, verifying every program and service to ensure every dollar donated can be distributed directly to the victims.
Donations to Equality Florida's GoFundMe page, which the state's main LGBT advocacy and awareness group set up just hours after Sunday's shooting, hit $1 million before the end of the day — the fastest time frame for any campaign on the GoFundMe platform. As of Friday afternoon, the total stood at $5.1 million, the largest single amount ever gathered on the site, and far eclipsing the non-profit's original humble goal of $100,000.
"We just want to be able to cover whatever we can," Equality Florida's Deputy Director of Development Michael Farmer told NBC News. "As the largest state organization for the LGBT community, we wanted to figure out how to contribute and give, through the most reputable and reliable means possible."
Read More: Afghan-Americans Grapple With Homophobia, Shock After Orlando Massacre
To meet that need, Equality Florida partnered with the National Center for Victims of Crime, the non-profit organization that provided assistance to victims of the 2012 movie theater shooting in Aurora, Colorado that killed 12 people, and the 2015 attack in Chattanooga that killed four Marines and one sailor.
"With 100 families impacted, the array of costs is hard to tabulate," said Farmer. "The needs range from parents who can't afford to have their child's body sent to New York, to a father who needs a rental car."
Through the organization's 70,000 Facebook fans and 250,000-strong email list — and retweets from celebrities and Hillary Clinton — support has remained strong and donations have continued to roll in.
Another major fund that has raised millions so far for the victims is the OneOrlando Fund, announced by Orlando Mayor Buddy Dyer on Monday.
"This tragedy will not define us, but will bring us together, because we are one Orlando," said Dyer, describing the fund as a way to "help respond to the needs of the community now and in the time to come."
Donations will be funneled through the Central Florida Foundation, a non-profit organization that will disburse the funds through over 400 charitable organizations and programs.
Read More: JetBlue Flight Crew Goes Extra Mile for Orlando Shooting Victim's Grandmother
"We are in the process of working to convene local nonprofits that are providing assistance to victims and families," said Rachel Calderon, a spokesperson for CFF.
"The first step is to push ahead the resources that are already available for victims and families — state and federal dollars, benefits, victims' funds, hospitals, and so on," said Calderon.
"Once those pieces have been deployed, then we can see where the gaps are, and that's where philanthropy enters the picture. We want collaboration to bring nonprofits together, see where the gaps are and then bring grant dollars to those gaps."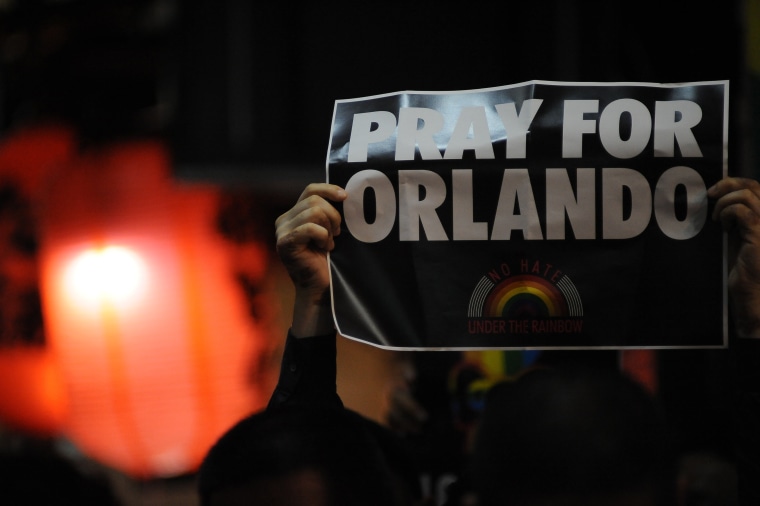 Corporate America has reached into its deep pockets, as well. Disney, Florida's largest employer, was among the first to donate a six-figure sum, announcing on Monday that it would give $1 million to the OneOrlando Fund. With six employees killed in the shooting and many more affected, NBC Universal pledged a $1 million donation on Thursday. JPMorgan committed $500,000, Darden Restaurants gave $500,000, Target has donated $250,000; and AT&T, Jet Blue, and Orlando Magic each donated $100,000.
But even in times of tragedy, not everyone has a heart of gold.
Read More: President Obama Arrives in Orlando to 'Stand in Solidarity' After Shooting
"Scammers depend on heightened emotion and often follow closely behind tragic events," warned Holly Salmons, president of Central Florida's Better Business Bureau, in a news release. "We encourage those who want to show their support through donations to do so with caution."
The BBB site lists 10 tips for thoughtful and safe giving.
GoFundMe, which has seen its fair share of fake campaign pages over the years, assured visitors to its website that "any funds raised for individuals or families will not be released until the recipient is identified, verified, and vetted," noting that there are currently at least 150 campaigns raising money for Orlando victims — many set up by family members.
"I think this reaffirms we are a country with a generous heart," said Equity Florida's Farmer. "For people who may have been having trouble with their opinions on the gay and transgender community, this is an opportunity for them to change their heart. We're all in this together and we're all Americans."
Editor's Note: NBCUniversal is the parent company of NBC News.