The FBI reversed direction Monday and released the full transcript of the 911 call Orlando massacre shooter Omar Mateen made while in the midst of shooting-up the Pulse nightclub.
Just hours after FBI Assistant Special Agent in Charge Ron Hopper had said he didn't want to "give credence to to individuals who have done terrorist acts in the past," the feds did an about face at about 3 p.m. ET and released the unredacted text.
In it, both Mateen and the ISIS leader to whom he pledged allegiance, Abu Bakr al-Baghdadi, are named.
"Unfortunately, the unreleased portions of the transcript that named the terrorist organizations and leaders have caused an unnecessary distraction from the hard work that the FBI and our law enforcement partners have been doing to investigate this heinous crime," the statement read.
"As much of this information had been previously reported, we have re-issued the complete transcript to include these references in order to provide the highest level of transparency possible under the circumstances."
The change of heart came after House Speaker Paul Ryan, R-Wisc., and other critics of the Obama Administration called the FBI's decision to redact the transcript of Mateen's call to the dispatchers "preposterous."
"We know the shooter was a radical Islamist extremist inspired by ISIS," an angry Ryan said in a statement. "We also know he intentionally targeted the LGBT community. The administration should release the full, unredacted transcript so the public is clear-eyed about who did this, and why."
Meanwhile, NBC News has learned that, so far, federal investigators following Mateen's paper trail have found no evidence to back up claims that the gunman had ever been inside Pulse or any of gay nightclub in Orlando before the June 12 mass shooting.
What they have found, sources told NBC, is that the married Mateen recently used websites to get dates with women — not men.
Noor Salman has told investigators she once drove her husband to Pulse so he could scope it out and regulars at the nightclub have reported seeing him there.
The newly-released transcripts revealed that Mateen paused from the slaughter inside the Pulse nightclub to call the Orlando police and confess to his crime.
"Praise be to God, and prayers as well as peace be upon the prophet of God," Omar Mateen said in a transcript of his call to police dispatchers that the FBI released on Monday. "I let you know, I'm in Orlando and I did the shootings."
Related: 50,000 Show 'Love Always Conquers Hate' at Orlando Vigil
Asked for his name, Mateen answered: "My name is I pledge of allegiance to Abu Bakr al-Baghdadi of the Islamic State."
That chilling admission was among the excerpts of the 911 calls the feds released along with a timeline of the terror at the gay nightclub that left 49 dead and more than 50 people wounded.
Mateen also warned that there was a vehicle packed with explosives outside the nightclub that he would "ignite" if police tried "to do anything stupid." No explosives were found.
Hopper said they have "no evidence that he was directed by a foreign terrorist group, but was radicalized domestically." He said there are a "myriad of things" that could have motivated the attack.
Taking his cue from earlier remarks by President Obama, Hopper also said the gunman held a "perverted view" of Islam.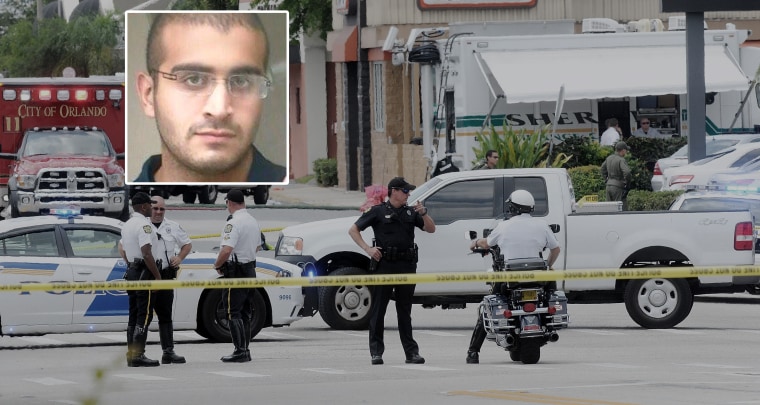 Hopper also said that "out of respect for the victims" it would not be releasing audio of Mateen's call or "audio or transcripts of the calls made by victims at the Pulse nightclub during the incident."
Orlando Police Department Chief John Mina said his officers were at the nightclub "within minutes and engaged the suspect in gunfire."
"That engagement and that initial entry caused him to retreat, stop shooting and barricade himself in the bathroom with hostages," Mina said. "There was no other gunfire until the hostage rescue took place."
Mina said he also wanted to clear up "misconceptions that we didn't do anything for three hours" before the SWAT team moved in and went after the 29-year-old shooter.
"We let our negotiators take over in an effort to save lives while out SWAT team set up," Mina said.
Related: Psychologist Denies She Evaluated Orlando Shooter
Asked if any of the victims may have been accidentally shot by police, Mina said "that's all part of the investigation."
"But here's what I can tell you," he said. "Those killings are on the suspect and on the suspect alone. Our officers acted heroically."
Two federal officials told NBC News that while all the forensic work is not complete, based on surveillance video analysis and available ballistic evidence it doesn't appear any of the victims died from friendly fire.
U,S. Attorney General Loretta Lynch is expected to travel to Orlando on Tuesday to meet with federal and local investigators.
Among the new revelations contained in the transcripts was that at 4:21 a.m., on the night of the mayhem, Orlando police officers pulled an air conditioning unit out of a Pulse dressing room window, enabling at least eight people trapped inside to escape.
Meanwhile, NBC News has learned that the Orange County Medical Examiner's Office has released the body of Mateen.
Contacted by NBC News, the suspect's father, Siddique Mateen, said he was not aware of any plans to have his son's body transferred to him. A source close to Mateen's widow said she was asked if she would take her husband's body and she said no.
The transcript and timeline is below:
Orlando Police Dispatcher (OD): Emergency 911, this is being recorded.Shooter (OM): In the name of God the Merciful, the beneficial [in Arabic]OD: What?OM: Praise be to God, and prayers as well as peace be upon the prophet of God [in Arabic]. I let you know, I'm in Orlando and I did the shootings.OD: What's your name?OM: My name is I pledge of allegiance to Abu Bakr al-Baghdadi of the Islamic State..OD: Ok, What's your name?OM: I pledge allegiance to Abu Bakr al-Baghdadi may God protect him [Arabic], on behalf of the Islamic State.OD: Alright, where are you at?OM: In Orlando.OD: Where in Orlando?[End of call.]
Shortly after, the shooter engaged in three conversations with the Orlando Police Department's Crisis Negotiation Team.
2:48 a.m.: First crisis negotiation call occurred lasting approximately nine minutes.3:03 a.m.: Second crisis negotiation call occurred lasting approximately 16 minutes.3:24 a.m.: Third crisis negotiation call occurred lasting approximately three minutes.
Here's a description of what he said:
In these calls, the shooter, who identified himself as an Islamic soldier, told the crisis negotiator that he was the person who pledged his allegiance to [omitted], and told the negotiator to tell America to stop bombing Syria and Iraq and that is why he was "out here right now." When the crisis negotiator asked the shooter what he had done, the shooter stated, "No, you already know what I did." The shooter continued, stating, "There is some vehicle outside that has some bombs, just to let you know. You people are gonna get it, and I'm gonna ignite it if they try to do anything stupid." Later in the call with the crisis negotiator, the shooter stated that he had a vest, and further described it as the kind they "used in France." The shooter later stated, "In the next few days, you're going to see more of this type of action going on." The shooter hung up and multiple attempts to get in touch with him were unsuccessful.