Omar Mateen didn't always fit the profile of a would-be radicalized killer, a friend told NBC News.
In 2014, American-born Mateen was remarried to a second wife and had a new son — and his friend, Mohammad Malik, had never heard him express extremist views or say anything homophobic.
But after a young man who went to their Florida mosque was killed in a suicide bombing in Syria that year, one thing did trouble Malik: Mateen said he was listening to recordings of Anwar al-Awlaki, the radical Islamic cleric killed by a U.S. drone strike in Yemen three years earlier. The suicide bomber, Moner Mohammad Abu-Salha, had said in videos before he was killed that al-Awlaki inspired him.
"It threw up a red flag for me," Malik told NBC News on Tuesday. "I asked him what he thought of them and he said they were very powerful, which raised a red flag even more for me."
Malik dialed the FBI. Agents investigated, but later determined that Mateen — who had been the focus of another probe the year before for "inflammatory" comments to co-workers — was not a threat.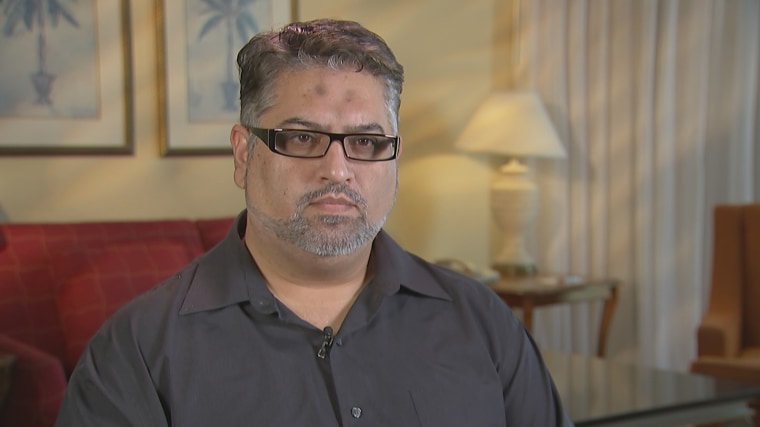 That was the last time that Malik had thought about Mateen's potential terrorist ties, until June 12 — when the 29-year-old slaughtered 49 people at a gay nightclub in Orlando and pledged allegiance to ISIS in a 911 call amid the rampage.
Malik, 43, revealed in a Washington Post essay on Monday how he tried to tip off the FBI about his friend, whom he had first met in 2006 at a family dinner and would stay in touch mostly through texts and phone calls.
Related: FBI Releases Full Transcript of 911 Calls from Orlando Massacre
"My hope and guess is that (the FBI) did the best job that they could (investigating him)," Malik added.
His observations of Mateen add another layer to a man whom co-workers said fostered a "toxic" work environment and was prone to expressing racist views against blacks and sexist views against women.
Mateen's first wife, Sitora Yusufiy, previously told reporters that he physically abused her and she believes he was mentally ill and took steroids.
Malik, however, saw his friend as being "very introverted," but never discussed any deep-seated hatred.
If anything, Malik said, racism and oppression — specifically of Muslims, black and Latinos — seemed to bother him, and he never spoke out against gays or hinted that he had used a gay dating app, as has been reported, or was interested in men.
"All of this came out afterward. I never heard him mention anything homophobic or along gay lines," Malik said. "Actually, to the contrary, (he said) he loved women, he liked women. That's fine. But nothing as far as being gay or homophobic."
A motive for the attack still remains unclear.
Related: Psychologist: I Never Evaluated Orlando Shooter Mateen
Investigators have been trying to determine whether Mateen had previously been inside the Pulse nightclub — or any other gay club — before the attack and if he had used gay dating apps.
Sources told NBC News that he had been using dating websites — to meet women, not men.
The last time Malik said he spoke with Mateen was in mid-May. Mateen called him while he was at the beach with his son to tell him he had been on a vacation with his father recently in Orlando. He said he liked the local mosque, Malik recalled.
The last time they saw one another was in January, when they spoke about politics. Malik said he supported Bernie Sanders. Mateen told him he liked Hillary Clinton because he wanted a candidate who could beat Donald Trump in November.
Malik is still trying to make sense of the friend he had and the killer he became.
He said he was recently scrolling through his phone and saw Mateen's name. He stopped on it and pressed delete.
"It's just sad to see that name in there," he said.