The massacre at a gay nightclub in Orlando has many gun control supporters pondering this question: Would a ban on high-powered assault-style weapons have prevented the tragedy?
The answer is possibly.
Omar Mateen was armed with a semiautomatic rifle as well as a 9mm handgun when he burst inside Pulse and staged the deadliest shooting in modern American history.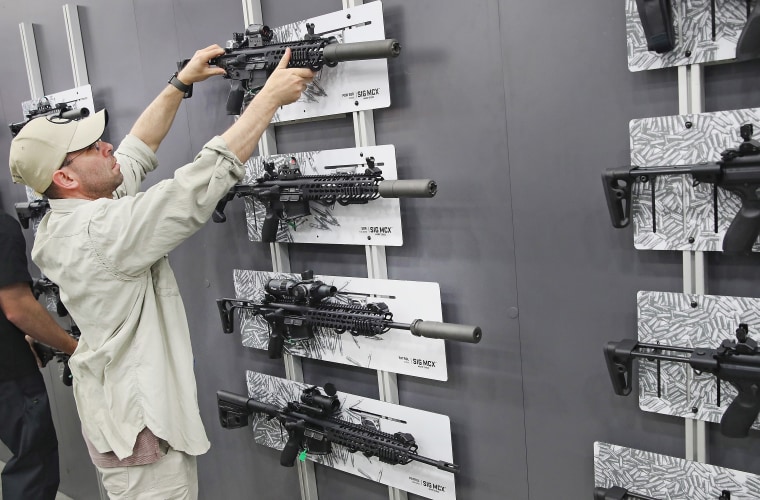 Had the former federal assault weapons ban still been in place, Mateen may not have been able to legally buy the type of semiautomatic rifle he used in the massacre — the Sig Sauer MCX — or any other similar AR-15-style firearm.
It barred people from buying specifically named semiautomatic firearms, as well as ones with a detachable high-capacity magazine along with at least two of the following characteristics:
a folding or telescoping stock (which can make the gun easier to store or conceal)
a pistol grip that protrudes conspicuously (which makes it easier to fire the weapon from the hip or with one hand, and therefore fire rapidly)
a bayonet mount
a flash suppressor or threaded barrel (which makes it more difficult to see when the gun's muzzle flashes)
a grenade launcher
It's unclear how many of these add-ons Mateen's Sig Sauer MCX had.
The assault weapons ban, which was signed by President Bill Clinton and lasted from 1994 to 2004, outlawed the manufacture, transfer and possession of the AR-15 and dozens of other models with detachable high-capacity magazines — ones that typically hold more than 10 rounds. (Some 25 million guns with high-capacity magazines were grandfathered in.)
Fully automatic weapons, in which the user only has to press down on the trigger to fire off rounds, have been banned for public use since 1986. Semiautomatic rifles, such as the AR-15, require the shooter to pull the trigger for each bullet.
The Sig Sauer MCX, which has a similar anatomy to the AR-15, made its debut last year and has a magazine capacity of 30 rounds.
Three years ago, in the wake of the Sandy Hook Elementary School shooting, Sen. Dianne Feinstein (D-California) proposed a federal assault weapons ban bill.
RELATED: AR-15 Style Rifle Used in Orlando Massacre Has Bloody Pedigree
Had it passed, it would have made illegal 157 firearms, and most likely Mateen's Sig Sauer MCX would have been one of the weapons banned. But Feinstein's bill went nowhere in politically polarized Washington and in the face of fierce opposition from the National Rifle Association.