The revolt in the House of Representatives entered a second day Thursday as protesting Democrats refused to give up and continued to demand votes on gun control measures opposed by Republicans.
While two dozen or so Democratic lawmakers camped out in the well of the House chamber, Speaker Paul Ryan talked tough hours after adjourning the body until July 5 during a raucous overnight session.
"Democrats can talk all they want," Ryan said. "But the bottom line is despite these distractions we did our job."
Ryan said he has no intention of bringing up for a vote proposed bills that would bar suspected terrorists on no-fly lists from buying guns and impose universal background checks saying they "already failed in committee."
Once again, Ryan dismissed the Democratic show of defiance as "a publicity stunt, a fund-raising stunt."
But the Democrats gave no sign of surrendering.
"Speaker Ryan, we will not leave without acting for the victims & families of reckless gun violence," Georgia Rep. John Lewis, one of the leaders of the rebellion, said in a Tweet.
GOP critics have blasted the proposed bills as unworkable and unconstitutional. Rep. Joaquin Castro, a Texas Democrat, conceded on NBC's "Morning Joe" that the bills his party is trying to bring to a vote are not "perfect."
"But they don't even want to start that process," Castro said of the Republicans. "We need to go through it and we need to take action."
The sit-in hit the 24-hour mark at 11:24 a.m. as Rep. Suzan DelBene of Washington was speaking.
House Democrats took over the floor at 11:24 a.m. ET Wednesday, demanding Republican leadership schedule votes on the gun control bills. They were soon joined by several Democratic Senators and fortified by deliveries of pizza and blankets.
While the GOP leadership ordered that C-SPAN's cameras be turned off, images of the unfolding drama were broadcast live to the world from Democrats' cellphones. Those, in turn, were picked up by C-SPAN.
Outside the Capitol, a crowd of gun-control advocates stool vigil overnight.
Democrats nearly drowned Ryan out when the House Speaker first reconvened the session around 10 p.m. ET Wednesday for a vote on a matter unrelated to the gun issue.
PHOTOS: Democrats Stage Overnight Sit-In
Some held pictures of mass shooting victims in view of the cameras. Ryan ignored the outbursts and pounded his gavel in a vain attempt at restoring order.
"The chair appreciates that members will differ on matters of policy and will seek to express those differences," Ryan said over the loud chants. "But the chair would hope that the business of the House could be conducted in a fashion that respects positively on the dignity and decorum of this institution."
The Democrats answered by breaking into a rendition of "We Shall Overcome," changing the lines to "We shall pass a bill, someday."
As Ryan departed, they chanted: "Shame! Shame!"
Related: Pizza, Pillows Help Fuel the House Rebellion
Then, in what was essentially an attempt to cut short the protest, the Republicans who control the chamber reconvened at around 2:30 a.m. ET Thursday and were greeted by Democrats chanting "No bill, no break!"
The Republicans held a number of procedural votes and then wrapped-up the legislative session until July 5. The House formally adjourned at 3:13 a.m.
But the Democrats would not budge.
A new video stream on the Periscope app showed Minority Leader Nancy Pelosi decrying how Republicans "left in the dark of night." She praised her Democratic colleagues for "taking us to a new place" in the gun-control debate.
On the floor of the House, Pelosi read from a letter by Gabby Giffords, the former U.S. representative who survived a 2011 mass shooting, written after British lawmaker Jo Cox was gunned down on June 16.
"Now is not a time for lawmakers to retreat to their ideological corners and do nothing," Pelosi read. "It's a time to stand shoulder-to-shoulder with the American people to make responsible changes that honor our history and our diversity, and make our country a safer place to live."
A handful of Democrats remained on the floor into the morning, speaking about constitutional issues, delivering messages from constituents and lashing out at their Republican opponents.
DNC chairwoman Debbie Wasserman Schultz, a Florida congresswoman who is also a close friend of Giffords, said Democrats should not have to "storm the House, literally."
Speaking just before 6 a.m., she branded her GOP counterparts "cowards" and called on them to "face the music, cast your vote, stand up for what you believe in."
"Don't hide behind the NRA and their skirt," she added, referring to the powerful National Rifle Association.
As time wore on, the addresses often sounded more like conversations, with legislators laughing, clapping and calling out questions to their colleagues. Some choked up as they spoke, their voices cracking.
The revolt in the House comes amid Democrats' efforts to pursue gun-control legislation following the shooting at a gay nightclub in Orlando that killed 49 people.
Lewis, an icon of the civil rights movement, led the protest as the hashtag #NoBillNoBreak quickly climbed to the top of Twitter's trending topics. He drew the comparison between the gun-control fight and the fierce desegregation battle in the South in the 1950s and 1960s.
"A little more than 50 years ago, I crossed a bridge not just one time, but it took us three times to make it all the way from Selma to Montgomery," he said during a brief press conference after adjournment, referring to the pivotal civil rights marches in Alabama that helped shift public opinion in favor of civil rights nationwide in 1965. "We have other bridges to cross."
Earlier, Rep. Elijah Cummings of Maryland argued the need for change in the wake of the Orlando massacre.
"The question is whether we are accepting a new sense of normal," Cummings said. "That should not be normal for people to be enjoying their lives on a Sunday morning, and the next thing they know they're blown away ... That can never be normal, and we should not allow it to be normal."
Lewis and Cummings were among dozens to give impassioned speeches on the floor of the House as the sit-in stretched on.
House Majority Leader Kevin McCarthy told NBC News' Luke Russert that the Democrats' were engaging in "political antics."
Rep. Kevin Cramer, a Republican from North Dakota, also slammed the protest.
"I, frankly, don't mind voting every day against a bill that would take away Second Amendment rights from folks," he said.
Related: These Rules Govern Protests on House Floor
Republican lawmakers tried to match #NoBillNoBreak with their own hashtag — #StopTheStunt — but with less success than the Democrats.
Strong words were also exchanged between some Republicans and Democrats on the floor.
Rep. Louie Gohmert, R-Texas, got into a heated argument with Democratic Rep. Corrine Brown of Orlando.
The pair pointed fingers at each other's faces and Gohmert yelled "radical Islam killed these people, and you know it!"
The sit-in comes a week after Senate Democrats waged a nearly 15-hour filibuster demanding votes on gun control bills.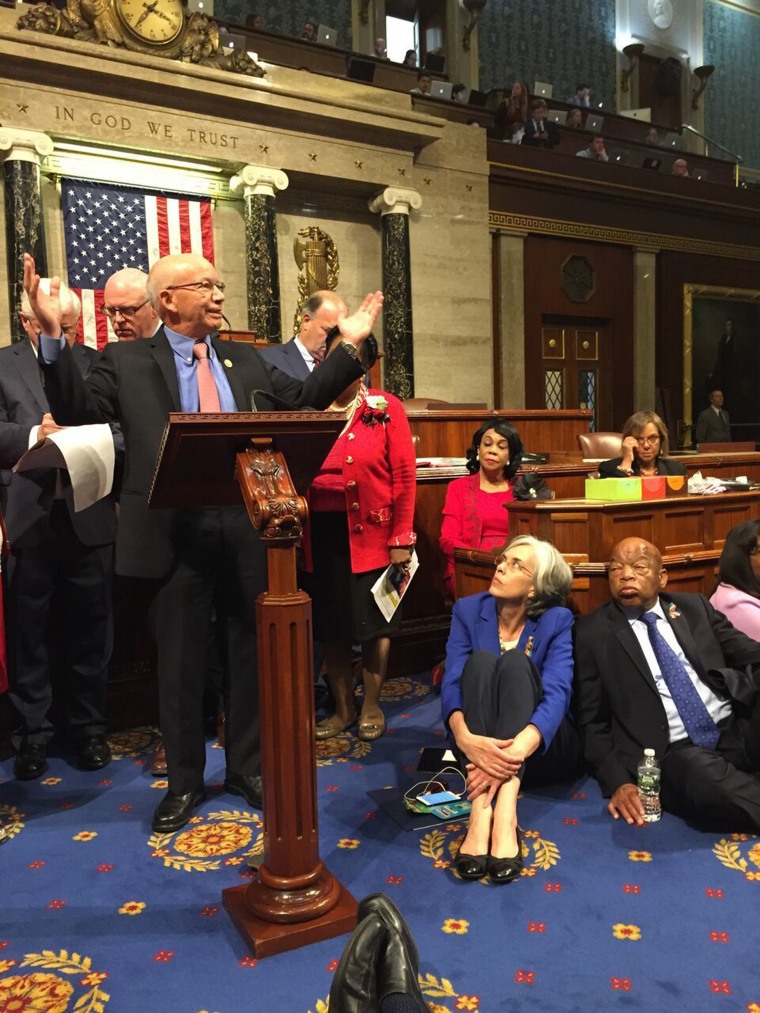 Votes were held Monday, and four gun policy measured failed to pass the 60-vote threshold in the Republican-controlled Senate.
"During the '60s, the sit-in started with 3 or 4 people and it spread like wildfire. This will spread," Lewis told NBC News early in the protest. "We're going to sit in, sit down, stand up ... We're going to be here for a while."
While dramatic, the Democrats' moves were not unprecedented.
Republicans staged a similar protest in 2008. Democrats who controlled the House at the time also turned off the cameras amid a GOP push for a vote to expand oil and gas drilling. Republicans occupied the floor, delivering speeches after then-Speaker Pelosi sent the House on its August recess.