After each tragic mass shooting, calls for tighter gun control spike — while responses from the National Rifle Association are minimal or non-existent.
On Tuesday, Chris W. Cox, executive director of NRA's Institute for Legislative Action, broke the NRA's silence two days after an attack that killed 49 and wounded 53 others occurred at a gay nightclub in Orlando. In an op-ed for USA Today, Cox blamed the Obama administration's "political correctness" for failing to prevent the worst mass shooting in U.S. history.
The FBI opened an investigation into Orlando shooter Omar Mateen in 2013 after he claimed a family connection to al Qaeda while at his work, said FBI Director James Comey Monday. However, the bureau closed the 10-month investigation after Mateen explained that he made the comments out of anger because he thought his coworkers were discriminating against him.
Cox also said that gun control "will do nothing to prevent the next attack." The only solution, he wrote, is to address terrorism head on. "It's time for us to admit that radical Islam is a hate crime waiting to happen. The only way to defeat them is to destroy them — not destroy the right of law-abiding Americans to defend ourselves."
Related: Clinton Calls Out Trump's 'Lies' After Orlando Attack
Mateen, who was probed by the FBI twice for possible links to terrorism, legally purchased the AR-15 weapon used in the Orlando shooting. Along with suspicion that Mateen was motivated by ISIS, the FBI is investigating reports that Mateen previously visited the nightclub and used a gay dating app before the shooting.
Previous comments about shootings from those affiliated with the NRA have ranged from calls for looser gun laws to critiques of Obama's foreign policy, and the suggestion that politicians are exploiting these tragedies to create tighter gun control.
Here are six other instances when NRA affiliates have commented on mass shootings:
San Bernardino shooting - December 2, 2015
After a shooting that killed 14 civilians at an office party in San Berardino, California, Cox wrote in another op-ed for USA Today that Obama politicized the attack to promote gun control policies. Cox added that he is "sick and tired" of the president blaming the NRA for such shootings.
"Here's another fact: the president's failed foreign policy has made us less safe. And his domestic gun control agenda would jeopardize our safety even further," Cox said. "In California, President Obama had what he wanted — the strictest gun control in the country — and it did not prevent this evil act."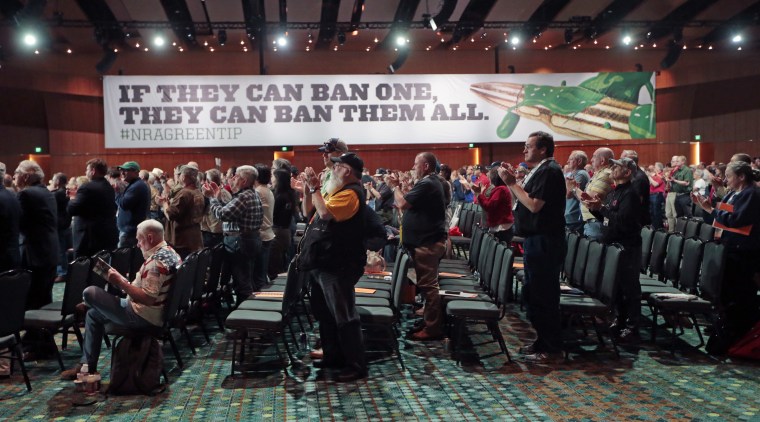 WDBJ TV reporters' deaths - August 26, 2015
In response to the shooting of a local Virginia reporter and cameraman during a live TV interview, Colion Noir, a commentator and web series host for the NRA, said on his show that Obama and Hillary Clinton were exploiting the emotional toll of the shooting to influence tighter gun control policies.
"They try to take advantage of people's ignorance about guns and their emotional response to horrible events to win votes and push an agenda that fosters an unhealthy dependence on the government," Noir said.
Noir added that he didn't want to tell the family of the shooting victims' how to feel or react, but cautioned them to not get too lost in their emotions: "Sometimes in a fight we can become so emotional. Everyone and everything starts looking like the enemy, even if they're there to help us. I'm deeply sorry for your loss."
Emanuel African Methodist Episcopal Church shooting in Charleston, NC - June 18, 2015
Charles L. Cotton, a board member of the NRA, wrote that George C. Pinckney, a pastor, South Carolina state legislator, and one of the nine shot and killed during a church Bible study, was to blame for the deaths.
"He voted against concealed-carry," Cotton said in a post on TexasCHLForum.com that was quickly deleted. "Eight of his church members who might be alive if he had expressly allowed members to carry handguns in church are dead. Innocent people died because of his position on a political issue."
An NRA spokesman told The Washington Post that "individual board members do not speak for the NRA and do not have the authority to speak for the NRA."
Navy Yard shooting in Washington, DC - September 16, 2013
On NBC's Meet the Press, NRA Executive Vice President Wayne LaPierre said "there weren't enough good guys with guns" to prevent the killing of 12 people in an office building at the Washington Navy Yard. LaPierre added that more people in military bases and offices need to be armed, including military personnel.
Related: Republicans Run From Donald Trump's Orlando Response
The NRA leader also blamed the U.S. mental health system and its inability to track those with mental health problems, and noted that some states fail to include those adjudicated as mentally ill in the national instant check system for gun purchases.
"We have a mental health system in this country that has completely and totally collapsed. We have no national database of these lunatics," LaPierre said.
Sandy Hook Elementary shooting in Newtown, Connecticut - December 14, 2012
LaPierre originally coined the "good guy with a gun" response, after a man shot and killed 20 children and six staff members at an elementary school in Newtown, Connecticut.
"The only thing that stops a bad guy with a gun is a good guy with a gun," he said at a Washington press event, adding, "With all the money in the federal budget, can't we afford to put a police officer in every single school?"
LaPierre blamed video games, music, the courts and the media for creating a culture of violence in the United States during his speech. He also criticized Congress for failing to create a national database of people with mental illnesses.
Virginia Tech shooting - April 16, 2007
Four days after a gunman killed 33 people on the Virginia Tech campus, the NRA only released a brief statement on its website declining to comment on issues of gun control. The statement read:
"The National Rifle Association joins the entire country in expressing our deepest condolences to the families of Virginia Tech, and to all who have been affected by this horrible tragedy. Our thoughts and prayers go out to the families and friends who lost loved ones to this senseless act.
This is a time for people to grieve, to mourn, and to heal. This is not a time for political discussions or public policy debates.
Virginia Governor Tim Kaine has declared today a day of mourning; as a Virginia based organization, we respect and abide by this declaration.
We will participate in this discussion at an appropriate time. In the interim, our thoughts and prayers continue to be with the victims, their families, and the entire Virginia Tech community."