At least 50 people were dead and 53 more were in hospitals after a gunman opened fire early Sunday at a nightclub filled with hundreds of people in Orlando, Florida. It was the deadliest mass shooting incident in U.S. history. With much information still to be uncovered, here's what we know so far:
Who Is the Gunman?
Law enforcement sources identified the gunman as Omar Mateen, 29, a divorced security worker who was born in New York and was believed to recently have been living in Fort Pierce, Florida. His ex-wife described Mateen as abusive and belligerent, and a former co-worker as a virulent racist who was "scary in a concerning way."
Mateen had an associates degree in criminal justice technology and was a security guard with G4S Secure Solutions, an international private security company formerly known as Wackenhut Corp., with U.S. headquarters in Jupiter, Florida, G4S confirmed. The company said he wasn't on duty at the time of the shootings.
The FBI said that it had been in contact with Mateen three times in connection with alleged radical expressions but that the inquiries were dropped for lack of substantiation.
Mateen's father, Seddique Mir Mateen, was a political activist in his native Afghanistan, where he once ran for president. Mateen's father, who hosts a television show in Southern California on Afghan-Pakistani relations. has condemned ISIS and has called the United States and President Barack Obama friends of Afghanistan.
Who Was Targeted?
The victims were among more than 300 people enjoying Latin night at Pulse, a gay nightclub in Orlando, which its owner said has "served as a place of love and acceptance for the LGBTQ community." June is national LGBT Pride Month.
Fifteen victims have been identified so far:
Edward Sotomayor Jr., 34.
Stanley Almodovar III, 23.
Luis Omar Ocasio-Capo, 20.
Juan Ramon Guerrero, 22.
Eric Ivan Ortiz-Rivera, 36.
Peter O. Gonzalez-Cruz, 22.
Luis S. Vielma, 22.
Kimberly Morris, 37.

Eddie Jamoldroy Justice, 30.

Darryl Roman Burt II, 29.

Deonka Deidra Drayton, 32.

Alejandro Barrios Martinez, 21.

Anthony Luis Laureanodisla, 25.

Jean Carlos Mendez Perez, 35.

Franky Jimmy Dejesus Velazquez, 50.
What Weapons Were Used?
Mateen, who had security and firearm licenses, used a Sig Sauer MCX, an AR-15-type rifle, and a handgun, both of them purchased legally, authorities said.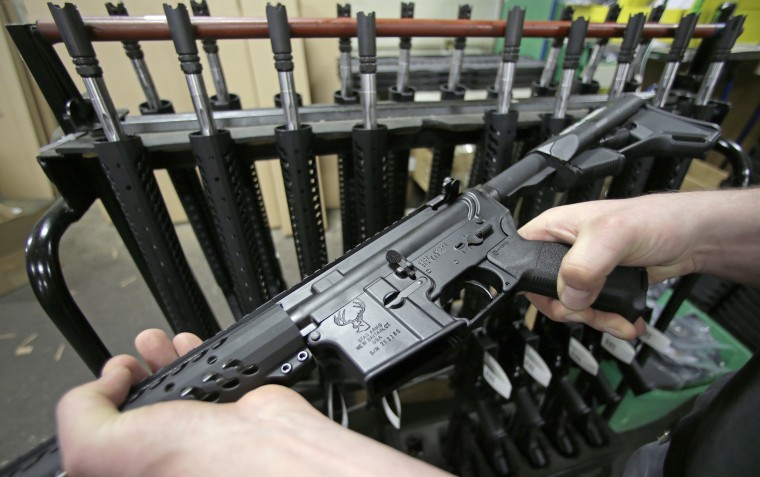 The U.S. Bureau of Alcohol, Tobacco, Firearms and Explosives said the weapons were bought in the last few days.
The AR-15, a semi-automatic rifle, has been used in many mass shootings in U.S. history — at Aurora, Colorado, at Sandy Hook Elementary School in Newtown, Connecticut, and just last year at San Bernardino, California.
Bomb-sniffing dogs alerted on possible explosives, but authorities said none were found.
CNBC Special Report: America's Gun: The Rise of the AR-15
Was the Attack Religiously Motivated?
The motive hasn't been definitively established.
Mateen's father told NBC News he believed the attack was caused by his son's hatred for homosexuality, and Rep. Alan Grayson, D-Florida, who represents the area in Congress, called the shootings a "hate crime."
Authorities, however, said Mateen not only pledged allegiance to the leader of ISIS in a call to 911 shortly before the shootings but also specifically mentioned Dzhokhar and Tamerlan Tsarnaev, the brothers who carried out the fatal bombings at the Boston Marathon in 2013. Authorities have described the Tsarnaevs as Islamist extremists.
There's no initial indication that Mateen was in touch with terrorists overseas or that the attack was directed by someone else, a law enforcement official told NBC News. Nor is there evidence that anyone helped or encouraged him, several officials said.
How You Can Help
The LBGT activist group Equality Florida has established a fundraising page on GoFundMe to support the victims. More than $1.1 million had been raised by 11 p.m. ET Sunday.