The global security firm that employed Orlando shooter Omar Mateen is facing additional scrutiny over whether it adequately screened his fitness to be a gun-carrying licensed security guard, this time from a psychologist who says she never administered a key mental health evaluation of him when he was hired in 2007.
Dr. Carol Nudelman said in a statement to NBC News that she had nothing to do with the psychological evaluation of Mateen that the security firm submitted to the state of Florida on Sept. 6, 2007. The firm stated in its submission that Nudelman had conducted the test.
The form, which certifies that "the employee is mentally and emotionally stable" is required under state law, and cleared the way for Mateen to obtain a Class G permit and carry a firearm as part of his duties as a private security guard. Last Sunday Mateen mowed down more than 100 people at the Pulse nightclub in Orlando, killing 49 in America's worst mass-shooting attack.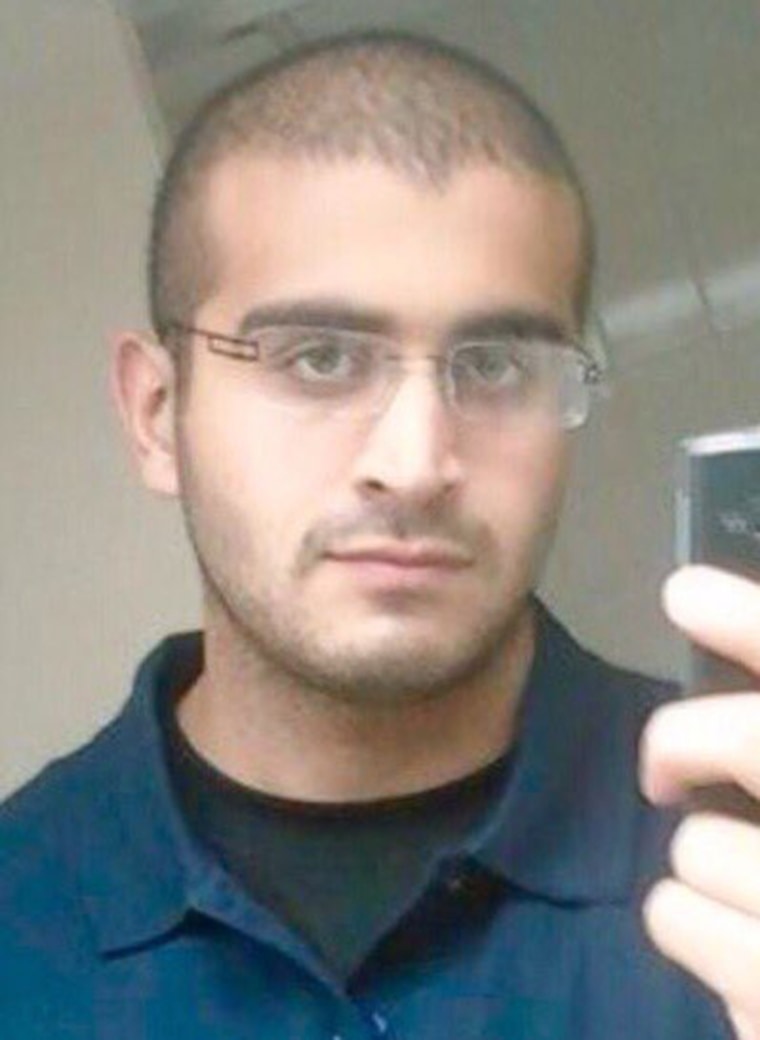 In her statement, Nudelman said she never administered the test to Mateen, that she was no longer practicing at her Florida office at the time of the test, and that she had sold her practice more than a year prior to the test.
"I was not living or working in Florida [in Sept. 2007]," she said. "I was not performing any work for Wackenhut, and I did not administer any type of examination to Omar Mateen. Any statement to the contrary is absolutely false." The Wackenhut Corporation was the security company that hired Mateen prior to G4S Secure Solutions USA buying the firm.
But the form that G4S submitted to the Florida Department of Agriculture and Consumer Services in Sept. 2007 lists Nudelman as the doctor administering the test, called an MMPI.
G4S, which does work in more than 100 countries, has come under criticism in the past for allegations of lapses in the way it screens its employees.
On Saturday, G4S issued a statement describing the use of Nudelman's name as a clerical mix-up, and said a different third-party vendor had actually done the evaluation.
"Dr. Nudelman did not score Mateen's evaluation," the G4S statement said. "She sold her practice in 2007. Mateen's MMPI was scored by HQPE (Headquarters for Psychological Evaluation). A clerical error failed to note the change in vendors scoring the exam."
The MMPI is a psychological evaluation that is commonly used to evaluate police officers and is the benchmark for psychological assessments. The G4S spokesman described it as a written test that is a scored by a psychologist, but that does not include an in-person interview.
Mateen achieved an above average rating on the MMPI and had a favorable recommendation for employment as an armed security officer, the spokesman said.
G4S did not name the individual who did administer the test to Mateen, or say whether Nudelman's name appears on any other forms for other guards submitted after she wasn't doing exams for the firm.
"A test was administered," a G4S spokesman said. "The name of the reviewing psychologist was wrong on the firearms license, due to a clerical error."
NBC News reported on Thursday that G4S didn't make Mateen undergo any additional psychological exam at any time after he was hired, even after two FBI inquiries into his claims of terror ties and complaints about odd behavior.
NBC News also reported earlier in the week that complaints about Mateen's inflammatory comments in 2013 prompted G4S to transfer him from an armed security position at St. Lucie County Courthouse to one as an unarmed ID checker at a South Florida gated retirement community.
The G4S spokesman said that while applicants for Armed Security Officer positions are required by G4S to complete the MMPI test, there is no requirement for them to undergo one after they are hired.
"G4S does not do psychological exams of Protection Officers after they are hired. Mr. Mateen complained of harassment and acknowledged to G4S and the FBI that he made inflammatory remarks in anger. It is not our policy — nor the policy of any security provider or law enforcement agency that we are aware of — to demand psychological exams in such situations.''
Several security experts told NBC News that even if such a test is not required, that G4S should have conducted one given Mateen's behavior.
Mateen claimed to colleagues that he not only had ties to the Al Qaeda and Hezbollah terror groups, but that he also had ties to the Tsarnaev brothers, who detonated bombs at the Boston Marathon in 2013.
Mateen admitted making at least some of the comments, but claimed he made them in anger after courthouse colleagues harassed him about his "Middle Eastern" background, the G4S spokesman said. He said Mateen claimed he was the victim of workplace harassment.
In 2014, the FBI investigated Mateen's ties to another South Florida man who became an ISIS sympathizer and blew himself up in a suicide attack in Syria.
The FBI closed both probes without filing criminal charges and GS4 said it never knew of them until Mateen mentioned his interviews with the FBI as part of his workplace harassment complaint.