One year after the tragedy, Pulse nightclub shooting survivor Patience Carter is moving forward, but still trying to heal.
The 21-year-old just finished her junior year at New York University. No longer walking on crutches and limping after being shot in both legs with a shattered femur bone, she says she now stands strong, wearing high heeled shoes once again — a small personal benchmark. The journey to healing has given her hope.
"I really am shocked at how my body physically has overcame what I went through. My leg it kind of gets stiff fairly often but overall I can walk, I can even jog if I wanted to," Carter said. "It might be a little painful, but not like excruciating. It's been a constant progression."
In a poem posted on Instagram the morning of the one year anniversary, she writes, "my walk will never be the same," reflecting on what happened the night gunshots took the lives of 49 people and injured dozens of others.
She was vacationing with her friends Tiara Parker and Akyra Murray when they decided to go to Pulse for a night out. They were dancing and celebrating Murray's academic accomplishments when gunshots rang out in the club.
Carter and Murray ran out of the club once they heard the shots, but went back inside to look for Parker. She hid in a bathroom and when Omar Mateen started shooting, Jason Josaphat, a stranger, shielded her from gunfire. Josaphat and Murray did not survive.
Although she has healed physically, she is still on an emotional road to recovery. Carter had once tried counseling as a method of healing but stopped because she felt it was unsuccessful and tried to cope own her own.
Related: Orlando Nightclub Shooting Survivor, Patience Carter: 'Each Day Is a Struggle'
She recently appeared on Iyanla Vanzant's 'Fix My Life' with other Pulse shooting survivors and opened up to Vanzant about not only what happened that night, but another pain she had deeply buried. Speaking with Vanzant about her experience and rejection from her mother has helped her heal.
"I never talk to anybody about my mother, it's a really sore, soft spot for me and she really helped me come to the realization that I'm connecting her with this post experience," Carter said. "She made me realize my feelings, emotionally being numb and stuck had a lot to do with me waiting for my mother to come and save me. She just dumped right into me."
Carter is still dealing with conspiracy theories, accusations that she is a crisis actress and never was injured in the nightclub shooting. A video posted on YouTube in April alleges she used the incident at Pulse to "further her career." Carter says the claims are "ridiculous."
"I'm angry, it still triggers my emotions. When I was in the hospital and I first saw it I broke down. I would wail loudly and people would have to come console me because I would be soooo upset, but now I just get angry," Carter said. "How could you be so insensitive, insensitive to people who were injured and hurt and lost someone in this situation? If I could talk to any of them I would say, 'shame on you.'"
Related: Black Muslim LGBT Community Speaks Out in Wake of Orlando Shooting
She will be spending the summer in California as intern in the television department at Paramount Pictures and a student in UCLA's Film and Television Institute creative producing program. It's not only an opportunity to gain experience, but a much needed change in scenery.
"Right now in New York, even returning just going back to the life I once had before everything happened, it's a constant reminder of everything that I've went through," Carter said. "To see something that you used to go to all the time without having any issues and even when I walk up steps I still feel this pain in my leg. It's an annoying reminder 24/7 that something has happened, but at the same time it's a reminder of how strong I am and how far I've come."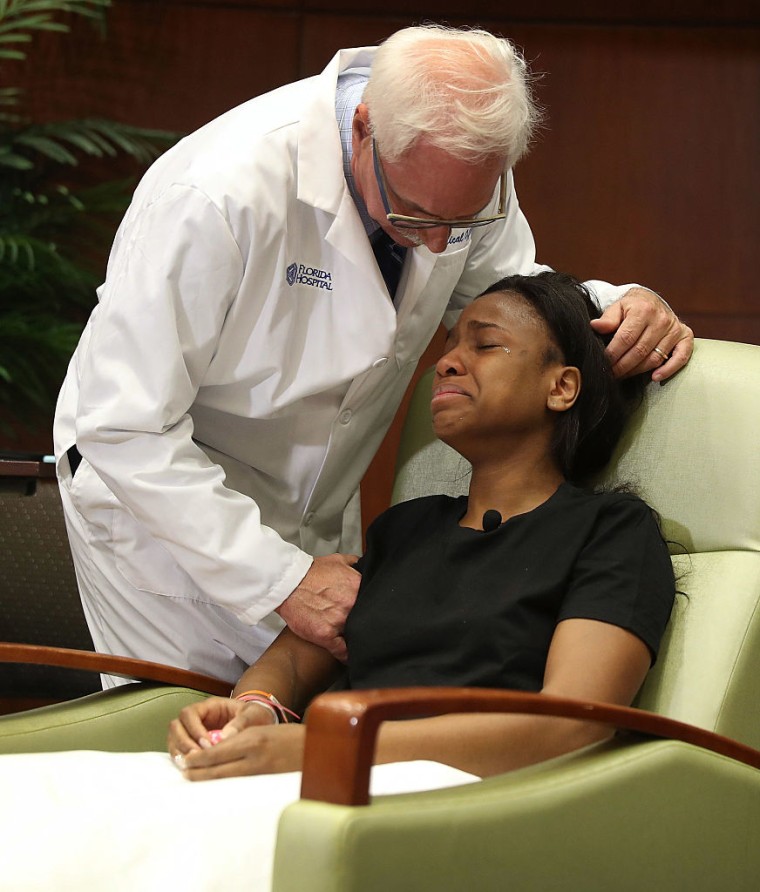 With recent shooting deaths of unarmed black men and a rise in hate crimes across the country, she is calling for stricter gun laws and reform on the criminal background check system. She has been meeting with congressional leaders such as Rep. Brian Fitzpatrick, R-PA, on Capitol Hill about gun violence, police reform, terrorism, and mental health.
"I think we need to go back to the drawing board and look a little bit more closely. At some point you just wonder in these situations, 'how did this person get a gun in the first place?'" Carter said. "I'm not saying guns are bad, I'm saying certain people shouldn't be allowed to have them."
In February, President Trump signed an executive order rolling back regulations put in place by the Obama administration that made it difficult for people with mental illnesses to buy a gun. "I don't have a lot of hope in this administration," Carter said, noting that she wants to help create a balance between law enforcement and the communities.
Keeping the memory of victims alive and honoring other survivors, she recorded a song with Akyra Murray's brother "Praying for Orlando."
There has been tension among the families of Murray and Parker, who are cousins. Parker opened up to Vanzant about her guilt and said Murray's family blames her for Akyra's death. "It breaks my heart to see my best friend going through that," Carter said. She said the two families haven't spoken since Akyra's funeral but she plans to be in Philadelphia today for a basketball game being held in her memory.
"I want to show respect because at the same time she was out with me and Tierra that night. So regardless of what that family has to say I do want to pay my respects to Akyra because we were together and that day I feel like me and Tierra should be together."
Related: Opinion: Racial Hate Is Infecting College Kids in America
A bright future ahead in spite of her struggles, she hopes to graduate from NYU with honors, compete in Miss Black America, and is developing a show for teenagers to share their personal stories. Wanting to do it all, she still is trying to figure out what her career is going to be. In the meantime, she is going to keep moving ahead.
"You honestly don't know how strong you are until you have no other choice. I really surprised myself of the amount of resilience that I had after all of this. I'm just happy to see the woman I've become after this."
CORRECTION (June 13, 2017, 12:25 p.m.): An earlier version of this article misstated the party affiliation of Rep. Brian Fitzpatrick. He is a Republican, not a Democrat.