A federal judge in California on Wednesday ordered a mental exam for the wife of Orlando nightclub shooter Omar Mateen, and a prosecutor said she was asked by her husband which would inspire more outrage — an attack on a nightclub or an attack on a Disney complex.
Defense attorneys said Noor Salman, 30, who is charged with aiding and abetting her husband in the June 12 attack on Pulse nightclub that left 49 people dead, did not know about the attack ahead of time and portrayed her as a battered wife and a "special ed student."
The attack on the gay nightclub was the deadliest mass shooting in modern American history. Authorities said Mateen opened fire at the club early June 12 during an hours-long rampage and standoff before being killed in a shootout with police.
Federal prosecutor Sara Sweeney said at a hearing in U.S. District Court in Oakland, California, that Salman participated in scouting the Pulse nightclub, as well as City Place and the Downtown Disney complex in Orlando, days before the shooting attack.
Sweeney said Mateen hinted at the attack to Salman in a question the prosecutor characterized as "what would make people more upset, an attack on a nightclub or on Downtown Disney?"
Prosecutors also claim that Salman changed her story to the FBI — first saying she was unaware of the attack and later admitting she saw Mateen leave their home on June 11 with a firearm and a backpack of ammunition and describing him as being "pumped up."
"I knew when he left he was going to commit the attack," Sweeney said Salman told investigators.
Related: Relatives of Orlando Shooting Victims Sue Twitter, Facebook, Google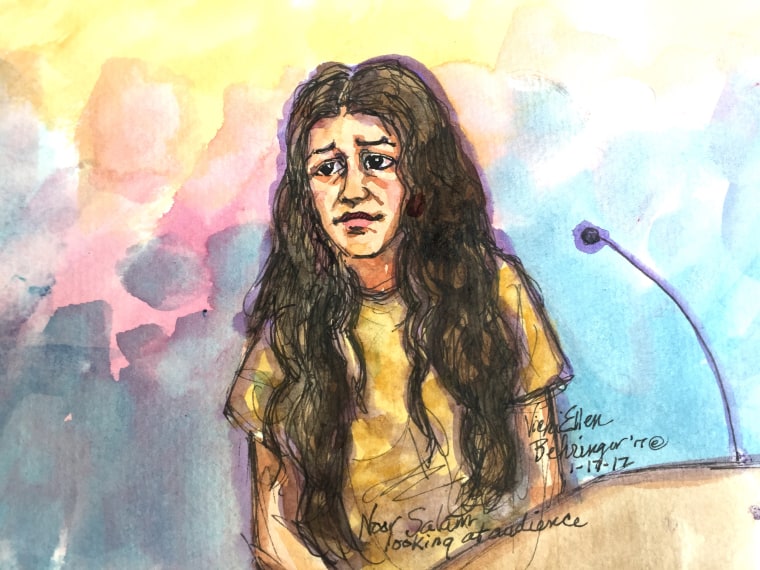 Defense attorney Charles Swift said Salman was a battered wife who did not know about the attack, and said she was interrogated by the FBI for 18 hours without an attorney present.
In court documents filed Tuesday, Salman's attorneys said her family members have described her as "childlike" and "obedient" and that she was abused by Mateen, who was taking steroids.
Salman went to bed and was asleep at the time of the attack, behavior Swift called "completely incongruous" with claims she knew about and assisted with the attack. Swift also disputed statements she allegedly made to the FBI.
"That apparently is the government's theory, that a special ed student who they could get to confess after 18 hours was actually a brilliant mastermind," Swift told reporters after the hearing.
Salman is not religious, did not have any contact with the terror group ISIS or watched any of the group's videos and Mateen took all actions before the attack, Swift said.
"You know what she is? She's alive. And Omar Mateen is dead. So she's the only person they can charge," he said.
Salman's attorneys said in Tuesday's court filing that the "scouting trip" to Pulse occurred as Mateen drove the family home from babysitting a relative, and Salman was a reluctant passenger.
Salman is being held in federal custody. She has pleaded not guilty. The judge ordered a mental exam, and a next hearing date has not been scheduled.