Since Woody Allen's "Blue Jasmine" was released last summer, actress Cate Blanchett has been an Oscar frontrunner for her portrayal of a Manhattan socialite who loses everything. But now that Allen's adopted daughter with former partner Mia Farrow has publicly renewed sexual molestation charges against him, it's Blanchett who could wind up the loser.
"Blue Jasmine" received three nominations this year — lead actress for Blanchett, supporting actress for Sally Hawkins, and original screenplay for Allen. For her performance, Blanchett has already won her third Golden Globe, her second Screen Actors Guild Award, and several other festival awards.
But then came Dylan Farrow's open letter in the New York Times on Feb. 1 detailing the sex abuse she alleges she suffered as a child at the hands of Allen — charges she first made in 1992. No charges have ever been filed against Allen, who wrote a counter essay in the New York Times on Friday denying all of the claims and blaming his ex, Dylan's mother Mia Farrow. But in the letter, Dylan Farrow, now 28, pointedly asked Blanchett and other actors who have worked with Allen, "What if it had been your child?"
The question looming over Hollywood's biggest night now is whether Academy members, who begin voting on Friday, will punish Allen's film at all costs.
"As sorry and sad as I am for the members within the Woody Allen camp and the Mia Farrow camp, their drama is certainly adding some vitality to the Oscars," said Oscar pundit Tom O'Neil, founder of the awards site GoldDerby.com. "If the Farrow family is successful in their attack, it could tarnish all things Woody with an ick factor that could hurt Cate. But it's not likely to happen. Talking to actual Oscar voters, I haven't found a single one who is backing away from Cate because of this hubbub. In fact, people are rallying to her because they think her Oscar could be at risk."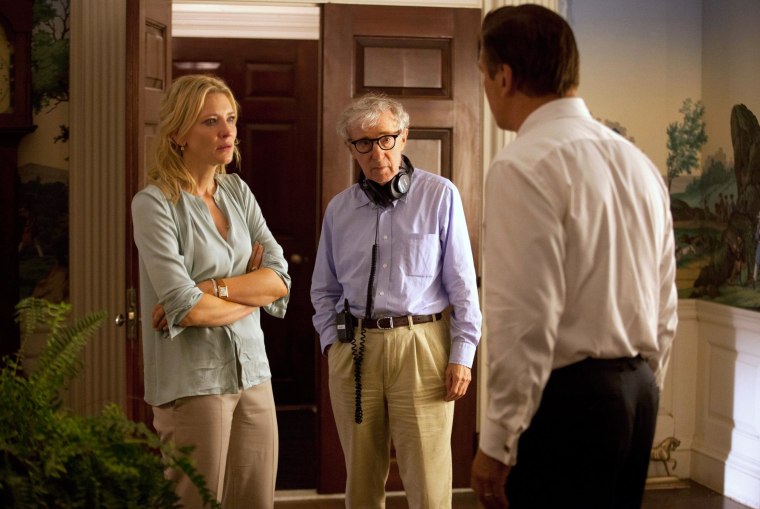 The controversy has not stopped Blanchett, 44, from attending several press events over the last week, including Monday's nominees luncheon at the Beverly Hilton, where the topic did not come up at a press conference. The Australian actress already has one Oscar under her belt for her supporting role in "The Aviator" in 2005. She's been nominated for lead actress two other times — for "Elizabeth" in 1999 and for "Elizabeth: The Golden Age" in 2008. She's also been nominated twice for supporting actress for "Notes on a Scandal" in 2007 and "I'm Not There" in 2008.
"This [nomination] certainly took me by surprise," Blanchett said to reporters. "I threw myself at the role and when you do that, you get nervous...you're partly working unconsciously when working deeply. I'm excited about this."
Susan Wloszczyna, who writes for IndieWire.com's Women and Hollywood blog, says Oscar voters have a track record of judging a performer's work and not their personal lives. Elizabeth Taylor was nominated three times in a row despite the fact that she had a well-publicized affair with Eddie Fisher when he was married to Debbie Reynolds. Jane Fonda wasn't punished for her stance on the Vietnam War, and neither was Vanessa Redgrave for her support of the Palestine Liberation Organization in 1977.
More importantly, "Cate didn't do anything except work with this man," said Wloszczyna, has been covering the film industry for three decades.
"The fact that this has happened and specifically that Dylan's letter basically calls her out, does that implicate her? Is she guilty by association? You have to step back and think, OK, she herself has never been known for scandal. The Oscars are still a little less than a month away. I think she's the anointed one this year and it's going to take a lot more for the voters to change their minds than a statement in the New York Times."
But O'Neil recalls nominees whose personal troubles have come back to haunt them. As he figures, the Academy did punish Russell Crowe for assaulting a producer by denying him an Oscar for 2001's "A Beautiful Mind." Peter O'Toole and Richard Burton never won Oscars.
"They were ripping up taverns and showing up late on set," O'Neil said. "They were hooligans so it did come back to hurt them. Now, I don't believe Cate will be affected at all. But the question is, what happens to Woody? He's on an Oscar rebound right now. Will he be personally affected by this?"
Blanchett addressed the matter at the Santa Barbara International Film Festival when a journalist asked her to respond to the letter the day it was published. "It's obviously been a long and painful situation for the family and I hope they find some sort of resolution and peace," she said. Although the actress lost her friend, Philip Seymour Hoffman, that same weekend, she has kept up with promotional appearances for "The Monuments Men," which was released on Friday.
"Her comment says a lot about her," Wloszczyna added. "She didn't just say 'no comment' and walk away. She made it about the family and concerns about them. She didn't run away. She didn't hide from these things that affected her personally and professionally, which speaks very highly of her. She just faced it head on."
If she wins, Blanchett will have to decide whether to include Allen in her acceptance speech. So far in her speeches this awards season, Blanchett has expressed her gratitude to Allen every time.
"She's gotta thank Woody Allen. I don't think she wouldn't," Wloszczyna. "I don't think that means she's getting into his personal life. She's going to thank him for giving her this incredible role."
Because he thinks Blanchett has "supreme class," she will know how to navigate her words, O'Neil said.
"We've never seen anything like this play out at the Oscars before," he said. "It's a painful reminder that the Oscars are one big family. It's an ugly family squabble being played out in front of everybody. Remember what the Oscars are —t hey're a hug to Hollywood's inner circle. They give hugs and they welcome people back. There's this ugly side of this family drama that could pop up at the Oscars and we've never seen that before."