A Syrian cinematographer who worked on an Oscar-nominated documentary will not attend Sunday's awards ceremony as planned, amid uncertainty over whether he was barred from entering the U.S., or chose not to come.
Khaled Khatib is one of three people credited with cinematography on "The White Helmets," an Oscar-nominated documentary short which chronicles the exploits of a group of rescue workers who risk their lives to help civilians affected by the war in Syria.
Related: Netflix's 'White Helmets' Highlights a Syrian Rescue Group on the Front Line
In a phone interview with NBC News, Khatlib said officials told him his visa was cancelled when he arrived at the airport on Tuesday. Khatlib said he wanted to attend the ceremony, but circumstances did not allow it, calling his experience "naseeb"— an Arabic expression meaning "fate."
Of Sunday's award ceremony, Khatib said he hopes his film wins and raises awareness about the situation in Syria.
There have been conflicting reports as to the reason for Khatlib missing the ceremony.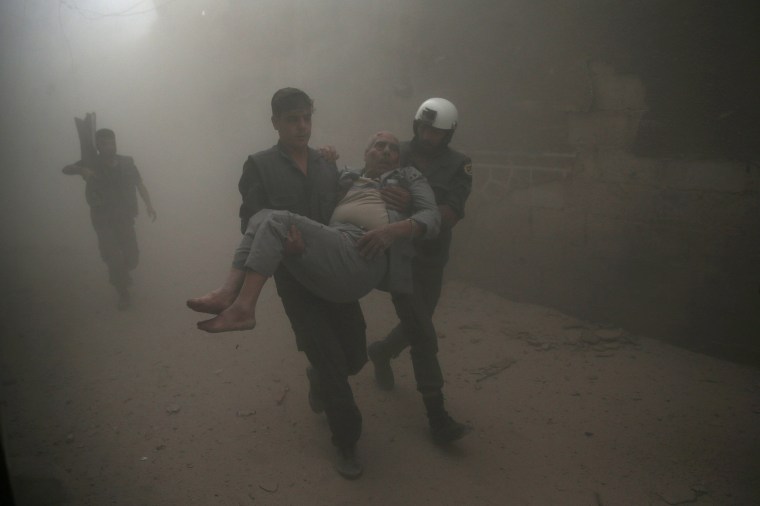 In a statement released Saturday, Syria Civil Defense — the official name of the White Helmets organization – said that Khatlib would not be able to travel "due to his passport being cancelled by the Syrian regime, despite having been issued a U.S. visa specifically to attend the awards ceremony."
The statement added that Raed Saleh, the head of Syria Civil Defense who was also due to attend the ceremony with Khatib, would not be attending either.
"The intense air strikes across the country mean he must focus on work inside Syria," it said.
Earlier reports, however, had suggested that U.S. authorities had barred Khatib from traveling to the U.S. In a tweet posted Saturday, Khatib said: "After three days at airport, not allowed to travel to #oscars2017 - had US visa - but passport not accepted. Sad, but important work to do here."
The Associated Press, citing internal Trump administration correspondence, reported that the Department of Homeland Security decided to deny Khatib entry to the U.S., after officials reported finding "derogatory information" concerning him.
Related: Who Are Syria's 'White Helmets'?
Derogatory information can consist of anything from passport irregularities to suspected terror connections.
A spokesperson for U.S. Customs and Border Protection told NBC News that it did not comment on individual cases.
There are around 3,300 members of the White Helmets, and the group says 154 of their volunteers have been killed during the Syrian conflict, during which they have been credited with saving over 82,000 lives.
The group was nominated for the Nobel Peace Prize in 2016.