LONDON — A top Yemen al Qaeda leader claimed responsibility for the Charlie Hebdo massacre on Wednesday, saying that his organization orchestrated the attack as "vengeance."
In an 11-minute video titled "Message regarding the blessed raid in Paris," Nasr al-Ansi said that al Qaeda in the Arabian Peninsula (AQAP) "chose the target, laid the plan and financed the operation," according to a translated transcript put out by Al Malahem Media, AQAP's official media wing. The transcript was provided to NBC News by the Quilliam anti-extremism think tank.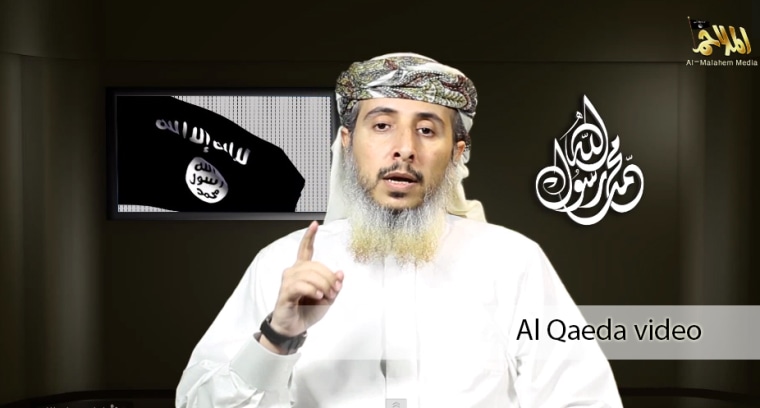 The Charlie Hebdo attackers, brothers from Paris, claimed they were from AQAP — which is considered the most violent branch of al Qaeda. Intelligence officials have believed for some time it would be the branch most likely to stage an attack on the West. The satirical magazine had published cartoons of the Prophet Muhammad in the past.
In the video released Wednesday, Ansi congratulated the Cherif and Said Kouachi and called them "heroes of Islam" as the brothers' pictures flashed behind him. He also said it was a gift from God that the operation coincided with Amedy Coulibaly's attack on a kosher supermarket. Four hostages died in that siege.
The video featured footage from the attack, images from the rally in Paris on Sunday which drew millions in support of Charlie Hebdo, and of the 9/11 attacks on the World Trade Center.
Ansi blamed Western governments for protecting and supporting "offensive cartoonists" and journalists, and warned that unless the "insults" against the Prophet Muhammad stop, "do not expect of us except tragedies and terror."
AQAP is the same terror organization that killed an American hostage in Yemen late last year after a failed rescue. The hostage, Luke Somers, a photojournalist, was killed along with a South African teacher on Dec. 6 when AQAP militants realized that American commandos were storming their village.