LONDON — The deadly attack on a kosher supermarket in Paris has stoked fear across the English Channel with police patrols boosted to protect London's sizable Jewish community.
"We are a lot more worried than ever before, especially when it comes to our kids," mother Sarah Freilich told NBC News, adding the she no longer stands around to chat with other parents at her children's school and instead enters and leaves quickly.
Before leaving her house in the traditionally Jewish neighborhood of Golders Green, the 31-year-old now makes a point of glancing around for potential threats and when shopping in her local kosher shops, she fills her basket, pays and leaves without delay.
"I phoned my children's school this week to find out how they are changing their security and they said they are now putting locks on the inside of all the classroom doors," Freilich added.
She's not the only one on edge.
Synagogues, Jewish schools, shops and others organizations are reviewing their security policies and in some cases putting new, tighter procedures into place.
"I never thought I would see the day when members of the Jewish community in the United Kingdom would say that they are fearful of remaining here"
Aware that customers may be particularly fearful of a copycat attack, London's Kosher Kingdom supermarket sent out an email to its customers last week highlighting that it is improving its security and increasing its surveillance camera coverage.
And in a sign that some Jewish shoppers are wary of venturing out in public, Menachem's Kosher Butcher and Deli said it had around made three times more of deliveries at the end of last week as usual — 75 as opposed to the usual 25 or 30.
Concerns about the safety of the Britain's 300,000-strong Jewish community — the second-largest in Europe after France — are being acknowledged at the very top of government.
"I know that many Jewish people in this country are feeling vulnerable and fearful, and you are saying that you are anxious for your families for children and for yourselves," Home Secretary Theresa May said in a speech at an event commemorating the Jews killed in Paris on Sunday. "I never thought I would see the day when members of the Jewish community in the United Kingdom would say that they are fearful of remaining here."
Community Security Trust (CST), a charity that provides physical security, training and advice for the British Jews, has taken on extra staff to deal with the unprecedented number of calls from concerned citizens.
"Our extra efforts now are about reassuring the community, and saying that it's OK to worry, but it shouldn't stop them from going about their daily lives," said Dave Rich, a spokesman for the organization. "It is necessary to have security and policing, but it should still be seen in wider context of Jewish life in Britain which is very good indeed."
Over the last week, the main streets in Jewish areas have seen a strongly visible increase in the number of additional patrols by both CST and the police, particularly during key shopping times like Thursday evenings and Fridays, as well as on the Jewish Sabbath and Sunday.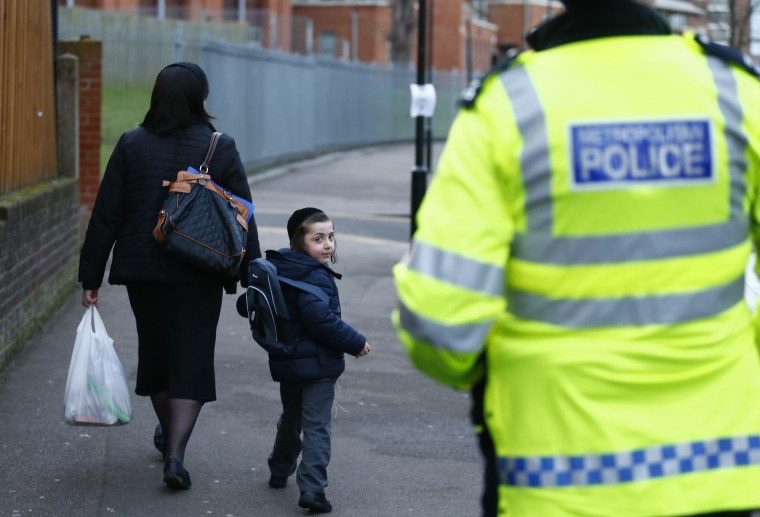 While officials are quick to say that they have no specific intelligence about an attack, police have highlighted "heightened concern about the risk to the Jewish community in the U.K."
Even before the events in Paris, security was tight at Jewish schools and synagogues.
Nearly all have a private guard along with surveillance cameras and high gates or fences. Some schools require parents entering their grounds to show ID. One school has held practice drills for its students where they play "sleeping lions," ducking under their desk and covering their heads.
"When Jews saw the attack in Paris, they could imagine themselves in similar supermarket in London," said Jonathan Boyd, director of the Institute for Jewish Policy Research. "But there is a really important distinction to be drawn between the levels of anti-Semitism and extremism in Paris and London. Britain is one of the least anti-Semitic countries in the world. Jews aren't anxious about being harassed on the street but they are concerned about an indiscriminate attack on Jewish site."
Earlier this month, NBC News revealed that the number of French Jews emigrating to Israel has jumped dramatically in recent years as a result of an uptick in perceived anti-Semitism.
But whether or not Britain is less anti-Semitic than other parts of the world is beside the point, according to Louise Lanzkron, a resident of the Hendon area of Northwest London.
"I don't want to be alarmist, but I feel like it's sensible to be aware that there is a danger," she said. "It is good to see the increased presence of the CST and police. I am not sure how much more could be done. The threat is so random — something could happen tomorrow or five years from now."