PARIS — It was business as usual on the streets of Paris early Thursday as commuters calmly headed to work just hours after thousands defiantly showed their solidarity with the 12 victims of a terror assault on the office of satirical magazine Charlie Hebdo.
Despite an ongoing manhunt for at least two AK-47-wielding suspects, huge crowds gathered in Place de la Republique holding pens, lights and signs that read "I am Charlie" late Wednesday.
A few candles continued to flicker there Thursday morning.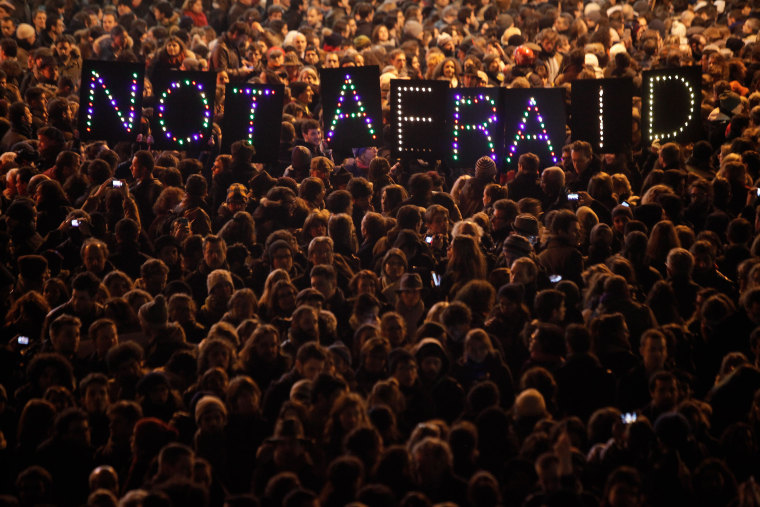 Vanessa Celestri stopped by with her two daughters in their way to school to pay tribute to the victims.
"It's absolute horror," she told NBC News. "We are furious. I want my girls to see this and understand."
Celestri said she is not scared and was determined to go about life as usual.
"We shouldn't change," she added. "If we have fear that means they've won."
Charlie Hebdo had enraged some Muslims by publishing cartoons depicting the Prophet Muhammad. The victims included journalists, cartoonists and police officers.
French authorities on Wednesday identified the three suspects in the attack as Said Kouachi, 34, and Cherif Kouachi, 32, French nationals who are brothers, and Hamyd Mourad, 18. Mourad turned himself in to police. French media quoted friends as saying he was in a school class at the moment of the attack.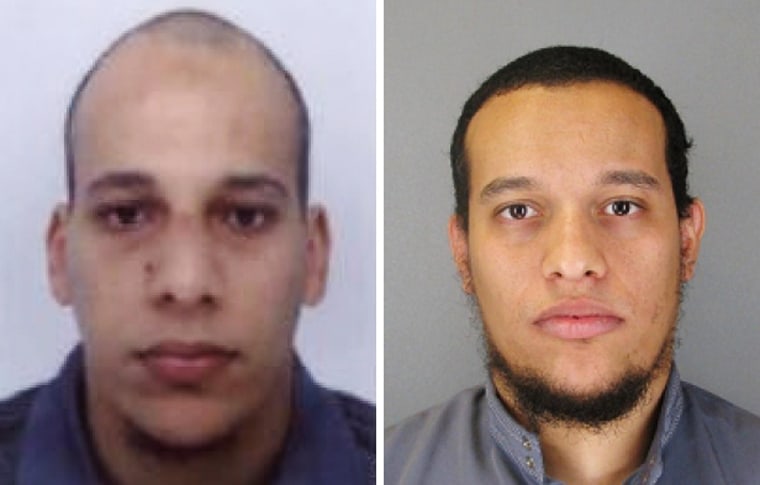 Cherif Kouachi served 18 months in prison on a charge of criminal association related to a terrorist enterprise after being convicted in 2008. He was part of an Islamist cell enlisting French nationals from a mosque in eastern Paris to go to Iraq to fight Americans in Iraq and arrested before leaving for Iraq himself.
Prime Minister Manuel Valls said France faced a terrorist threat "without precedent" and confirmed the two brothers were known to security services.
A total of seven people had been arrested since the attack, he added. Police sources told Reuters they were mostly acquaintances of the two main suspects. That report could not immediately be confirmed by NBC News.
Video captured during the attack showed one of the assailants outside the Charlie Hebdo offices shouting "Allahu Akbar!" — or "God is Greatest!" — as shots rang out.
The gunmen remaining at large didn't stop thousands from cramming themselves into Place de la Republique on Wednesday. Many chanted: "Charlie! Liberty!"
"This magazine is the embodiment of French journalism, of French freedom of expression and of French values," Sasha Reingewirtz, president of a Jewish student union, told NBC News. "They want to scare French citizens and prohibit any criticism of religion, so here we are to remind them that religion can be freely criticized."
Some people huddled in a circle of silent prayer, surrounding candles and previous covers of the magazine. Journalists made themselves known in the crowd, brandishing press credentials and a brightly lit sign that read: "Not Afraid."
"It's not just because they murdered our colleagues that we're going to stop," said Maïla Mendyl, a French video journalist. "We'll redouble our efforts, with our crayons, with our articles, with our reports and we'll be even stronger. Then they'll realize that they've failed in their quest to scare us into silence."
In a somber address to the nation Wednesday night, French President Francois Hollande pledged to hunt down the killers, and pleaded with his compatriots to come together in a time of insecurity and suspicion. "Let us unite, and we will win," he said. "Vive la France!"
He also declared Thursday a national day of mourning. A moment of silence was held at noon local time (6 a.m. ET).
Thursday's edition of France's Figaro newspaper read "Freedom Assassinated" while Liberation went with "We Are All Charlie."
Reuters and The Associated Press contributed to this report.