FRANKFURT, Germany — For the first time in years, German satirical Titanic magazine has sold out in many cities.
The February edition's cover draws inspiration from multimillion selling children's favorite "Where's Waldo" and poses the question "Where's Muhammad?"
But readers searching for the Prophet Muhammad were left disappointed. He was not depicted on the cover.
However, Muhammad is shown inside the magazine. A photomontage depicts the prophet going to a synagogue. "Out of shame over attacks: Muhammad converts to Judaism," the headline reads.
Last month's terrorist attack on the Paris offices of Charlie Hebdo — which had also published Muhammad cartoons in the past — triggered debate about satire, humor and free speech.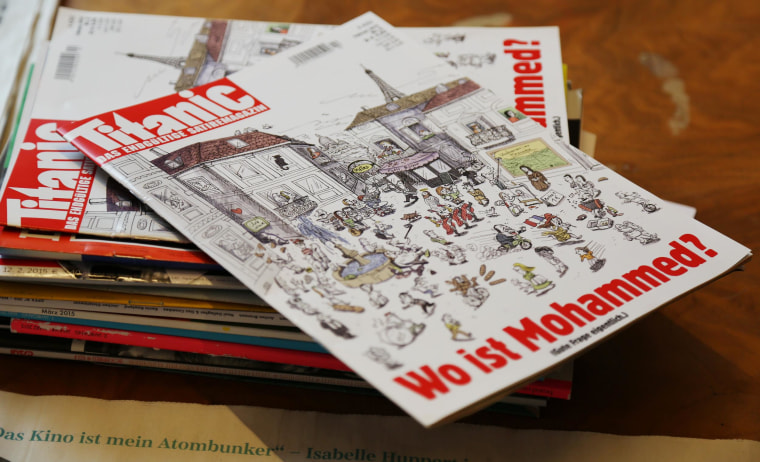 Tim Wolff, editor-in-charge of Titanic, said the magazine had little choice but to comment on the Charlie Hebdo attack and refer to controversy over depictions of the Prophet Muhammad — which some Muslims regard as blasphemous.
"We had to make these jokes," Wolff said. "You cannot do satire in a way that Islamist terrorists are content with it. It doesn't work."
He added: "We want to make fun with the prophet, not of the prophet."
Like Charlie Hebdo, Titanic in 2006 reprinted controversial Muhammad cartoons that sparked global protests after they appeared in Danish newspaper Jyllands-Posten.
Last weekend, a gunman opened fire with an automatic weapon outside a Copenhagen cafe hosting a free speech event featuring Swedish artist Lars Vilks, who received death threats after drawing Muhammad in 2007.
While the Charlie Hebdo attack sparked protests around the continent backing freedom of expression, Wolff said public support seemed to evaporate amid further threats of violence.
"The fear has come back fast and the 'Je suis Charlie' signs disappeared quickly," he said.
According to Wolff, Titanic has received no complaints over its latest issue. Instead, it's reporting record newsstand sales and a rise in subscriptions.
"There was a wave of solidarity — quite a surprising one," he said. "It's nice that satire is getting attention, but it's horrible that this was the reason."
The Charlie Hebdo attack provoked soul-searching across Europe.
"The killings have been a shock to French journalism," Jean-Paul Marthoz, the Europe representative at the Committee to Protect Journalists, wrote in a blog post. "The shooting may be claimed by its perpetrators as revenge against the magazine, but many commentators see it as an attack against a cherished fundamental freedom."
Ian Hislop, editor of British satirical magazine Private Eye, issued a statement saying that victims of the Paris attack "paid a very high price for exercising their comic liberty." Representatives for the magazine declined interview requests from NBC News.
Meanwhile, security concerns prompted the removal of a "Je suis satire" sign from a float before the start of a Carnival parade in Wiesbaden, Germany, last weekend.
Andreas Taschler, one of the people behind the float, told NBC News that the event's organizing committee had tried to restrict media coverage of the Charlie Hebdo-inspired float. In the end, the float showing a pencil cannon was part of the parade but without the direct reference to the Paris attacks.
At Cologne's parade, a planned Charlie Hebdo float was banned, even though Facebook fans had overwhelmingly voted for it to be part of the event.
The Festival Committee of the Cologne Carnival said in a statement that it had cancelled the float so that everyone would be able to celebrate "without concern."
In Braunschweig, a Carnival parade was cancelled after police said there was a "concrete threat" of an Islamist attack.
However, Titanic's editor-in-charge insisted he would would remain defiant.
"I would say that at least for us not much changed, and not much will change," Wolff said. "For once we have a high feeling of a threat, but people in other jobs have that all the time, and they continue to work normally."