PESHAWAR, Pakistan — A Pakistani cleric has held funerals for Chérif and Saïd Kouachi, the Islamist terrorist brothers behind the Charlie Hebdo magazine massacre.
"Today we feel so proud to attend the funeral of our brothers," said cleric Allama Pir Mohammad Chishti after leading the funeral in absentia in the city of Peshawar. "They are heroes of Islam. They laid down their lives but eliminated those published caricatures of our Prophet Muhammad."
Chérif and Saïd Kouachi killed 12 journalists and police when they attacked the French satirical magazine that had published cartoons of Muhammad on Wednesday. They were slain after an armed siege on Friday.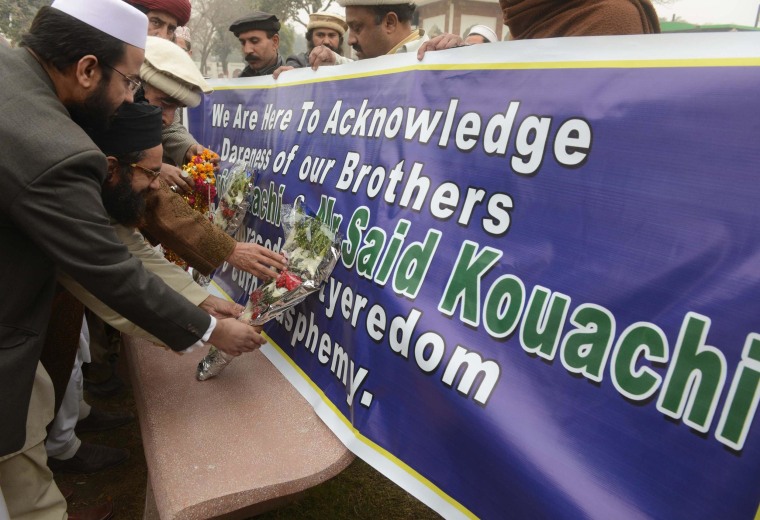 "We invited all the Muslims to join us as the two brothers had taken stand on our prophet by killing the publisher and cartoonists," said Abdul Aziz, a spokesman of the school that arranged the ceremony held in a public park.
Chishti runs the Ghousia Madrassa, or Islamic religious school. He also belongs to the Sunni Etehad Council, which is usually associated with groups that oppose terrorism.
The ceremony was delayed by about an hour and attended by only around 40 people despite many entreaties via loudspeaker.
Mohammad Rasheed Ahmad, a student at the madrassa, said he was disappointed so few came out to honor the Kouachis.
"We saw tens of thousands of people gathered in France to show solidarity with their slain men, but Muslims didn't come to take part in the funeral of the two heroes who did this great job," he said.
Pakistanis are often the victims of religious extremism, with more than 50,000 dying in bomb explosions and suicide attacks since 2002.