Survivors of the Charlie Hebdo massacre have recounted the horrifying moment when gunmen entered their offices, shouting "God is greatest" in Arabic and killing journalists at close range.
One was told by attackers that she had escaped with her life because she was a woman, while another crouched under a table as attackers fired into the crowded room.
"It was unreal," Charlie Hebdo's senior reporter Laurent Leger said in an interview with radio station France Info.
Two gunmen wearing combat gear and masks and carrying machine guns attacked the Paris-based satirical magazine's offices on Wednesday as staff and contributors gathered for their weekly editorial meeting. The publication had previous ran cartoons of the Prophet Muhammad.
Sigolène Vinson, a freelance journalist, said she crawled along the floor to hide but one of the gunmen spotted her and grabbed her by the arm, pointing his gun at her head.
However, he calmly told her she would not be killed because she was a woman, she told the New York Times. "Don't be afraid, calm down, I won't kill you," he said, according to her account.
She told the newspaper that the gunman turned to his partner, who was still shooting, and shouted: "We don't shoot women! We don't shoot women!"
Leger said that when workers first heard gunfire they thought they were firecrackers.
"Then we heard footsteps," he told France Info. "The door opened a guy burst in screaming 'Allahu Akbar!' ["God is greatest"]… he looked like a member of [special forces] … he was wearing a balaclava, dressed all in black, holding a weapon with both hands."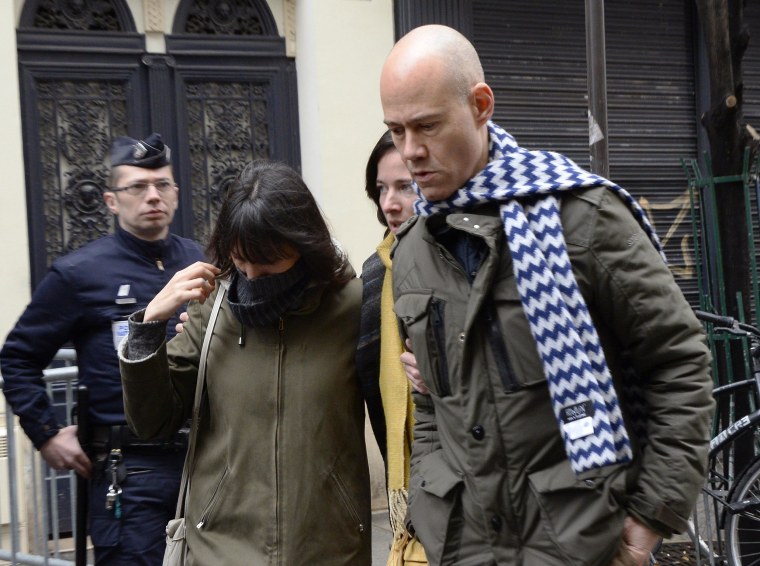 The gunman asked for Charb — the pen name of Charlie Hebdo chief editor Stephane Charbonnier.
"Then there was firing, the smell of gunpowder … a few seconds, everyone is on the floor … they fired into the crowd."
He added: "By chance, I was able to throw myself under a table. All of a sudden there was silence. When we finally got up, there were a few survivors. We rushed towards the injured. We couldn't understand what had happened. All this in Paris, in a newspaper."