France was on high alert Saturday, hunting a heavily-armed woman suspected of aiding three terrorists behind a string of shootings and hostage sieges that left 17 people dead.
President Francois Hollande chaired an emergency security meeting aimed at thwarting a repeat of the attacks around Paris by terrorists linked to al Qaeda in Yemen. A total of 16 people have been arrested since the attacks began on Wednesday, although five people with ties to the suspects were reportedly released Saturday as police interview witnesses and comb through evidence.
Authorities remained on the trail of Hayat Boumeddiene, a suspected female accomplice and the common-law wife of one of the Islamists behind the attacks. But amid the manhunt, French media reported that she already left France last week — taking a flight from Madrid to Syria via Turkey.
Surveillance images "are certain" to be of Boumeddiene, reported French newspaper Le Figaro on Saturday, citing a police source. NBC News could not immediately verify those reports.
Boumeddiene's name did not appear on passenger lists for Turkish airline flights from Madrid to Istanbul on Jan. 2 — the day she is believed to have traveled. When she would have left the country and whether she could have returned before the attacks remained unclear.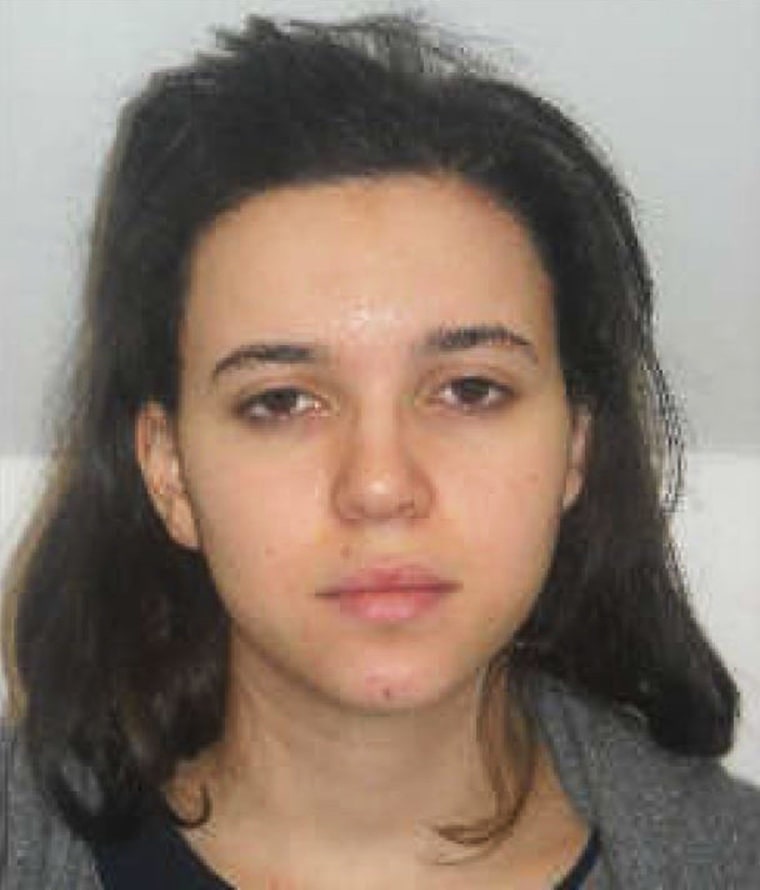 The earlier manhunt for brothers Cherif and Said Kouachi, who executed 12 people at the French satirical magazine Charlie Hebdo, came to a bloody and dramatic end Friday when they were killed in a gun battle with police at a printing factory outside of Paris.
A second armed siege at a kosher food store in the city ended in the shooting of a third suspect, Amedy Coulibaly, and four of his hostages.
Boumeddiene is described as Coulibaly's common-law wife. Police had named her as an accomplice in the shooting of a female police officer on Thursday and believe that she is armed.
"I'm sure that everything is being done to find her, but it's really disquieting to think that someone armed like this could be out there," said Matthieu C., who lives down the street from the magazine's offices. "We still need to rally and show that we will resist barbarism and fear," he told NBC News, declining to give his last name.
French Interior Minister Bernard Cazeneuve called for "extreme vigilance" in France's ongoing fight against terror, saying that "given the context, we are exposed to risks."
Security forces are deployed around the capital, guarding places of worship and tourist sites, preparing for what's likely to be a huge demonstration Sunday to show unity against extremists. World leaders including Germany's Angela Merkel and Britain's David Cameron are among the many expected to join.
Amid nervousness, there was a false bomb alert at the Eurodisney fairground to the east of the capital and there were reports of shots fired at as Synagogue in the 19th district but that also turned out to be false.
Cherif told a French TV station he was "sent by Yemen's Al-Qaeda," and a purported member of the terror group claimed it had directed the attack on the magazine, which had mocked Islam's Prophet Muhammad.
U.S. officials have said that Said Kouachi, 34, trained with al Qaeda in Yemen several years ago. His younger brother was convicted on a terrorism charge in 2008. They had been on the run since speeding away from the magazine's offices after the attack on Wednesday.
Five family members of the Kouachi brothers, including Cherif Kouachi's wife and the Kouachis' younger brother were released from police custody Saturday after questioning, Le Figaro reported. Another relative of the brothers, who turned himself in after seeing his name circulate on social media, was also freed from custody. The 18-year-old's schoolmates said he was at school at the time of the attack.
The reports of family members being released couldn't immediately be verified by NBC News.
French radio RTL released audio Saturday of Coulibaly in which he lashes out over Western military campaigns against extremists in Syria and Mali. He describes Osama bin Laden as an inspiration.
NBC News' Nancy Ing and Aziz Akyavas and The Associated Press contributed to this report.