Nearly one year after the massacre at Charlie Hebdo's offices, the French satirical magazine has a message: It is very much alive — but the killer is still out there.
The magazine will release a special edition on Wednesday to mark the first anniversary of the Jan. 7 attack on its staff, the initial target in a multi-day terror spree which left 17 victims and three terrorists dead.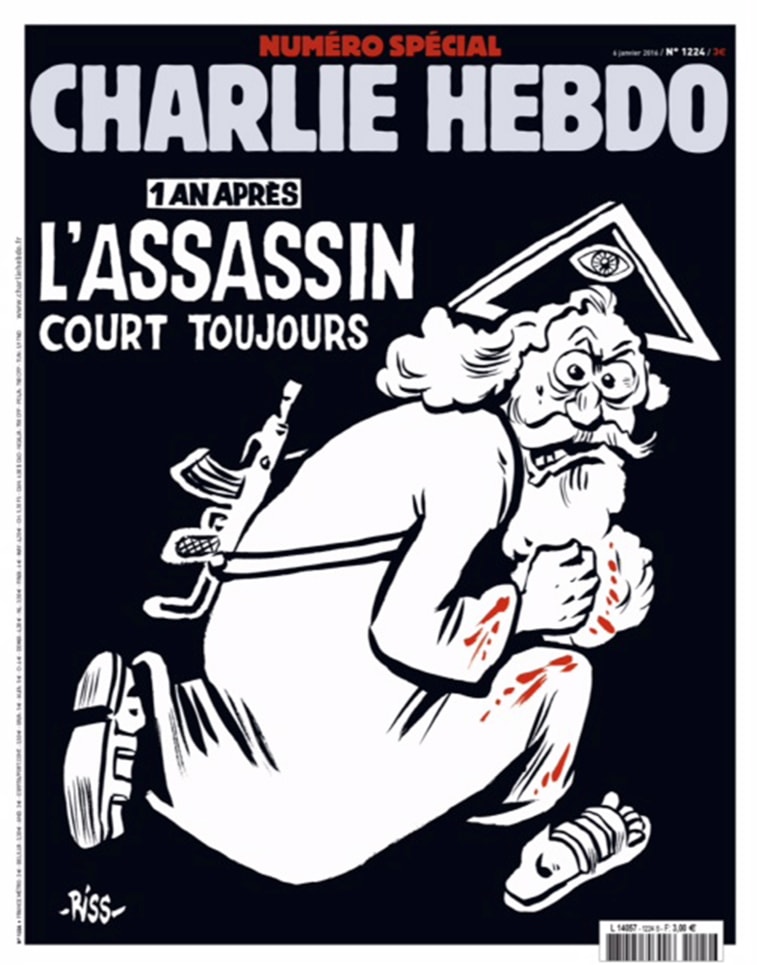 Charlie Hebdo is known for irreverent and controversial cartoons about religion, including depictions of the Prophet Muhammad.
The 32-page anniversary issue makes clear religion is not off-limits for the magazine — its cover features a cartoon of what appears to be a bloodied God with an assault rifle on his back
"One year later, the assassin is still on the run," reads the text above the cartoon, drawn by the magazine's director Laurent Sourisseau.
Sourisseau writes in a lengthy editorial that many people — extremists, other journalists, "fools and cowards" — wanted Charlie Hebdo's staff dead over the years for "daring to laugh at religion" or for being an anomaly of sincere media.
"Many hoped that one day someone would come put us in our places," said Sourisseau, also known as Riss. "Yes, many hoped that we would be killed."
He wrote that over the years, "death" loomed over Charlie Hebdo — financial risks threatened its existence then came threats over the magazine's content.
However, "the taste for life made us forget the fear of death," Riss wrote.
After hearing dozens of shots on the morning of the attack — there was silence in the office, Riss recounted. He said the silence informed him his colleagues were dead and at that moment he thought Charlie Hebdo — the magazine — was truly dead, too.
However, the events of Jan. 7 were some sort of "luck" because all of France started reading Charlie Hebdo, Riss wrote.
"The year 2015 was the most horrible year in Charlie Hebdo's history," he explains, saying it tested the magazine and its staff's convictions.
"Were they strong enough to give us the energy to pick ourselves up? You have the answer in your hands," the editorial reads. "The convictions of atheists and seculars can move more mountains than the faith of believers."
The answer he refers to is 32 pages of typical Charlie Hebdo.
The magazine will print 1 million copies of the special anniversary edition, which is due on newsstands Wednesday. Ahead of its publication, France on Tuesday was unveiling commemorative plaques to victims of the attacks at Charlie Hebdo and later a kosher supermarket.
The policewoman also killed by the extremists will be honored Friday with a separate plaque unveiling. On Suday, a ceremony at Place de la Republique — a rallying point for shows of solidarity in the attacks' aftermath.
The tributes and memorials come as France is still mourning a November terror spree across Paris, which left 130 dead in attacks on a music club, restaurants and soccer stadium.