PARIS — The suspected killer of a Paris police officer is linked to the brothers accused of the Charlie Hebdo magazine massacre and was likely involved in an armed siege at a kosher food store, an official said Friday.
Amedy Coulibaly, 32, is wanted in connection with the fatal shooting of a female cop in the southwestern suburb of Montrouge early Thursday.
Agnes Thibeau, a spokeswoman for the Paris prosecutor's office, told NBC News that Coulibaly "is known to French intelligence" and is "most likely" also behind the hostage-taking at a store in Port de Vincennes on Friday afternoon.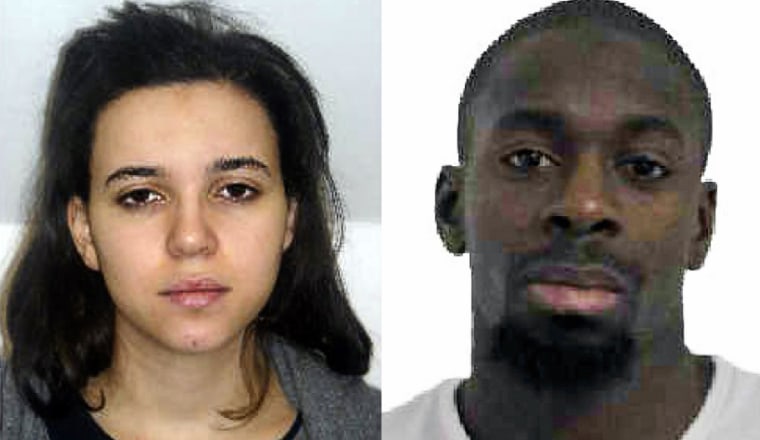 Thibeau added that there was a link between Coulibaly and Cherif and Said Kouachi, but did not specify what it was. The Kouachi brothers are suspected of killing 10 journalists and two police officers in Wednesday's assault.
Reuters earlier quoted a police source as saying the suspect in the cop killing and the Kouachi brothers were part of the same jihadi cell.
Coulibaly was sentenced to five years in jail for terror offences in 2013 but was released early for time served leading up to his trial, according to French former counter-terror judge Jean-Louis Bruguière. The retired judge said Couibaly probably met Djamel Beghal, a former top al Qaeda recruiter, while he was in prison.
Police also issued an appeal for sightings of Hayat Boumeddiene, 26, in connection with the Montrouge cop killing.