PARIS — Masked gunmen armed with AK-47s and shouting "Allahu Akbar" stormed the offices of a French satirical news magazine Wednesday in a terror attack that left 12 people dead, including the editor and two police officers.
The suspects shot dead one of the officers on the street as they fled — escaping first in a black Citroen that they abandoned after a crash, and then in a sedan they carjacked from a bystander.
There was no verified claim of responsibility or motive for the ambush, but the target, a weekly publication called Charlie Hebdo, has published cartoons of the Muslim Prophet Muhammad and was firebombed three years ago.
Late in the day, authorities released the names of three suspects: Said Kouachi and Cherif Kouachi, both in their 30s, and 18-year-old Hamyd Mourad. Officials later said the youngest suspect had turned himself in.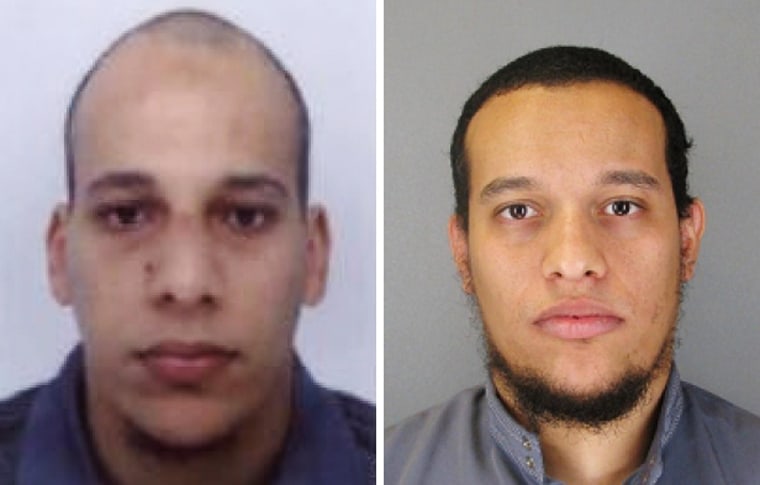 France declared Thursday a national day of mourning, raised its terror threat level and stepped up security for media organizations, large stores and places of worship, and launched a manhunt for the killers with the assistance of the FBI.
"We will find the people who did this," French President Francois Hollande vowed. He later called for national unity.
"Freedom is always bigger than barbarism," he said. "Vive la France."
Condemnation of the attack, which unfolded at 11:30 a.m. local time (5:30 a.m. ET), poured in from the Vatican to the White House.
President Barack Obama said in a statement that "the French people have stood up for the universal values that generations of our people have defended." Secretary of State John Kerry called the victims "martyrs for liberty."
They included the paper's editor, Stephane Charbonnier — widely known by his pen name Charb — and his police guard, according to the Associated Press, citing a police union spokesman. Also killed was economist and writer Bernard Maris, who is a senior figure with France's central bank. Eleven people were injured, four of them critically.
Prosecutors said two gunmen wearing balaclavas arrived at the building in a black Citroen C3 and killed a maintenance worker on the way in before heading to the third-floor editorial offices of the magazine. There, they shot dead eight journalists, a guest and a police officer who had been assigned to protect workers.
"Hey! We avenged the Prophet Muhammad! We killed Charlie Hebdo," one of the men shouted in French, according to one video shot from a nearby building and broadcast on French TV.
In another video, shouts of "Allahu Akbar" — or "God is great" — can be heard as the shootings took place. The Associated Press reported that the gunmen spoke flawless, unaccented French.
"It was a pretty horrible sight," said Anders Lund, a 28-year-old musician who heard the gunshots from his apartment just 200 yards away. "I heard a few bangs, loud ones," he told NBC News. "I did not know they were gunshots until I heard all the sirens."
"I went down there, and there were officers and people from ambulances in the street. It was pretty chaotic...From afar I could see people on stretchers being carried out. It did not look good."
As the gunmen fled, there were confronted by police three times. Twice, they fired on officers, but no one was hurt. But on Boulevard Richard le Noir, they killed an officer in cold blood, a prosecutor said.
Racing toward the north of the city, the suspects hit the car of a civilian, who was wounded, officials said. Ditching their vehicle, they then hijacked a Renault Clio at gunpoint.
Police union official Rocco Contento told Reuters that other attacks remained "a possibility" and "other sites are being secured."
Charlie Hebdo is a publication that has always courted controversy with satirical attacks on political and religious leaders. It published cartoons of Muhammad in 2012, forcing France to temporarily close embassies and schools in more than 20 countries amid fears of reprisals. Its offices were also firebombed in November 2011 after publishing a caricature of Muhammad on its cover.
Its most recent tweet was a cartoon of Abu Bakr al-Baghdadi, the leader of ISIS. The caption translates to: "Best wishes, by the way."
A cartoon published in this week's issue now seems like an eerie premonition. "Still no attacks in France," an extremist fighter says. "Wait — we have until the end of January to present our New Year's wishes."
One of the magazine's editors, Gerard Biard, told France Inter radio: "I don't understand how people can attack a newspaper with heavy weapons. A newspaper is not a weapon of war."
Hollande said that several other attacks had been thwarted in France "in recent weeks."
"No barbaric act will ever extinguish the freedom of the press," the French president said in a tweet. "We are a united country."
There was a similar response on Twitter, where the hashtag #jesuischarlie — "I am Charlie" — expressed in solidarity with the magazine was tweeted more than 162,000 times, according to analytics website Topsy.
Thousands headed to a demonstration at the Place de la Republique in central Paris. More than 22,000 Facebook users said they would attend.
Wednesday's shooting is one of the worst terror attacks on French soil. In March 2012, seven people were killed in three gun attacks targeting French soldiers and Jewish civilians in Montauban and Toulouse, while a string of bombings in 1995 killed eight and injured more than 100.
The U.S. Embassy in Paris said in a statement that it had no plans to close or limit access to diplomatic facilities in France. "We are open for business as usual," it said.
U.S. defense officials also said there were no plans to increase the level of security for U.S. military bases and personnel throughout Europe. Despite Wednesday's attack, there appears to be no direct or imminent threat against U.S. military installations or personnel, the officials said.
NBC News' Ed Kiernan, Nancy Ing, David Wyllie, Robert Windrem, Jim Miklaszewski and Jason Cumming, The Associated Press and Reuters contributed to this report.