PARIS — When Ahmed Coulibaly laid siege to a kosher supermarket in Paris last week, the bloody assault which left four hostages dead came as a shock — but not a surprise — to many Jews in France.
The number of French Jews emigrating to Israel has jumped dramatically in recent years thanks to an uptick in perceived anti-Semitism, according to The Jewish Agency.
The agency — a nonprofit which facilitates emigration to Israel, which is known as "aliyah" — said 7,000 people moved from France last year — double the 2013 total. While those numbers were expected to rise to 10,000 for 2015, such estimates are now being revised in wake of Friday's brutal attack on the Hyper Cacher store.
"A lot of people thought that it was only a matter of time for something like this to happen," agency spokesman Avi Mayer told NBC News. "There's a sense among many French Jews that it's simply unsafe to identify openly as a Jew in the street of France. That is generating a great deal of discomfort."
He said that calls coming in to the agency's global service center have "literally doubled" since Coulibaly's hostage-taking and rampage in the kosher supermarket.
"That's double a number that is already high compared with previous years," Mayer said, adding that "it looks increasingly possible that we will see a further dramatic increase in aliyah from France."
France's Jewish community is the largest in Europe and the third-largest in the world — after Israel and the United States — with some 500,000 Jews. But last year marked the first time more immigrants to Israel came from France than from any other country.
Up until a year or two ago, much of the increase in emigration to Israel could have been chalked up to economic woes throughout Europe. Now, though, the reasons for leaving France have changed.
There was the attack in 2012 where a Frenchman of Algerian descent killed three Jewish schoolchildren, a rabbi and three paratroopers on a shooting spree in Toulouse. The attacker, Mohammed Merah, had espoused radical Islam and claimed to have links to al Qaeda.
Another French national, Mehdi Nemmouche, will stand trial for a shooting at the Brussels Jewish Museum last May which left four people dead.
"We were expecting something to happen — but hostages, and this many dead — that's only in horror films"
Those large-scale attacks coupled with smaller assaults on French Jews — from harassment to physical violence — have contributed to an overall and pervasive climate of fear, according to the director of the American Jewish Committee in Paris.
"People are terrified," Simone Rodan-Benzaquen said. "You take your child to school in the morning and see police and security — you're afraid. You go to synagogue on Friday, you're thinking about putting your kippah on your head, you don't do it in the streets because its dangerous. Jews ... live a reality where tiny little things they do every day are acts of courage."
But like many officials and members of Jewish organizations, she said Friday's attack on the kosher supermarket packed with Shabbat shoppers was "terrible" but "not that much of a surprise." The fears it has amplified are not new, she said, but have been building in recent years.
"People have been fed up and scared for awhile now already," Rodan-Benzaquen added. "Most Jews are asking themselves the question of whether they have a future here in France for themselves and their family."
Even one of the hostages who hid inside the kosher market amid Coulibaly's siege told Israel's Channel 10 television station he would move his family to Israel.
"We are not going to wait around here to die," he said, according to The Associated Press.
France's government has stepped up security at Jewish sites and schools in wake of the attack, but that has not allayed the fears for many in France.
Menahem Bensimon decided in June to join the thousands of French Jews who have moved to Israel.
On Monday, he was mourning the loss of his friend Yohan Cohen — who was one of four hostages killed by Coulibaly's hand in the supermarket which he too used to frequent often before moving to Jerusalem in June.
"He was always smiling, always kind," Bensimon said of Cohen. "He loved to laugh."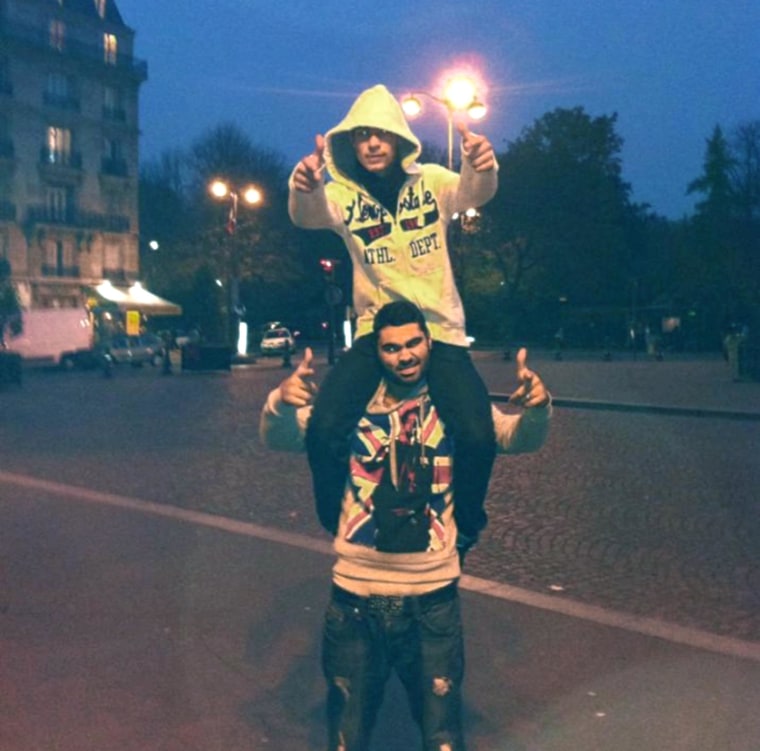 When asked why he made aliyah and moved to Jerusalem, 19-year-old Bensimon said simply: "Look at what's been happening."
"When we go out openly as Jews, we are insulted on the street....What do you want us to do?" he asked. "We have a land and a country so why not go there?"
In Israel, Bensimon said, he "doesn't have to hide" — he can go outside with a kippah on and not worry about harassment on the street.
"I left France because for me, Jews don't have a future in France," he said. "When you walk in the streets, you're insulted and shouted at. When parents bring their kids to school, they are scared."
Despite his own experience with anti-Semitism in France, he said he never expected something on the scale of Coulibaly's assault.
"We were expecting something to happen — but hostages, and this many dead — that's only in horror films," he told NBC News.
"It's not something that should happen in a country like France — it's a civilized country," he said. "It's shocking... But with everything happening in France right now... for me it's only the beginning. There will be other attacks — that's why I left."