PARIS — The fatal shooting of a female police officer in Paris was being investigated by counter-terror police Thursday but there was no firm link to the earlier execution of 12 people at a satirical magazine.
The shooting occurred in southwestern suburb of Montrouge at about 8 a.m. local time (2 a.m. ET). French Interior Minister Bernard Cazeneuve told reporters at the scene that two officers had been shot and the suspect was "still at large."
France was marking a day of mourning as the massive manhunt continued for two heavily-armed brothers suspected of carrying out Wednesday's massacre at Charlie Hebdo.
Prime Minister Manuel Valls said that several people had been arrested since Wednesday's attack. Christophe Crepin of the UNSA police union said the arrests followed a raid on an apartment in Reims and that those held were connected to the suspects.
Montrouge mayor Pierre Brossollette told The Associated Press that the officer slain on Thursday and a colleague went to the site to deal with a traffic accident. A car stopped and a man got out and shot at them before fleeing.
"I heard a gunshot but I thought it was construction," nearby resident Linda Pluchon, 45, told NBC News. "This shows it can happen anywhere. It happened next to us. We always think it will happen somewhere else."
Sylvie Perrot, 44, ran to the window of her apartment after hearing two or three shots. "I heard someone shout 'Get help!'," she said. "I saw two people who were flattening themselves against a wall … and then my neighbor told me not to go outside."
Agnes Thibeaud, a spokeswoman for the prosecutor's office, confirmed the female officer's death and said there was no direct link to the Charlie Hebdo massacre. The condition of the other victim was unclear.
In a later announcement, the prosecutor's office said the investigation had been assigned to a counter-terrorist unit "given the current context" and because the heavily-armed perpetrator appeared to have "deliberately targeted security forces."
Wednesday's atrocity at Charlie Hebdo prompted condemnation and protests around the world.
Police issued an appeal for sightings of Cherif Kouachi, 32, and his brother, Said, 34, warning that the pair should be considered "armed and dangerous." Cherif Kouachi served 18 months in prison on a charge of criminal association related to a terrorist enterprise after being convicted in 2008. He was part of an Islamist cell enlisting French nationals from a mosque in eastern Paris to go to Iraq to fight Americans in Iraq and arrested before leaving for Iraq himself.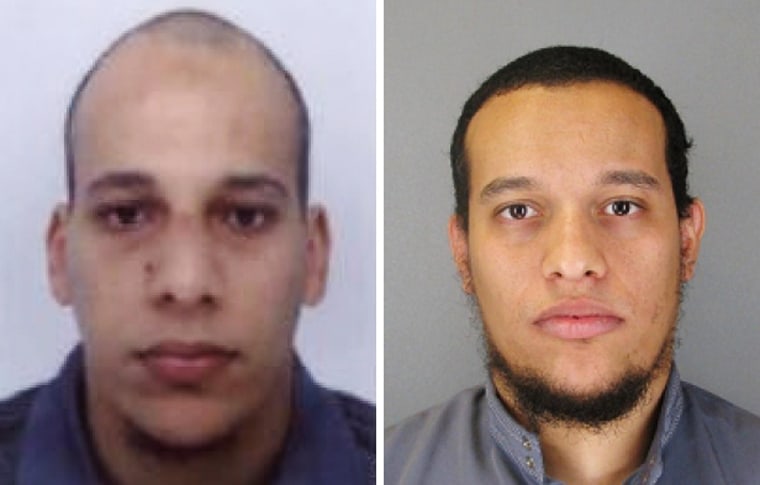 A third suspect, 18-year-old Mourad Hamyd, surrendered at a police station in Charlieville-Mezieres, near the eastern border with Belgium.
Valls attended a crisis meeting in Paris Thursday morning. He said the suspects were likely to have been under the watch of authorities.
"We are facing an terrorist threat that is without precedent," he told French radio station RTL, saying police had foiled many other planned attacks but there was "no such thing as a zero risk" from terror.
Despite the shootings, it was business as usual on the streets of Paris on Thursday as commuters calmly headed to work hours after thousands defiantly showed their solidarity with the 12 victims.
A nationwide minute's silence was held at noon local time (6 a.m. ET) and President Francois Hollande attended a ceremony in memory of those slain.
Hundreds stood in the rain outside Notre Dame cathedral in Paris to observe the silence. Even the capital's subway system paused to mark the moment, users said.
In a show of unity, Hollande held a meeting with his political rival, ex-president Nicolas Sarkozy, to discuss the national response to the attack.
An explosion was also reported near a mosque in Villefranche-sur-Saône, France, early Thursday. "I'm worried that this is tied to the dramatic events of Wednesday," Mayor Bernard Perrut told Le Progres.
France raised its terror alert system to the maximum and bolstered security at media offices, places of worship, transport and other sensitive areas after Wednesday's massacre.
The attackers, wearing balaclavas, arrived at the building where Charlie Hebdo is based and killed a maintenance worker on the way in before heading to the third-floor editorial offices of the magazine. There, they shot dead eight journalists, a guest and a police officer who had been assigned to protect workers.
"Hey! We avenged the Prophet Muhammad! We killed Charlie Hebdo," one of the men shouted in French, according to one video shot from a nearby building and broadcast on French TV.
The attackers fled first in a black Citroen that they abandoned after a crash, and then in a sedan carjacked from a bystander.
The Associated Press, Reuters and NBC News' Alexander Smith and David Wyllie contributed to this report.