New Year celebrations around the world were going ahead despite heightened terror fears Thursday — as New York deployed 6,000 police officers to Times Square and Belgium charged a 10th suspect over the Paris massacre.
High-profile attacks claimed by ISIS and other groups in 2015, and a general unease about safety and security, cast a shadow over traditional public gatherings in cities across the globe.
In Germany, police on Thursday night local time evacuated two Munich train stations over what police called " an active threat of a terror attack in the Munich area." Police urged residents to avoid crowds.
In Rochester, New York, the mayor cancelled the fireworks celebration Thursday so more police could be deployed to patrol. The announcement came after a Rochester man was arrested Wednesday and charged with plotting a New Year's Eve attack. Officials said there is no information of a credible threat to Rochester.
In Times Square, the expected one million revelers will be guarded by a beefed-up security force this year, including hundreds of officers carrying long guns, radiation detectors and bomb-sniffing dogs.
Authorities said they have spent months preparing to thwart any possible scenario, and partygoers and their bags will be inspected with magnetometers and hand wands as they enter a series of checkpoints.
In western New York, federal officials in Rochester arrested a Muslim convert who allegedly was plotting a New Year's Eve machete attack at a local restaurant. Emanuel Lutchman, 25, was charged with attempting to provide material support to ISIS.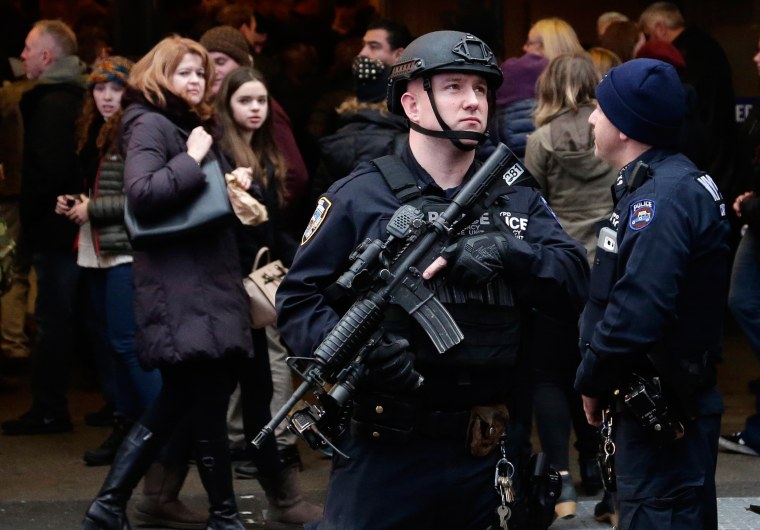 Related: Rochester ISIS Wannabe Planned New Year's Machete Attack
Across the country in Las Vegas, nearly 1,000 uniformed police officers and an undisclosed number of undercover officers lined the Strip. Officials urged revelers to leave bags, backpacks and strollers at home.
In Brussels, a planned New Year's Eve fireworks display was canceled late Wednesday over fears of an attack.
Hours after that decision, a 10th suspect was charged with involvement into the Nov. 13 attacks in Paris. The 22-year-old Belgian, identified only as Ayoub B., was charged with "committing terrorist murder and participation at the activities of a terrorist organization," Belgian prosecutors said in a statement.
Officials seized 10 cellphones but found no weapons during the raid in the city's Molenbeek suburb on Wednesday.
Belgium has been at the heart of investigations into the Paris attacks people because two of the suicide bombers had been living there.
Meanwhile in Paris, 11,000 police officers, military personnel and firefighters were set to patrol the streets on New Year's Eve — 2,000 more than last year.
People would be banned from selling or using combustible products, such as fireworks, sparklers or firecrackers, or drinking alcohol from glass bottles in certain areas.
The city's firework display on the Champs-Élysées was also canceled in the wake of the attacks in which 130 people died.
London's celebration would be accompanied by 3,000 police officers on the streets — including an increased number carrying guns, which is not the norm in the U.K.
Elsewhere, security was also tighter this year. In Tokyo, posters in subways and other public places warned revelers to keep their eyes pealed for suspicious packages and activities. Armed police stood guard in Beijing's commercial districts.
Australia, which already ushered in the New Year, assured people that thousands of extra police were patrolling major cities.
"Don't change your way of life," Melbourne Lord Mayor Robert Doyle told residents. "Don't let events from around the world challenge the way that we live."
On Wednesday, Turkish officials said they foiled a plot to bomb the New Year's Eve celebrations in its capital, Ankara, after they detained two suspected ISIS militants.