Brussels was effectively on terror lockdown Saturday after "precise" warnings of a Paris-style bomb and gun attack forced the closure of the subway system and citizens were warned to avoid public spaces.
As the manhunt continued for at least one suspect from last week's massacre in France, the Belgian government raised the capital's terrorism alert level to its highest status — indicating a "serious and immediate threat."
Heavily-armed police and soldiers were deployed across the city and all soccer games were canceled.
The country's crisis center urged people in Brussels to avoid concerts, airports, public transportation and crowded shopping centers.
Belgian Prime Minister Charles Michel said the alert was "based on quite precise information about the risk of an attack like the one that happened in Paris ... where several individuals with arms and explosives launch actions, perhaps even in several places at the same time."
At least one Paris attacker, Salah Abdeslam, crossed into Belgium the morning after the attacks but his whereabouts are unknown.
"We urge the public not to give in to panic, to stay calm," Michel said. "We have taken the measures that are necessary."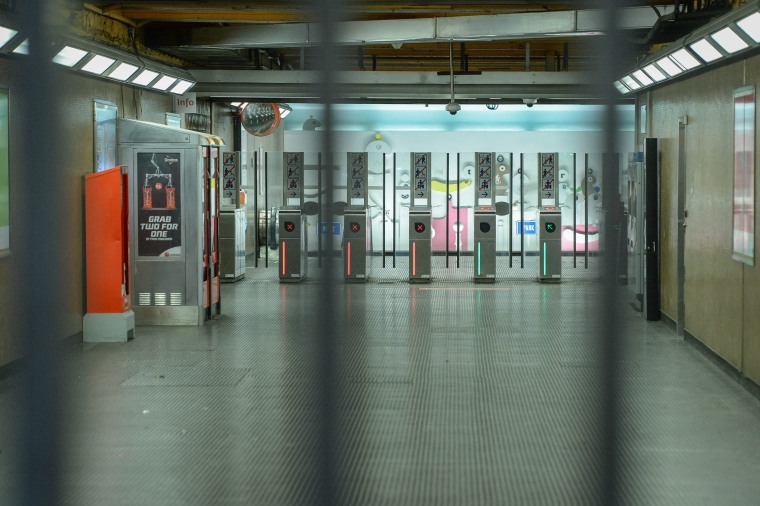 He added that the threat would be reassessed on Sunday afternoon.
Some residents, however, said the restrictions don't make sense.
"I have never seen this before — I think it's stupid," Win Helemans told NBC News. "We've let the terrorists win now. We're just paralyzed by fear. .... It's just letting fear rule."
Investigators are trying to determine how a network of primarily French and Belgian attackers with links to ISIS in Syria carried out the deadliest violence in France in decades — and how many may still be on the run.
A new potential link emerged Saturday in Antalya, Turkey, with the arrest of three people, including Ahmet Dahmani, a 26-year-old Belgian who reportedly scouted some of the Paris attack sites. The other two suspects were Syrian and are accused of coming to Turkey to escort Dahmani back to ISIS areas inside Syria, a security source told NBC News.
One of the attackers who blew himself up outside the Stade de France was based in Belgium. The suspected organizer of the Paris attacks, Abdelhamid Abaaoud, who was killed in a raid near Paris Wednesday, grew up in the impoverished Molenbeek neighborhood of Brussels.
Belgium — with a population of just 11 million — has the highest number per capita of militants fighting in Syria and Iraq, experts say.