BRUSSELS — Sweeping overnight raids failed to trap one of Europe's most-wanted men, leaving Belgium's capital essentially on lockdown Monday for a third straight day.
Belgian officials said five more raids were carried out on Monday, hours after residents of Brussels were ordered to shelter in place as police searched nearly 20 properties around the European capital overnight.
Federal prosecutor Eric van der Sypt said 21 people in total had been detained as part of the large-scale operation. He earlier had said fugitive Salah Abdeslam — wanted in connection with the Paris terrorist attacks — was not among those taken into custody overnight.
Around 1,000 police officers were working on the Abdeslam manhunt, Belgium's Interior Minister Jan Jambon told local radio. When asked how it was possible that the suspect could still be at large, Jamson said "he must have a lot of support on our soil."
Authorities have said Abdeslam is considered "dangerous" and a potential accomplice to the attacks across Paris last week which left 130 dead. One of his brothers blew himself up in that terror spree, while another has repeatedly urged him to turn himself in.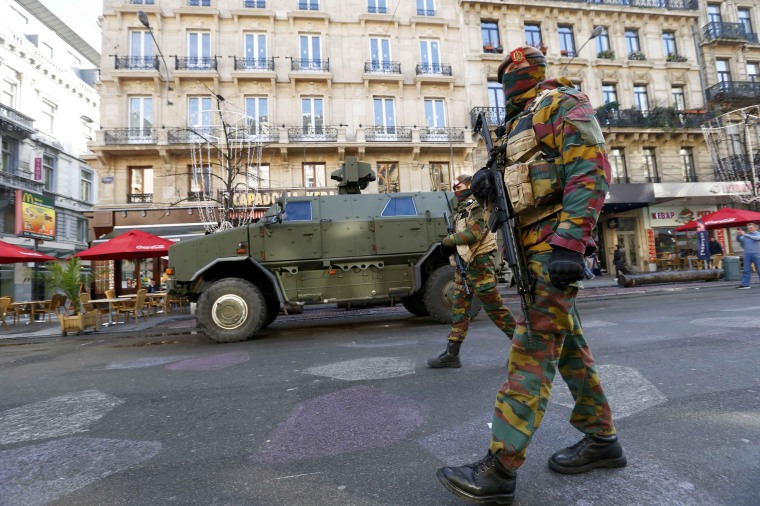 With Abdeslam still on the run, Brussels woke up to another day of troops and tanks on the streets.
Officials have put the Belgian capital on the highest level of alert, shuttering schools and the subway while ordering locals to avoid public spaces over what they've described as the "imminent" threat of Paris-style attacks.
NATO, which is based in Brussels, said its headquarters was open but that some visits had been cancelled and some staff asked to work from home.
The metropolitan area of Brussels is home to about 1.9 million people.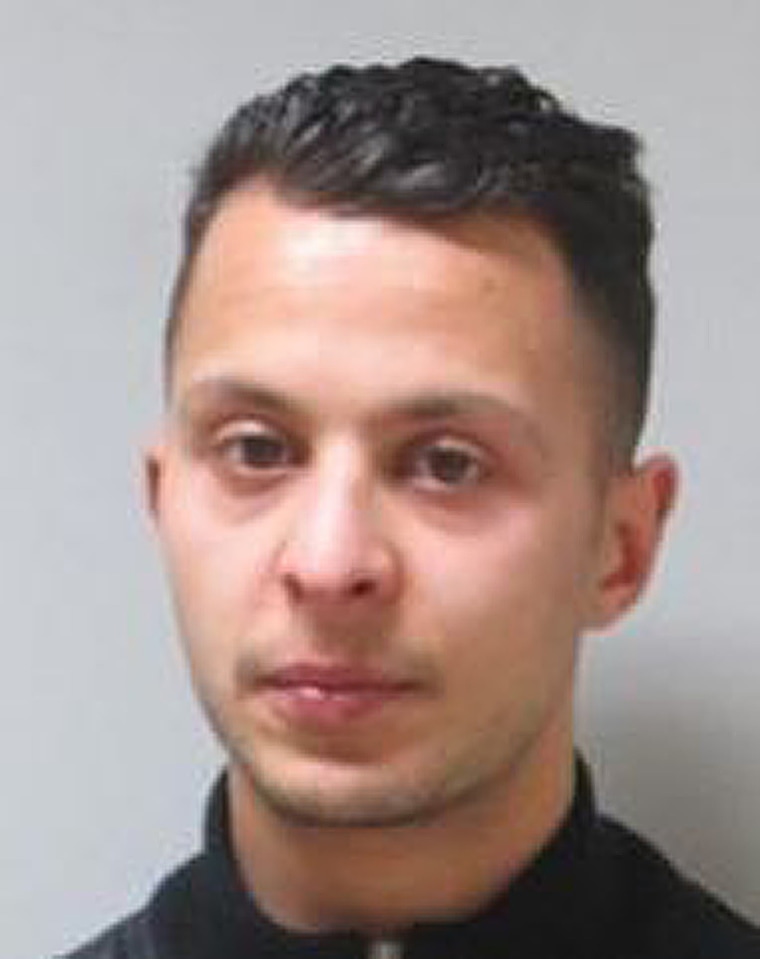 "We are concerned about an attack similar to the one that was carried out in Paris involving several individuals and maybe targeting attacks on several sites simultaneously," Belgium's Prime Minister Charles Michel said Sunday.
Locals have offered mixed sentiments over the heavy security measures.
"All the soldiers in the streets in the city… this is very depressing," Julian Rensonnet told NBC News.
Antonio Ponte, a teacher, said it was the "right decision" to close schools but that he hopes the security measures relax soon.
"It is bad for the children who are very scared," he told NBC News. "When they saw what happened in Paris many were crying. "
It was not immediately clear how long Brussels would remain on lockdown as authorities continued to search for Abdeslam.
Belgium — and Brussels in particular — thus far have been central to the investigation into the Paris attacks.
Abdeslam is believed to have crossed into Belgium following the bloody Nov. 13 terror spree, while the terrorists who died in siege were French and Belgian. The suspected ringleader, too — who was killed in a subsequent police raid — grew up in the Molenbeek area of Brussels.
French authorities issued a new appeal for information on Sunday, releasing a photo of a man believed to be the third suicide attacker who hit the Stade de France.
As the manhunt continued, French President Francois Hollande received British Prime Minister David Cameron to discuss methods to defeat ISIS, who claimed responsibility for the Paris attacks.
Despite the heightened security and massive manhunt underway, some tourists in Brussels' Grande Place were undeterred.
Danielle McEntire and her friend Ashley Peterson, both from North Carolina, admitted their trip was turning out differently than expected but said they had no plans to alter their travel schedule.
"We were a little bit nervous but life goes on," Peterson said. "The terrorists they want you to be afraid, so for me, I'm going to continue on with my normal plans and not let it ruin my trip."
"The security is so high," MacInture added. "We feel really safe."