BRUSSELS — Belgium will maintain the highest terror alert level for the capital of Brussels for a third day Monday, indicating a "serious and imminent" threat of attack, the country's prime minister said.
Brussels would remain under a threat level four on a four-tier scale, meaning public transportation and schools would remain shuttered, said Prime Minister Charles Michel Sunday. The rest of the country would remain at a threat-level three, he said after a national security meeting.
"I indicated yesterday that what we are concerned about an attack similar to the one that was carried out in Paris involving several individuals and maybe targeting attacks on several sites simultaneously," Michel said. He said additional precautions taken Monday would mean many public events would be canceled.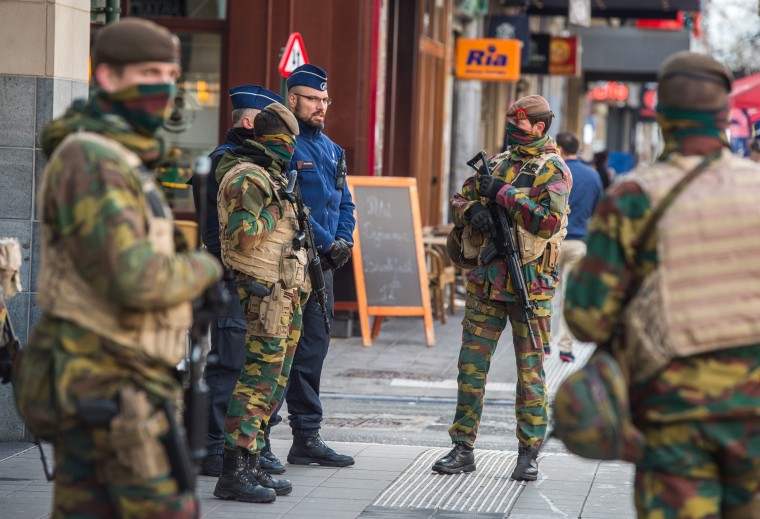 The security measures came amid an international manhunt for Saleh Abdeslam, a potential accomplice to the Paris attacks last week, who was believed to have crossed into Belgium after the terror spree.
Abdeslam's brother, Mohamed, issued a fresh appeal Sunday for him to give himself up to police.
"We would rather see Salah in prison than in a cemetery," he told RTBF television.
Officials have described Saleh Abdeslam — whose other brother, Brahim, blew himself up in Paris — as dangerous.
However, when asked whether Brussels' maximum threat level related to Abdeslam alone, Interior Minister Jan Jambon said "unfortunately not."
"It is a threat that goes beyond just that one person," he told broadcaster VRT, according to Reuters. "We're looking at more things, that's why we've put in place such a concentration of resources."
Heavily-armed troops and police have deployed across Brussels since "precise" warnings of a Paris-style terror attack prompted the Belgian government to raise the capital's terrorism alert level to its highest status on Saturday.
Michel said the threat level will be reviewed Monday.
Brussels Mayor Yavan Mayeur said the challenge of Paris-like attack is that the terror was carried out by "small groups in different places."
"Unfortunately we are dealing with the same modus operandi, which is obviously very difficult to control and which makes it very difficult to protect the population," Mayeur said.
The move was met with mixed reactions by Brussels locals.
Elodie Boulard said she thinks the government "must have had a good reason" to raise the threat level, but that she plans to go to work regardless in one of Brussels' shopping centers.
"Deep inside I am afraid," she told NBC News. "But I think it's also important to carry on with our lives normally."
Fellow Brussels resident Joel Ramelsberg was not happy about the heavy security presence on the streets.
"It scares people, it really scares people," he told NBC News. "When terrorist wants to make something happen, they can do it with or without the army here. It doesn't make any difference."
The Brussels connection to deadly attacks in Paris last week has been of particular focus as investigators work to determine how a network of primarily French and Belgian attackers with links to ISIS in Syria carried out the deadliest violence in France in decades — and how many may still be on the run.
At least one person of interest is the subject of an international manhunt — Salah Abdeslam crossed into Belgium the morning after the attacks but his whereabouts are unknown.
One of the attackers who blew himself up outside the Stade de France was based in Belgium, while the suspected organizer of the Paris attacks grew up in the impoverished Molenbeek neighborhood of Brussels.
Frederic Ronsse, owner of a comic book shop in central Brussels, said he hoped the current security level would relax soon.
"It's very strange for us Belgians to see all this policemen and soldiers with their guns around here. We're a pacifist country, we're not used to all this madness," he told NBC News. "On Saturday, I lost 50 percent of my earnings. If this situation goes on, it's going to be a huge problem for me."