The California rock band Eagles of Death Metal was on stage at a packed Paris nightclub Friday when gunmen stormed in, cut down dozens of fans with automatic weapon fire and held hundreds hostage for hours.
Family members said the band, including singer and guitarist Jesse Hughes, were able to escape the attack at Le Bataclan, one of several that unfolded simultaneously across Paris. But some members of the crew were unaccounted for.
Related: France Blames ISIS for Attacks, Vows 'Merciless' Response
More than 100 people were counted dead at the central Paris club, which holds about 1,500 people and was sold out. Many others were reported wounded.
The wife of drummer Julian Dorio told NBC News that he'd told her everyone on stage managed to get out and that he and other band members made it to a police station. Emily Hall Dorio said she believed that the whereabouts of some members of the band's crew were unknown.
"I'm grateful and heartbroken at the same time," Emily Hall Dorio said. "I'm grateful he's alive." Hughes' brother reported on Facebook that he was safe.
And Hughes' mother said later that the rest of the band was also okay.
One of the band's front men, Joshua Homme, was not on tour with the band. He declined to comment when NBC News reached him by phone in Palm Desert, California.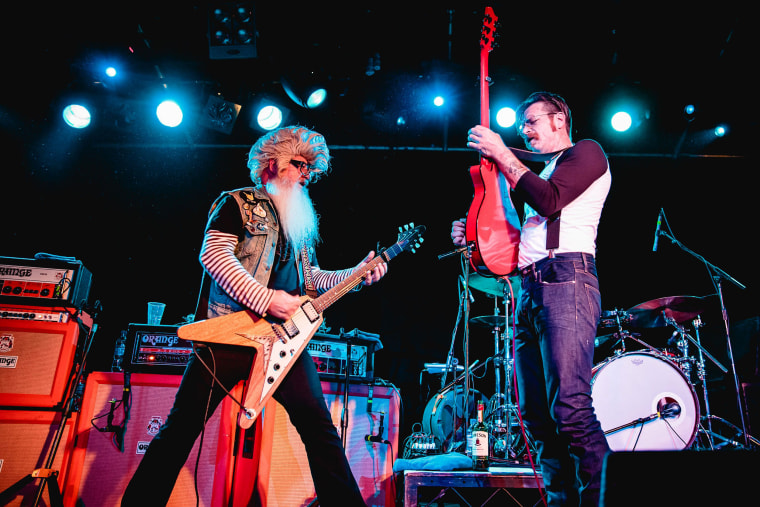 Homme, also a founding member of Queens of the Stone Age, formed the band in 1998 with childhood friend Hughes. They have used a string of temporary members in the past, including Foo Fighters' Dave Grohl and actor Jack Black.
The touring band's bassist posted a photo of the show just before the band was to go on.
Eagles of Death Metal — not actually a death metal band; the name is an inside joke — last month released their fourth album, Zipper Down, and were in the middle of a European tour. The duo White Miles was the opening act.
Irish rockers U2 cancelled their Paris concert scheduled for Saturday. "We are devastated at the loss of life at the Eagles of Death Metal concert and our thoughts and prayers are with the band and their fans," U2 said. "And we hope and pray that all of our fans in Paris are safe."