One day after deadly terrorist attacks in Paris killed at least 129 people, Democratic presidential candidates vowed that the U.S. would work to root out the extremists groups that are claiming to be behind the mass shootings.
PHOTOS - On the Stump: Hillary Clinton's Presidential Campaign
"We need to have a resolve that will bring the world together to root out the kind of radical jihadist ideology that motivates organizations like ISIS," former Secretary of State Hillary Clinton said Saturday during a presidential debate hosted by CBS News in Des Moines, Iowa. But Clinton said it is not America's fight alone. "This cannot be an American fight, although American leadership is essential," she said.
Clinton said she will soon unveil a detailed plan to combat terrorism.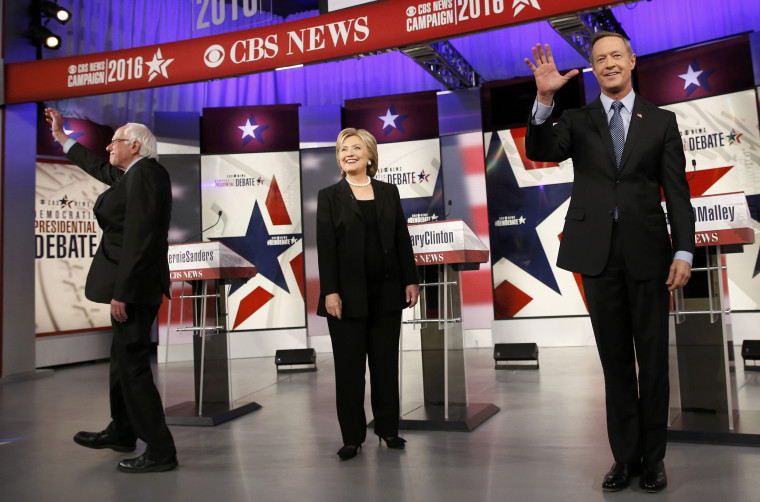 Clinton, Vermont Sen. Bernie Sanders and former Maryland Gov. Martin O'Malley each said their thoughts and prayers are with the people of France after one of the most deadly terrorist attacks in the country's history. But each agreed that America alone cannot lead the fight.
PHOTOS - On the Stump: Martin O'Malley's Presidential Campaign
"Together leading the world, this country will rid our planet of this barbarous organization called ISIS," Sanders said.
While the three remaining Democratic presidential candidates were in agreement that the U.S. and its allies needed to work together to defeat the Islamic extremist group that has take control of a large swath of the Middle East, Sanders added that the U.S. invasion of Iraq, which Clinton voted for as a senator from New York, helped lead to the creation of ISIS.
"I don't think any sensible person would disagree that the invasion of Iraq led to the massive level of instability we are seeing right now," Sanders said.
PHOTOS - On the Stump: Bernie Sanders' Presidential Campaign
Clinton repeated that her 2002 vote was a mistake, but that a number of complex factors in the Middle East have allowed the terror group to thrive.
The Paris attacks have refocused the attention of both the debate and the presidential race, as candidates from both parties condemned the violence and expressed sympathy for the people of France.
The mass shootings has raised new concerns over how both Europe and the rest of the world should handle refugees from war-torn Syria after the discovery that one of the attackers may have gotten into France posing as a refugee.
The attack did not sway the candidates from saying they believe the U.S. should accept Syrian refugees. But Clinton said they should be thoroughly vetted before entering the country.