California rock band Eagles of Death Metal were about an hour into their sold-out Nov. 13 show at the Bataclan concert hall in Paris when a pair of gunmen stormed in and started blasting.
Among the first to realize what was happening was the band's sound engineer, Shawn London, working near the front doors. He thought the blasts were firecrackers, then saw fans fall to the floor.
"Injuries. Death. And then, also, running," London recalled to VICE news, in the band's first interview on the attacks. "There was nowhere to go."
The sound man looked right at one of the gunmen.
"And he looked right at me," London said. "And he shot at me. And he missed." The bullets hit his equipment, sending buttons flying. London dropped down and huddled with others as the terrorist continued to fire.
"He stayed there and continued to shoot and shoot and slaughter and just scream at the top of his lungs, 'Allah Akbar.' And that's when I instantly knew what was going on."
On stage, each member of the band panicked, choosing different routes that ultimately led them out of the club. One employee, British merchandise manager Nick Alexander, was among the 89 who died.
Six of the band members joined the interview with Vice, and told their stories.
Eden Galindo, guitarist
Galindo thought the first gunshots were the sound of the public address system cracking up. When it became clear that they were under attack, singer Jesse Hughes, a co-founder of the band, ran toward him. Together, they ducked into a corner of the stage. "We weren't sure if they were targeting us or what was going on," Galindo said.
After a while, a crew member called Boot noticed that the nearest gunman had stopped to reload his rifle. "He was like, 'Let's go.' And then we got up and ran off the stage."
Galindo said he and Hughes dashed upstairs to the band's dressing room to find Hughes' girlfriend, Tuesday Cross. She wasn't there. They turned around and looked for an exit.
Matt McJunkins, bassist
"When the shooting started, I threw down my bass and hid for a second, sort of behind the curtains," McJunkins said. Then he ran toward a door where the band's tour manager was standing. It led to a room, but not an exit. They went inside, where many people, including several who had been shot, were hiding. Someone blocked a door with a chair. Another found a bottle of Champagne to use as a weapon.
"The gunfire went on for 10, 15 minutes," McJunkins said. "Then it would stop and there was this sense of relief, and it would start again. And then there was an explosion." He later learned it was one of the attackers blowing himself up.
Julian Dorio, drummer
Dorio recalled hearing the gunshots, smelling the gunpowder. He hid behind his drum kit and looked to see what was happening. "I saw two guys out front, and that might be the most awful thing ever, them just relentlessly shooting into the audience," Dorio said, adding his recollection via video link.
He crawled to the edge of the stage and heard Boot, the crew member, tell everyone to run for it. He followed Galindo and Hughes.
Jesse Hughes, singer
Hughes' first priority was to find Cross, his girlfriend. He opened the door to the dressing room, which was empty. He went back into the hallway. "That's when I saw the shooter, and he turned on me," Hughes said. "He brought his gun down, and his barrel hit the door frame, and I was like, 'Oh, f--k,' and I turned around." There were people behind him, following him. "I was like, 'No, no, no, no, no. Do not f--king come this way, do not,' and we started heading back down."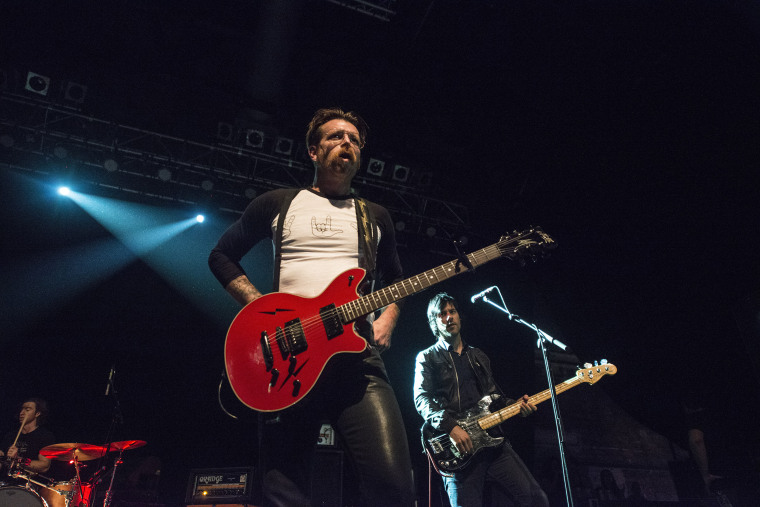 They found a door that led to an alley, but Hughes said he hesitated, thinking of his girlfriend. But then he heard her voice. For a moment, he felt relief. Then he saw people streaming into the alley from around the corner. "People just didn't seem to know what to do."
Shawn London, sound engineer
London, huddling on the floor with fans, tried to coax an injured woman to stop screaming. They heard the nearest gunman stop to reload, but didn't move fast enough to run away. So they waited out another stretch of gunfire. When the gunman stopped to reload again, they got up to run. He pushed the inured woman toward the front doors.
Then the gunman turned on them. Bullets hit the walls in front of them as they ran for the exit. London reached out for one of doors, which was glass. Just as he was about to reach it, it was shattered by a bullet. They kept going. "And we just got through it," London said. "We had to jog over bodies that were dead out front."
The band members eventually found each other, and made it to a police station. Hughes immediately called Joshua Homme, with whom he'd founded the band in 1998 but who had stayed home in California.
Joshua Homme, co-founder (not at scene)
"It took a second to believe that that's really occurring," Homme said. "Because it wasn't on the news yet. I went immediately to our office to get started on anything ... anything, everything, that could be done to ... anything you do if you're not there to bring them home."
Hughes, sitting beside Homme as he recalled the memory, began to cry.
In a separate interview with Vice, Hughes and Homme, childhood friends, talked about the impact on their fans, and how they hoped to move forward.
"The one thing that all the guys in the band kept sharing was, like, a shared heroism that people came out of their homes to help the fans that were in there," Homme said. "Even when injured, they were attempting to help each other and the band."
They also think about Alexander, who they learned bled to death while protecting a friend. The memory brought Hughes to tears.
"A great reason why so many people were killed was because so many people wouldn't leave their friends," Hughes said. "So many people put themselves in front of people."
Homme said they were sharing their stories because they could.
"We represent the fans that did not make it, the people that did not make it, whose stories may never get told," he said.
Related: Paris Attackers Killed Concertgoers Hiding in Dressing Room: Band
Among those stories, they said, was of the several people killed while seeking shelter in the band's dressing room. The only person to survive was a kid who hid under Hughes' leather jacket, he said.
Asked what they'd say to the victims' families, Homme, crying, said it was impossible to answer. "I sort of want to get down on my knees and say, 'Whatever you need,' because there's nothing I can really say, because words just fail to grasp the thing."
Together, they vowed to return to Paris to play again someday.
"I want to be the first band to play in the Bataclan when it opens up," Hughes said. "Because I was there when it went silent for a minute. Our friends went there to go see rock and roll, and died. I'm going to go back there and live."