The frontman of the American band Eagles of Death Metal, which was playing a show at Paris' Bataclan theater when terrorists turned the venue into a bloodbath last fall, said in an interview Saturday that he refuses "to let the bad guys win."
Eagles of Death Metal kicks off an international tour in Stockholm on Saturday night — exactly three months after the coordinated carnage claimed by ISIS on Nov. 13 left 130 dead.
Eighty-nine of those killed were in the Bataclan as Eagles of Death Metal performed.
Lead singer Jesse Hughes recounted the horrific massacre in an interview Saturday on Sweden's TV4 channel, saying he realized what was happening the moment that gunshots rang out in the cheering concert hall.
The attack started after "a very last note of the song, like almost a diabolical synchronicity," Hughes said. "I knew exactly what was going on."
Related: Paris Terror Attack Venue Bataclan Will Reopen in 2016: Owners
Tears welled up in his eyes as he described watching fans he knew succumbing to the barrage of bullets, and then his own horrifying search for his girlfriend.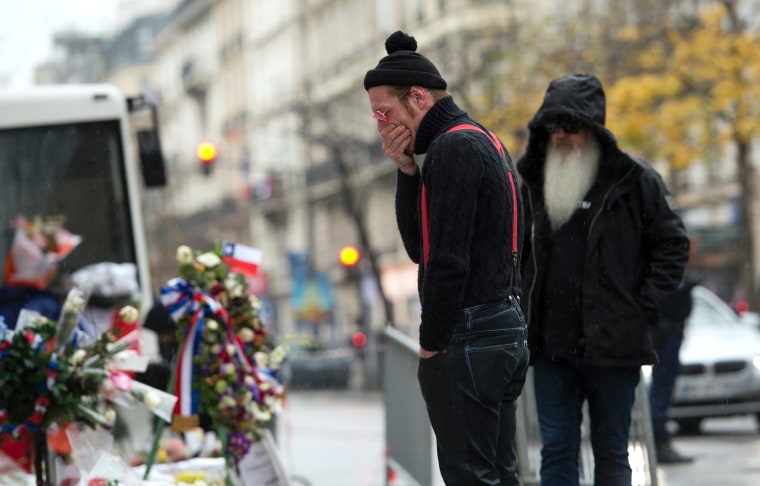 "I didn't see my girl, Tuesday. She's, you know, the love of my life and ... I went back up into the backstage area to look for her and she wasn't there, and then I opened up a hallway and when I went inside the hallway there was a dude at the end of it holding a gun," Hughes said.
The musician said the gunman fired: "I thought I was dead, I just waited for the shots to hit me." But Hughes escaped and eventually found Tuesday.
When she called out his name, "there's never been the sweeter-sounding voice that you can imagine," he said.
Those who didn't make it out of the theater alive "died very beautifully," Hughes said. "I just saw people doing some of the most beautiful things that a person can do ... they died very well, with great courage."
Related: Eagles of Death Metal Return to Paris' Bataclan to Honor Victims of Terror Attack
As part of the California-based band's world tour, Eagles of Death Metal will return to Paris on Feb. 16, when they will perform at Olympia Hall.
Hughes said playing in Paris, as well as for fans across the globe, will be "intense."
But "you have to stay light, you have to keep your heart light," he said as a reminder. "I'm not gonna let the bad guys win."