Follow the latest updates in the wave of Paris terrorist attacks:
* The official death toll is at least 129 people, with 352 others injured.
* ISIS has claimed responsibility for Friday's coordinated assaults, which spanned six locations and involved at least seven suspects. Six of the attackers were suicide bombers, authorities said. French police are hunting possible accomplices.
* French President Francois Hollande called the attacks an "act of war" and vowed a "merciless" response.
PHOTOS: Under Siege: Paris Rocked by Terror Attacks
TIMELINE: How the Horror Unfolded in Paris
France bombs ISIS HQ again
10:30 p.m ET Monday
U.S. officials tell NBC News that, for the third time in two days, French warplanes along with other coalition aircraft have launched airstrikes against ISIS targets in and around Raqqa, the de facto capital for ISIS in Syria. The officials could not immediately provide additional information regarding the number or nature of the targets.
Belgium Raises Terrorism Threat With Top Suspect on the Run
8:34 p.m. ET Monday
The Belgian Interior Ministry's Crisis Center raised the country's terrorism threat level from two to three, or "severe," as police searched for Salah Abdeslam, one of three brothers linked to the Paris attacks.
A top French official told NBC News on Monday that French officials stopped and questioned Abdeslam near the Belgian border hours after the attacks Friday. But they released him because information about an international warrant for his arrest hadn't reached them, the official said.
Several raids were carried out in the Molenbeek area of Brussels on Monday, but Abdeslam remained on the run, the national prosecutor's office said.
House Holds Moment of Silence in Remembrance
7:03 p.m. ET Monday
The U.S. House of Representatives observed a moment of silence for the victims of the terrorist attacks.
Belgium-Spain Soccer Game Called Off
6:06 p.m. ET Monday
Belgium has called off Tuesday's friendly soccer match against Spain because of security concerns. The Royal Belgian Football Federation said it made the decision after the government recommended that the game not be played.
Secretary of State John Kerry in Paris: 'We Are Family'
5:45 p.m. ET Monday
Secretary of State John Kerry, who traveled from Antalya, Turkey, to Paris on Monday to meet with French officials and families of the victims, emotionally told Parisians: "The United States and France are not only friends. We are family."
Kerry, speaking at the U.S. Embassy's Christmas tree lighting ceremony, called Friday's carnage "an attack on civility itself," adding: "Today, the entire world joins our family in heartbreak yet again."
Kerry made a point of referring to ISIS as "Daesh" — an Arabic word that can stand for ISIS' formal name, al-Dowla al-Islaamiyya fii-il-I'raaq wa-Ash-Shaam, but one that can also be conjugated to mean "bigot."
D.C. Police Ramp Up to Protect Nation's Capital
5:40 p.m. ET
Washington, D.C., Police Chief Cathy Lanier said staffing has been beefed up in the wake of Friday's attacks in Paris to make sure the capital remains safe.
The department is "working closely with federal law enforcement and homeland security agencies," Lanier said.
Vigil Held at 9/11 Memorial
2:30 p.m. ET Monday
Supporters gathered and laid flowers at the 9/11 Memorial and Museum in New York on Monday to honor the victims of the attacks in Paris and show support for the first responders "who confronted terror and tragedy with incredible bravery," according to a statement from the memorial.
"Today, our hearts and minds, thoughts and prayers, love and affection are with the people of France," said the memorial's president and chief executive, Joe Daniels.
French National Soccer Team Will Play in England
2:30 p.m. Monday
Three days after the bombings at the Stade de France — where France was playing Germany — the president of the French Football Federation said the team would play England in London on Tuesday.
"I am really grateful for the messages of solidarity and support all over the world, but especially from the English, because we are to play the match" there, team manager Didier Deschamps said. "The match will be full of emotion, but we have a duty to perform and give a good account of ourselves and represent our country in the right way."
Armed police will be present at the game, a British official said. Prince William will be in attendance, according to palace officials.
Barriers Removed from Bataclan Theater
2 p.m. ET Monday
Almost immediately after the barricades around the Bataclan were pulled back, a new memorial to the Paris terrorist attacks sprang up in front of the nightclub.
It grew by the minute as tearful mourners attached tribute photos and posters to the 129 people who were killed Friday.
"Thomas Duperron — rest in peace and in music," read one. "To you, Nico Classeau, the fabulous guitarist," read another.
Huddles of people stood crying and hugging in front of the tributes, candles and bouquets, which stretched about half a city block.
A young man attached a poster of the Eiffel Tower's piercing a heart onto a fence, while not far down the line two students created a heart out of tea candles.
"Love will never die," read a message taped to a fence, not far from a bouquet sent on behalf of the Swedish Embassy.
A man broke down in front of a poster bearing the face of a victim; his friend wrapped him in a bear hug, and the two men stood there in a long embrace, quietly weeping.
Just behind them, a police officer stood guard in front of Bataclan. Just above the club — the scene of Friday's worst carnage — hung a banner.
Echoing the defiance expressed by many in Paris in wake of the attacks, it read: "Liberty is an indestructible monument."
Spokesman for France's Defense Ministry Says Security Level Matches Threat
1 p.m. ET Monday
The "significantly" stepped-up troop deployment following the Paris terrorist attacks adequately matches the current threat level, a spokesman for the Defense Ministry said.
Operation Sentinel mobilized thousands of French troops to sensitive sites in wake of January's attacks on the offices of Charlie Hebdo. Before Friday's attacks, about 4,000 were troops in the region under Sentinel.
Col. Benoit Brulon, a Sentinel spokesman, told NBC News that the number has been strengthened "gradually" since Friday. About 1,000 soldiers arrived over the weekend, and 2,000 more could be committed gradually, he said.
"The level of security in Paris was significantly stepped up after the attacks," he said. "I think the level of security is extremely high and matches the threat."
Brulon said one of Sentinel's aims was to restore a "sufficient" level of security and calm that would allow people to "lead a normal life."
When asked what message he wanted to send to anxious Parisians, Brulon said: "That the army is present and has three remits: protect, deter and reassure."
France Launches Another Airstrike Against ISIS
12:30 p.m. ET Monday
French warplanes conducted another airstrike Monday on the ISIS stronghold of Raqqa, Syria, U.S. defense officials told NBC News. The operation followed airstrikes on two ISIS targets Sunday in Syria, in which 19 bombs were dropped.
The French are targeting ISIS' oil production, which is a major source of income for the terrorist group, the officials said. Sunday's airstrikes destroyed 116 ISIS oil tanker trucks.
Syrian rebel forces also got a second delivery of ammunition from the U.S. over the weekend. The shipment was delivered to the Kurdish military base in Irbil, Iraq.
More Governors Say Their States Will Not Accept Syrian Refugees
11:30 a.m. ET Monday
Texas Gov. Greg Abbott, Indiana Gov. Mike Pence, Louisiana Gov. Bobby Jindal, Massachusetts Gov. Charlie Baker and Illinois. Gov. Bruce Rauner followed Alabama Gov. Robert Bentley, Michigan Gov. Rick Snyder and Arkansas Gov. Asa Hutchinson in announcing that their states won't accept refugees from Syria in the wake of the attacks in Paris.
The Obama administration said in September that it was willing to take in at least 10,000 Syrian refugees in the next fiscal year. President Barack Obama defended the decision, saying Monday that "slamming the door in their [refugees'] faces would be against our values."
"The people who are fleeing Syria are the most harmed by terrorism, the most vulnerable as a consequence of civil war and strife," the president at the conclusion of the G20 summit in Turkey.
French President Calls for Three-Month State of Emergency
11 a.m. ET Monday
French President François Hollande addressed Parliament, asking for the state of emergency that he declared on the night of the massacre to be extended to three months.
He said 5,000 police and military posts, 2,500 judicial posts and 1,000 border posts would be created in France within the next two years.
"Terrorism will not destroy the republic. It is the republic that will destroy it," Hollande said.
Hollande said he will meet with U.S. President Barack Obama and Russian President Vladimir Putin in the coming days.
Eiffel Tower Reopens, Lighted in Colors of French Flag
10:30 a.m. ET Monday
The iconic Eiffel Tower was lighted up in red, white and blue — the colors of the French flag — on Monday. It reopened about 3:30 p.m. local time after officials boosted security at the popular tourist site.
Other renowned sites, like the Louvre museum, theaters and various historical buildings, opened Monday at 1 p.m. after a nationwide minute of silence.
At Conclusion of G20 Summit, Obama Addresses Attacks
9:30 a.m. ET Monday
U.S. President Barack Obama said Monday that the United States and France will streamline the way the two countries share intelligence information in the wake of Friday's attacks.
But the president said "there were no specific mentions of this particular attack that would give us a sense of something that we need — that we could provide French authorities"
He said "we have the right strategy" in the fight against ISIS, which includes minimal boots on the ground because "what I do not do is to take actions either because it is going to work politically or it is going to somehow ... make America look tough or make me look tough."
"I can't afford to play some of the political games that others may," Obama said at the conclusion of the G20 summit in Turkey. "We'll do what's required to keep the American people safe."
The president also warned against equating Muslims or migrant refugees with terrorists.
"The overwhelming majority of victims of ISIL [ISIS] are themselves Muslims," Obama said.
"Whether you are European or American, you know, the values that we are defending —the values that we're fighting against ISIL for are precisely that we don't discriminate against people because of their faith," Obama said. "That's what separates us from them."
CIA Director Says Paris Attacks Were 'Carefully Planned'
9 a.m. ET Monday
CIA Director John Brennan said that he thinks the attacks carried out Friday night were "carefully planned" over the course of several months and that the massacre was not a "one-off event."
"It is clear to me that ISIL [ISIS] has an external agenda — that they are determined to carry out these types of attacks," Brennan said. He added it is "inevitable" that ISIS and other terrorist groups will continue to attempt to carry out violence, "but, to me, it is not inevitable that they are going to succeed."
ISIS Operator Is Suspected Mastermind Behind Attacks: Reports
9 a.m. ET Monday
Abdelhamid Abaaoud, a Belgian jihadist who once bragged about evading Western intelligence, is believed to be the mastermind behind the Paris terrorist attacks, according to reports. NBC News couldn't immediately confirm the reports, and a Belgian prosecutor declined to validate what he called "rumors."
Abaaoud, 27, is also said to be linked to thwarted attacks on a Paris-bound train and a church earlier this year.
The jihadist "appears to be the brains behind several planned attacks in Europe," a source told Reuters. A French official also told The Associated Press that Abaaoud was likely the mastermind behind the massacre.
ISIS Propaganda Videos Threaten Washington
8:45 a.m. ET Monday
ISIS released propaganda videos Monday congratulating its "brothers" in France for the attacks.
In the videos, the militants urge more violence and say the group will strike America's "center" in Washington, D.C., according to Flashpoint Intelligence, NBC News' intelligence partner.
A senior U.S. official told NBC News that the video hadn't yet been authenticated.
Suspect on Run Was Stopped, Released: French Official
8 a.m. ET Monday
Salah Abdeslam — one of three brothers linked to the Paris attacks — was stopped, questioned and released by officials following the shootings and explosions Friday, a top French official told NBC News. Abdeslam remained on the run Monday.
Abdeslam's name was on rental documents for a black Volkswagen Polo found outside the Bataclan concert hall, where most of the victims were killed. Several witnesses at Paris restaurants that were attacked also said assailants were in a black car.
Guards weren't aware of Abdeslam's alleged involvement and released him shortly after stopping him, the French official told NBC News.
Abdeslam is allegedly the brother of one suspect already in custody and of another attacker who was killed Friday night.
Two Attackers Identified
4 a.m. ET Monday
One of the attackers at the Bataclan concert hall was identified by the Paris prosecutor as 28-year-old Paris-born Samy Amimour. The prosecutor said he became known to anti-terrorism police after trying to travel to Yemen.
Meanwhile, a suicide bomber involved in the attack at the Stade de France was carrying a Syrian passport in the name of Ahmad Almohammad, 25, officials said. It wasn't clear whether the passport was authentic.
Greek authorities said the attacker carrying that passport arrived in Europe on a migrant boat last month. Fingerprints taken at that time by Greek authorities match the fingerprints of one of the attackers at the Stade de France.
On Sunday, a French judicial official identified another suicide bomber as a French national, Omar Ismael Mostefai.
French Police Launch Raids Across Country
Overnight Sunday
French police carried out more than 150 raids across the country Sunday night to find any potential accomplices in Friday's attacks.
Interior Minister Bernard Cazeneuve said 23 people had been arrested — while 104 others remained for questioning — over a 48-hour period.
He said guns, bulletproof vests and a rocket launcher had been seized.
Vigil Held for American Student Killed in Attacks
8 p.m. ET Sunday
Nohemi Gonzalez was remembered Sunday night at a vigil at her school, California State University-Long Beach.
"She's my little firecracker. She'll always be here. She'll always be in my heart, and I think she's going to be in everyone else's heart, too," Gonzalez' boyfriend, Tim Mraz, said of the 23-year-old.
Gonzalez traveled to Paris for an exchange program in industrial design. She was fulfilling a lifelong dream of studying there.
French Warplanes Strike ISIS Stronghold in Syria
4 p.m. ET Sunday
French fighter jets launched their biggest raids in Syria to date targeting ISIS' stronghold in Raqqa just two days after the group claimed coordinated attacks in Paris that killed 129 people, the Defense Ministry said.
"The raid, ... [which] including 10 fighter jets, was launched simultaneously from the United Arab Emirates and Jordan. Twenty bombs were dropped," the statement said.
The operation, carried out in coordination with U.S. forces, struck a command center, a recruitment center for jihadists, a munitions depot and a training camp for fighters, French officials said.
French Government Calls for More Blood Donations
4 p.m. ET Sunday
French officials said that 9,000 people gave blood on Saturday but that a new drive will be called on Monday. "The level of reserves allowed us to respond to exceptional situation this weekend. Nevertheless, calling for this [new] mobilization for coming days throughout France," the government said in a tweet.
French Interior Minister Says He Will Shut Down Radical Mosques
3:30 p.m. ET Sunday
Interior Minister Bernard Cazeneuve said on French television he will begin the "dissolution of mosques where hate is preached."
Cazeneuve said the state of emergency declared Friday night after the attacks "should allow us to act more rapidly" in the effort to "attack preachers of hate."
False Alarm Causes Scare at Vigil Site
12:45 p.m. ET Sunday
A large crowd of mourners who gathered at the Place de la République panicked and began running and scrambling Sunday evening.
People ran crying and screaming from the square, for unknown reasons, as stores locked their doors about 6:45 p.m. local time.
Police quickly ordered the crowd near the Bataclan Concert Hall — the site of Friday's deadliest siege — to disperse, while sirens blared. Helicopters hovered overhead, and armed police checked the square and the monument at its center before police declared the commotion to be a false alarm.
Shortly after, the spooked mourners reconvened.
FBI Sends 'Small Contingent' to Paris
12:15 p.m. ET Sunday
NBC News has learned that the FBI Counter Terror command and the FBI New York field office have sent a "small contingent" to join FBI legal affairs representatives already in Paris.
The team has been mobilized to help parse what happened the night of the attacks, according to an official FBI document. They are also available to provide other assistance, while FBI special agent bomb technicians and a rapid deployment team are also on standby "ready to assist," the document said.
Officials Call for Increased French and Belgian Vigilance
11:45 a.m. ET Sunday
French Interior Minister Bernard Cazeneuve and Belgian Interior Minister Jan Jambon urged renewed cooperation between French and Belgian police to thwart terrorism.
Cazeneuve encouraged tighter border controls during a news conference. "A great number of those who participated in the attacks were not known to French authorities," he said.
Large Crowd Sings in Paris Square
11:00 a.m. ET Sunday
Hundreds of people gathered at the Place de la République as the sun set in Paris, singing "La Marseillaise" — France's national anthem — in unison.
"Never again, never again this," the crowd chanted in French. "We are not, we are not afraid."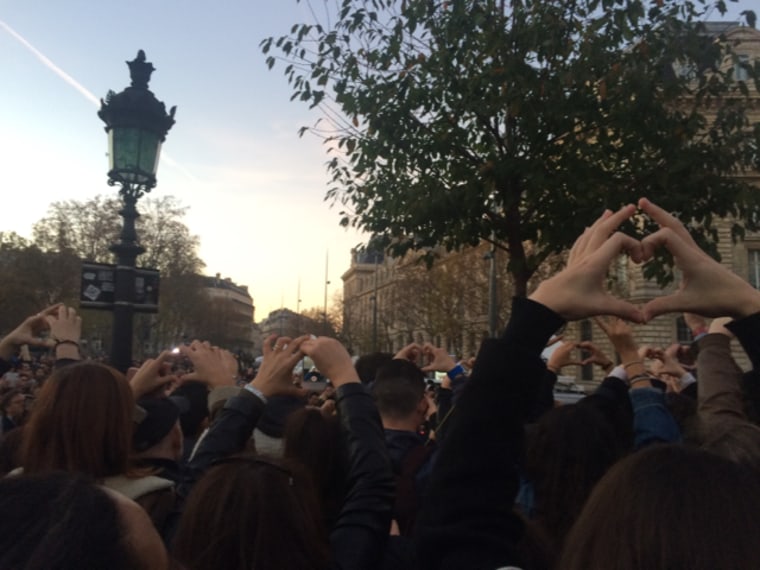 Leaders Hold Minute of Silence at G20
9:34 a.m. ET Sunday
Turkish President Tayyip Erdogan called for a minute of silence in solidarity with Paris at the G20 summit in Antalya, Turkey.
Leaders gathered for the two-day conference on how to stimulate global economic growth, but all discussions were sure to be overshadowed by the attacks on Paris, which ISIS has claimed responsibility for.
"We will redouble our efforts, working with other members of the coalition, to bring about a peaceful transition in Syria and to eliminate Daesh [ISIS] as a force that can create so much pain and suffering for people in Paris, in Ankara and in other parts of the globe," U.S. President Barack Obama told the other G20 leaders.
French President Francois Hollande was due to attend the talks, but he stayed in France as his country grieved.
Europe Ministers to Hold Emergency Meeting
8:45 a.m. ET Sunday
The European Union presidency called an emergency meeting of the group's interior ministers for Friday at France's request to discuss the response to the Paris attacks.
"Confronted with barbarism and terrorism, Europe stands united with France," the EU said in a statement.
The aim is to "strengthen the European response while ensuring the follow-up of the measures taken," the statement added. French Interior Minister Bernard Cazeneuve asked for the meeting, Reuters reported.
Israel Providing Intelligence Assistance to France
8 a.m. ET Sunday
Israel is helping France with the investigation into Friday's attacks by passing along intelligence, Intelligence Minister Yisrael Katz said.
Katz said that France and Israel are in "constant cooperation" but that at the request of Prime Minister Benjamin Netanyahu, Israel "passed intelligence that is relevant to what happened, and we will also deepen the cooperation between the suitable organizations."
Katz wouldn't comment on the nature of the information, but he said it would help France's investigation as well as enable France and other countries to fight "against intentions that are eminent for future terror acts."
Hollywood Stars Express Shock, Outrage
7:55am ET Sunday
Stars at the Governors Awards at the Academy of Motion Picture Arts and Sciences in Los Angeles sent their condolences to the victims and families.
103 Victims of Terrorist Attacks Identified: France PM
6:22 a.m. ET Sunday
By Sunday morning, authorities had identified 103 of the 129 people who were killed, Prime Minister Manuel Valls said.
Some families know their relative is dead but await official confirmation, Valls told reporters after meeting with victims' loved ones.
"They are inconsolable," he said.
Mother and Daughter Pay Tribute, Struggle to Make Sense of Attacks
6:12 a.m. ET Sunday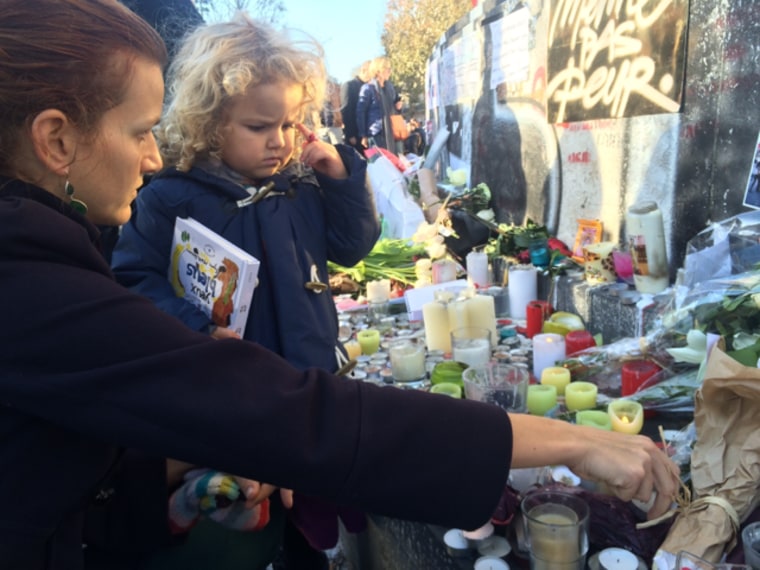 Petra Korosi and her daughter, 3-year-old Lhana, lit candles at Place de la Republique in the French capital.
Korosi said it was important that they come and have Lhana see this — the little girl knows a little of what happened because her parents were out Friday night and were delayed coming home by subway closings.
"My mom told her there were bad men," Korosi said. "She doesn't ask many questions. She's so young."
Related: 'A Bad Man': Amid Mourning, Child Tries to Explain Terrorism
Former President Sarkozy: We Have to Talk About War
5:55 a.m. ET Sunday
Former French President Nicolas Sarkozy, who is attempting a political comeback, said leaders "have to talk about war."
"We must understand that we are at war," the conservative politician said. "We have to accept that there is a risk that such terrible events will repeat themselves and are here to stay.
"Political leaders have to talk about war. 'War' is not a word that we mention lightly.
"We should change our foreign policy, make decisions at European level and drastically change our security policy while respecting our moral values."
Obama: Paris Terrorist Attacks Were Strikes on 'Civilized World'
5:22 a.m. ET Sunday
U.S. President Barack Obama said the coordinated attacks were a strike on the "civilized world" and promised to hunt those behind the violence.
"The killing of innocent people based on a twisted ideology is an attack not just France, not just on Turkey, but an attack on the civilized world," he said in Ankara, Turkey.
"The skies have been darkened" by the incidents Friday, said Obama, who promised to bring more pressure to bear on ISIS and to "bring about political transition" in Syria.
Obama was speaking during a meeting with Turkish President Recep Tayyip Erdogan on the sidelines of the Group of 20 economic summit featuring leading industrial and emerging-market nations.
Race Is On to Find Paris Terrorist Accomplices, ID Attackers
5:03 a.m. ET Sunday
French authorities raced to piece together information on the attackers who unleashed the wave of deadly attacks and to ensure that no potential accomplices were on the loose.
Paris Prosecutor Francois Molins said seven terrorists died Friday. Officials initially said there were eight attackers, as did ISIS, raising questions over whether an accomplice may still be alive.
Molins said at a press conference Saturday that among the dead attackers was a French national who had been radicalized, while the other was a Syrian born in 1990.
'SNL' Tells Paris: 'We Stand With You'
12:43 a.m. ET Sunday
"Saturday Night Live" delivered a message of solidarity to Paris during the cold open of Saturday's broadcast.
"Paris is the City of Light, and here in New York City, we know that light will never go out," Cecily Strong said. "Our love and support is with everyone there tonight. We stand with you."
Strong delivered the message of support in English and then in French.
Superdome Lighted in French Colors; NFL Urges Moment of Silence Before Games
11:05 p.m. ET Saturday
The New Orleans Superdome was among the U.S. landmarks illuminated with the colors of the French flag in a show of solidarity after the terrorist attacks.
The National Football League said Saturday that the league's commissioner, Roger Goodell, asked that a pregame moment of silence be held to honor the victims and families.
The NFL said it has been in contact with the Department of Homeland Security and the FBI and there are no known threats, but there will be increased security at games.
Flags at U.S. Capitol to Fly at Half-Staff
9:25 p.m. ET Saturday
Flags at the U.S. Capitol were lowered to half-staff to honor the those who died Friday and will remain lowered until further notice.
President Barack Obama called the suicide bombings and shootings an "attack on all of humanity and the universal values that we share" and pledged that the United States would provide any assistance that it could to France.
Death Toll in Paris Attacks Likely to Rise, Prosecutor Says
7:44 p.m. ET Saturday
The death toll will likely rise, the Paris prosecutor said.
"Regrettably, this is only a provisional figure which will change, in view of the number of injured persons who are still in a highly critical condition," Paris Prosecutor Francois Molins told reporters.
Molins said 99 of the injured were in highly critical condition.
Two Mexican Citizens Among Those Killed
7:28 p.m. ET Saturday
A Mexican woman was among those killed Friday , the government said.
Javier Duarte, governor of Veracruz state, identified her as Michelle Gil Jaimes from the Gulf of Mexico port of Tuxpan, The Associated Press reported.
Mexico's Foreign Ministry said in a statement that two Mexican citizens were killed, including one who had dual Mexican-U.S. citizenship.
A Mexican official told the AP that person was California college student Nohemi Gonzalez.
Undated ISIS Video Urges Holy War; France Attacks
5:15 p.m. ET Saturday
ISIS released an undated video urging Muslims who are unable to wage holy war in Syria to carry out attacks in France, according to an unclassified FBI document.
"Indeed, you have been ordered to fight the infidel wherever you find him," an unidentified ISIS militant says in the video. "What are you waiting for? There are weapons and cars available and targets ready to be hit."
L.A. Mayor Tweets Condolences to Victim's Family
4:17 p.m. ET Saturday
Los Angeles Mayor Eric Garcetti responded to reports that an American killed in the attacks was identified as California student Nohemi Gonzalez, 23, of El Monte, California.
Gonzalez, who was spending a semester studying at Strate College of Design at California State University-Long Beach, was killed at one of the restaurants struck by terrorists Friday night.
No Reason to Believe ISIS Was Not Responsible: White House
3 p.m. ET Saturday
President Barack Obama convened a meeting of his National Security Council ahead of his trip to Turkey for the G20 summit.
The council told the president that there remains no specific or credible threat to the United States and that U.S. officials remain in contact with the French on intelligence sharing, the White House said.
In addition, the U.S. has no information that contradicts ISIS' claim that it was responsible for the coordinated carnage.
Mourners in Paris Gather to Remember Terrorism Victims
2:50 p.m. ET Saturday
On a somber Saturday night in the French capital, candles illuminated bouquets, notes and trinkets left in the shadow of a cafe that was targeted in Friday's attacks.
Tay Calenda, a 26-year-old photographer, told NBC News that "people are still in shock."
"hey try to understand and wrap their minds around what happened, but it is an unreal atmosphere," Calenda said.
He said the streets in his Paris neighborhood were quiet — except for the wail of police cars — as people came in waves to pay their respects to the dead, to cry and to just be with one another.
British Victim in Concert Hall Attack Identified
2:20 p.m. ET Saturday
The family of Nick Alexander identified him as one of the 89 killed at the Bataclan concert hall, one of six sites where people were slaughtered Friday night.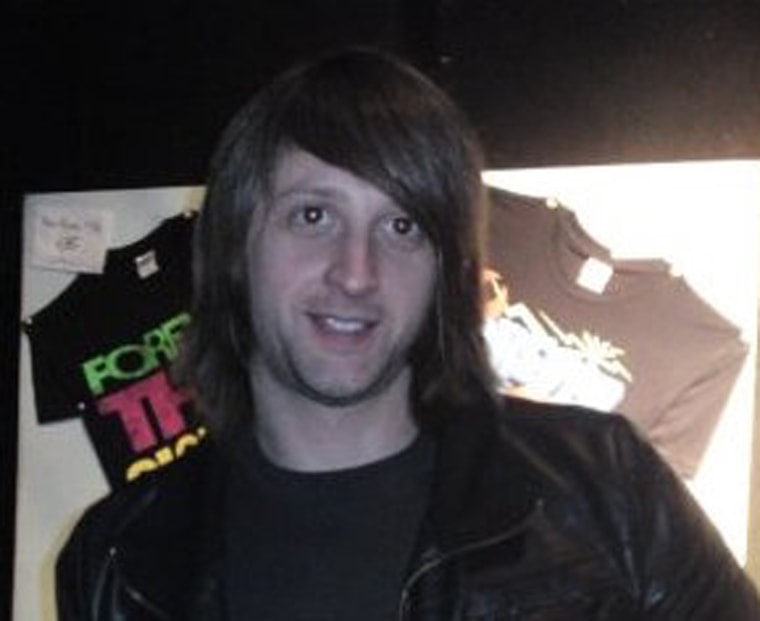 Alexander was at the venue selling merchandise for the band Eagles of Death Metal, who were performing that night, according to reports.
"It is with huge sorrow that we can confirm that our beloved Nick lost his life at the Bataclan last night. Nick was not just our brother, son and uncle, he was everyone's best friend — generous, funny and fiercely loyal. Nick died doing the job he loved and we take great comfort in knowing how much he was cherished by his friends around the world. Thank you for your thoughts and respect for our family at this difficult time. Peace and light."
Eyewitnesses Give Firsthand Account
Saturday
Sebastian, 32, was attending the concert at Bataclan with his friend. The former European magazine editor was standing in the bar area at the back — not far from an entrance — when he heard a sound and saw the flash of gunfire about 40 minutes into the concert by the Eagles of Death Metal.
"I saw the light of the gunfire to my right. It was not far from me and my friend," he told NBC News. "First, we were wondering what it was, maybe an electrical problem or something broken."
"After one or two seconds, people started running to the second exit," he said, although he didn't know that it was an attack on the concert.
"I ran because I saw all the people running fast from the light," he added, referring to the flashes of gunfire. "I understood it wasn't an electrical problem. I understood it was serious. And I didn't have a choice as all the people were pushing" toward the second exit.
Sebastian, who asked that his last name by held because of his safety, said his friend also escaped.
The Paris native says he's fortunate that he wasn't injured — or as traumatized as many of the other concert-goers.
"I'm OK because I didn't see dead people. I just saw two or three people with blood," he said. "They were crying, but they were alive."
British Citizen Confirmed Killed
1:15 p.m. ET Saturday
While the nationalities of all of the victims wasn't immediately clear, the British Foreign & Commonwealth Office confirmed that at least one person killed was British.
Pope Francis 'Saddened' by Attacks
1:05 p.m. ET Saturday
Pope Francis said he was "moved and saddened" by the attacks but confessed that "I don't understand these things. They are difficult to understand, carried out by human beings."
The pope, speaking in a heavy and measured voice, made the comments in a phone call broadcast on the Italian Bishops Conference TG2000.
Asked whether there could be a religious justification for such attacks, Francis responded: "Religious and human. This is not human."
Kerry: U.S. Stands With France to Eradicate Extremism
12:30 ET Saturday
After talks in Vienna, Austria, U.S. Secretary of State John Kerry announced a timetable for a political process to end the war in Syria and fight the "scourge" of ISIS.
He tweeted that the Paris attacks "stiffen resolve to work hard to fight terror."
Kerry has described the wave of violence that bombarded the French capital as "heinous, evil" and "vile," calling it "an assault on our common humanity."
Army Football Team Carries French Flag Into Game
Saturday
When the U.S. Military Academy at West Point football team took the field for Saturday's game against Tulane, the Black Knights delivered a message of solidarity with the French people.
Passport Found at Attack Site Came Through Greece
Saturday
A Syrian passport that was found near the body of an assailant in Friday night's assault shows that the document entered the European Union through Greece last month, a Greek minister confirmed to NBC News.
The passport holder had crossed into the EU through the Greek island of Leros in October, Citizen Protection Minister Nikos Toskas said.
"We do not know if the passport was checked by other countries through which the holder likely passed," Toskas, who is in charge of police forces, said in a statement first obtained by The Associated Press and Reuters.
Paris Stock Exchange Will Operate Normally Monday
Saturday
Euronext, which operates the Paris stock exchange, announced that markets will resume normal operations next week.
"Our priority is the safety of our staff and there will therefore be extra security in place in Paris on Monday," Euronext said in a statement.
New York Steps Up Security
New York Gov. Andrew Cuomo said several agencies have been put on a heightened state of alert following Friday's carnage.
With New York City a major terrorist target, additional personnel are being deployed to high-density areas and large public gatherings, Cuomo said. He added that it is a precautionary measure and not based on any specific intelligence.
European Council: 'Good Is Stronger Than Evil'
11 a.m. ET Saturday
The European Council, which is made up of the heads of the European Union nations, released a joint statement condemning the attacks. "It is an attack against us all," the council said.
"Good is stronger than evil," the council added. "Everything that can be done at European level to make France safe will be done."
Foo Fighters Cancel Rest of European Tour
10:20 a.m. ET Saturday
Foo Fighters said in a statement that "it is with profound sadness and heartfelt concern for everyone in Paris that we have been forced to announce the cancellation of the rest of our tour."
Foo Fighters, led by Dave Grohl, were to have played Monday at the Accor Hotels Arena in Paris and in Casalecchio Di Reno, Italy, on Friday; other canceled shows include stops in Turin, Italy; Lyon, France; and Barcelona, Spain.
The band's decision comes after Irish rockers U2 said they were canceling their concert in Paris on Saturday. The show was to have be carried live on HBO.
U.S. Embassy Cautions Americans in Paris
10 a.m. ET Saturday
"We strongly urge U.S. citizens to maintain a high level of vigilance, be aware of local events, and take the appropriate steps to bolster their personal security, including limiting their movements to essential activity," the U.S. Embassy in Paris said in a warning.
Paris Mayor Visits Near Scene of Attack Site
Paris Mayor Anne Hidalgo visited the area near the Bataclan concert hall. She and a small entourage pushed through a crowd of reporters before she made her way down a closed-off street leading toward the venue.
The mayor also tweeted that the lights of the Eiffel Tower will remain turned off in mourning for the victims.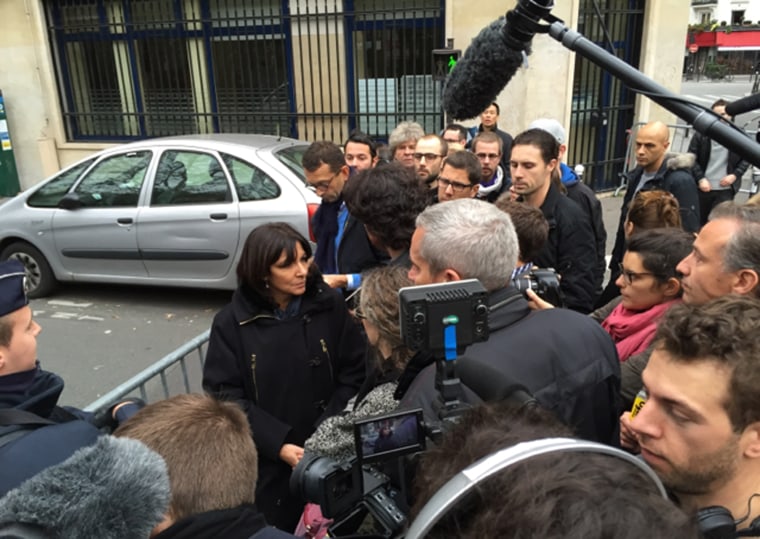 Parisians Come Together to Mourn
Saturday
The people of Paris remained defiant in the aftermath of the deadly terrorist attacks, saying they would not cower.
Less than 24 hours after the bloody spree through the French capital, Paris was in mourning — but determined to carry on.
"I'm very sad — I have a lot of rage and hatred," said Maurice Mellul, who came to lay flowers outside the Bataclan nightclub.
Meanwhile, U.S. Defense Secretary Ashton Carter said he spoke on the phone with French Defense Minister Jean-Yves Le Drian, a Pentagon statement said. It added that the United States was "committed to helping France in any way" and that the two would remain in close contact.
John McCain: 'This Is an Act of War'
Saturday
Sen. John McCain, R-Arizona, released a statement backing French President Francois Hollande's call to be "merciless" against the terrorist attackers.
"President Hollande is right: This is an act of war, and America must treat this attack on one as an attack on all," McCain said.
How to Help Victims of the Attacks
For those looking to make tangible contributions to organizations providing resources and support for those affected by the deadly events, there are several charities and other means of sending assistance.
Aid groups such as the Red Cross are helping people on the ground, while people are offering assistance to stranded travelers on social media through the hashtag #PorteOuverte, which means "open door."
Read more at TODAY.com for ways to help.
Survivor Shares Harrowing Details of 'Unfathomable' Scene
Saturday
Charlotte Brehaut, a journalist with France 24, was at Le Petit Cambodge, a Cambodian restaurant in the 10th arrondissement where police say terrorists shot multiple patrons.
Brehaut was in the restaurant with a friend when they heard huge explosions, which she said sounded like fireworks, before shards of glass flew at them. She clutched a woman's hand as the two lay on the floor in a devastating moment.
"As I was holding her hands and asked if she was OK, I looked up and realized she had been shot in the chest and was dying,'' Brehaut told TODAY. "She had a pool of blood around her, and I realized the scale and the severity of the shooting."
2015 a Deadly Year for Terrorist Attacks in France
France has seen an unparalleled surge in deaths from terrorist attacks in 2015, with the events in Paris, as well as the January shooting at the offices of satirical magazine Charlie Hebdo.
Twelve people were killed and 11 others were injured by two Islamist extremist brothers in that attack. The pair also died in a standoff with police.
ISIS Claims Responsibility for Paris Siege
8:15 a.m ET Saturday
ISIS took credit for the coordinated carnage across Paris on Friday night, according to global security firm Flashpoint Intelligence, NBC News' terrorism analysis partner. ISIS has previously threatened France because of its military operations against the group in Syria and Iraq.
A French official close to the investigation confirmed to NBC News that a Syrian passport was found on one of the attackers' bodies.
French President Francois Hollande has vowed a "merciless" response to the deadliest attacks on the country's soil since World War II as a state of emergency remained in effect.