/ Source: Associated Press
PARIS — France's far-right National Front pulled off a historic win on Sunday, topping the vote in the first round of regional elections.
Boosted by voters' fears over the ISIS attacks on Paris last month that killed 130 people and by record unemployment, Marine Le Pen's anti-immigration party secured 27.96 percent of the vote nationally, the interior ministry said, with over 98 percent of votes counted.
The National Front's sweeping gains largely came at the expense of the ruling Socialists of President Francois Hollande.
Sunday's voting was only a first round, and the big question for the Dec. 13 runoff is whether supporters of Republican, Socialist, and smaller candidates will rally together to keep the National Front from winning control of any of France's 13 newly drawn regions.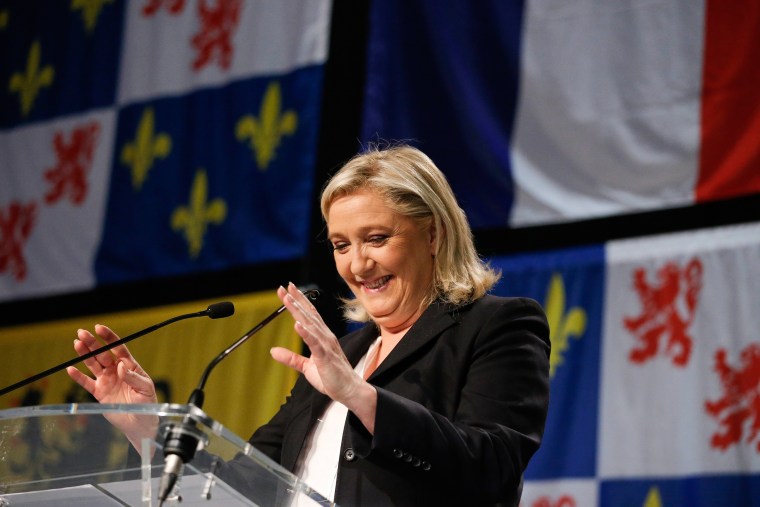 Long considered a pariah, the National Front has never had such significant political power. It is hoping the regional elections will consolidate political gains Le Pen has made in recent years, and strengthen its legitimacy as she prepares to seek the presidency in 2017.
The National Front denounces Europe's open borders, what it calls the "migratory submersion" and what it claims is the corrupting influence of Islam on French civilization.
The National Front "is the only (party) that defends an authentic French republic, a republic with only one vocation: the national interest, the development of French employment, the conservation of our way of life, the development of our tradition and the defense of all the French," Le Pen said Sunday night in Lille.
Le Pen is campaigning to run the northern Nord-Pas-de-Calais-Picardie, which includes the port city of Calais, a flashpoint in Europe's migrant drama.
Related: French Military Enrollment Triples After Paris Attacks
Her young niece, Marion Marechal-Le Pen, is running to lead the southern Provence-Alpes-Cote d'Azur region. Projections showed the National Front lists with around 40 percent first-round support in both regions, a good 15 percent ahead of second-place Republicans.
French regions rule over local transport and economic development as well as high schools and vocational training, with beefed-up powers after a reform that cut their numbers from 22 to 13.