President Barack Obama on Tuesday said the U.S. stands in "total solidarity" with France in the wake of the deadly terror attacks there and pledged to do more to crush ISIS.
Obama, standing alongside visiting French President Francois Hollande, said the types of attacks that left 130 dead just under two weeks ago in Paris "can not be tolerated."
"This was an attack on our free and open society," Obama said and stressed "Americans will not be terrorized."
"We cannot succumb to fear," Obama said.
As his nation reels from the deadly Paris attacks,Hollande has been on a mission to boost the coalition that's aiming to defeat ISIS in Syria and Iraq. Those efforts have included meeting with British Prime Minister David Cameron on Monday and planned meetings with German Chancellor Angela Merkel on Wednesday and Russian Prime Minister Vladimir Putin in Moscow on Thursday.
"We share the same trust in freedom," Hollande said on Tuesday of the relationship between the U.S. and France.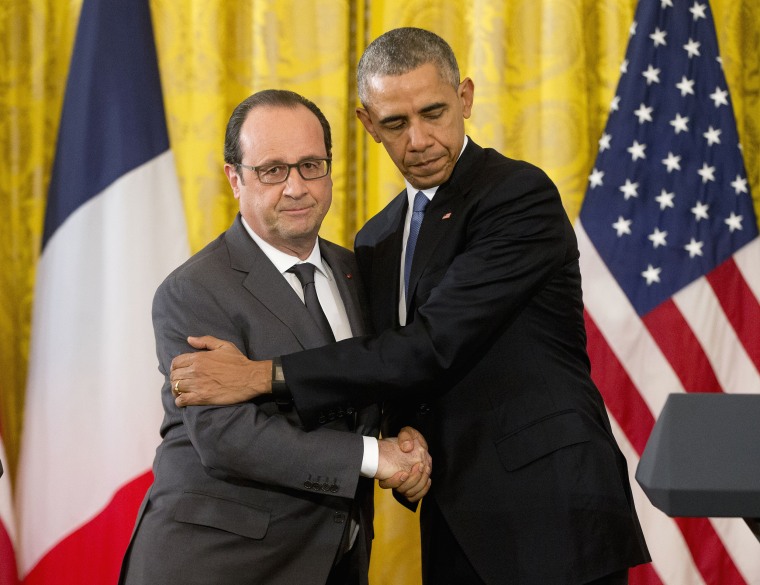 While the two leaders expressed solidarity it was a tete-a-tete further complicated by Turkey's shoot-down of a Russian warplane.
On Tuesday, Obama stressed that Russia could play a role in these efforts only if it is willing to focus on defeating ISIS.
Related: Paris Attacks: Obama, Hollande to Meet to Discuss War on ISIS
The U.S. and Russia have been at odds over Moscow's support of Syrian President Bashar Assad's regime.
The White House asserts that Assad's brutal response to anti-government protests plunged the country into civil war — a protracted bloodshed which has destabilized the region. Russia counters that Assad's leadership is key to regional stability and Moscow's airstrikes were aimed at crippling ISIS fighters, not anti-Assad rebels.
"Hollande needs to try to create a reasonably coherent coalition to fight ISIS, and even though the U.S. and Russia are stuck on the Assad issue," said Nina Khrushcheva, dean of the New School's Milano School of International Affairs. "I imagine Hollande hopes to convince the two to partner with France even if they can't partner with each other."
Hollande's meeting with Merkel may also prove beneficial in that the German chancellor could potentially influence Putin's position on Assad, Khrushcheva said.
Cameron announced on Monday that he will ask the British parliament for approval to begin bombing ISIS targets in Syria. Last week, in an operation that was in coordination with U.S. forces, French fighter jets launched a series of airstrikes on ISIS targets in Syria — efforts that came just two days after the terrorist group claimed responsibility for coordinated attacks in Paris.
Still, Hollande may not get the kind of support he's seeking, foreign policy experts said.
"While the outward appearances will be of two allies aligned in the fight against [ISIS], behind the scenes France will actually be the more aggressive and the more committed to bringing the fight to the terrorists," said David Rothkopf, a former Clinton administration official and editor of Foreign Policy Group, a collection of foreign policy publications. "The recent attacks in Paris has only heightened their resolve, but they have been more forward-leaning on these issues throughout the Obama administration."
The two leaders' goals are further complicated by domestic politics.
While France has pledged to accept 30,000 more Syrian refugees over the next year, the Obama administration has faced strident pushback over plans to accept 10,000 Syrian refugees over the next fiscal year.
Related: Lawmakers Blast Syrian Refugee Resettlement Program
Hollande's popularity has increased after the attacks and he is being hailed for helping to reinforce the push against ISIS.
The Obama administration has long been under fire from some lawmakers in the U.S. who have criticized the strategy in Syria as failed policies lacking cohesion and the approach toward fighting ISIS as ineffective.
The administration has pushed back against that criticism saying, as White House Press Secretary Josh Earnest told reporters on Monday, "I certainly wouldn't rule out that there might be additional resources that are contributed by the United States. But when you consider the range of elements to our strategy, it's clear that the United States is making significant contributions."