A soccer stadium in Germany packed with thousands of fans was abruptly evacuated Tuesday night because of a "potential threat to spectators," police said.
Authorities, however, cautioned that no explosives were found and no arrests were made as people streamed out of a Germany vs. Netherlands match — the setting of the latest scare to grip Europe following Friday's wave of attacks in Paris.
German Interior Minister Thomas de Maizière declined to detail the threat during a news conference, adding that police "had good reasons" in shutting down the friendly game in the northern German city of Hanover.
De Maizière asked for "trust," saying "some of these answers would unsettle the population, some of these answers would make our actions in future harder and (...) some of these answers might lead the source of the information not to provide tips to us anymore."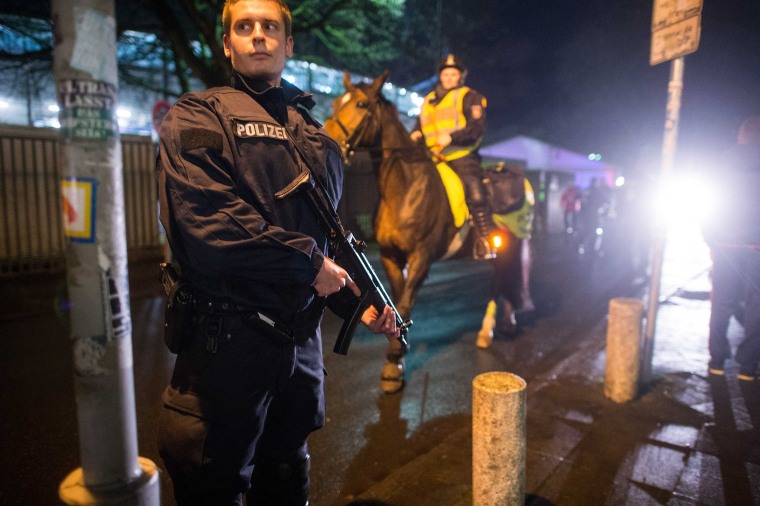 "It would have been irresponsible to let the game proceed," added Boris Pistorius, the interior minister of the German state of Lower Saxony.
The match at HDI Arena was canceled about an hour-and-a-half before it could begin at 7:45 p.m. local time.
Related: Wembley Crowd, Players Sing French National Anthem
Earlier, Germany's Lower Saxony Police Chief Volker Kluwe told the nation's public broadcaster that there was "concrete evidence" that someone planned to set off explosives at the game.
"The visitors (spectators), who were already in the stadium at that time, were asked to leave the stadium without panicking," police said in a statement.
Sports commentator Jeroen Grueter told NBC News that he arrived at the stadium early to prepare for the game, which was set to include German Chancellor Angela Merkel and other dignitaries watching from the stands.
A message came over the loud speaker asking people to "evacuate really quickly" and "move from the premises straight away," Grueter said. He estimated about 7,000 to 8,000 people were already in the stadium, but left without panicking, although some people became emotional.
"Some people were crying," he said.
Meanwhile, another stadium in Hanover was evacuated Tuesday as a precaution as concert-goers waited for the band, Soehne Mannheims, to play, according to The Associated Press.
Security measures remained tight in Germany following the Paris attacks that took at least 129 lives and wounded 350 others. ISIS has claimed responsibility for the bloodshed, which involved at least seven suspected terrorists, all of whom died at the scene, police said.
Related: U.S. Eyes Travel of 800 Potential 'Foreign Fighters'
The German team was playing France at the crowded Stade de France stadium when the coordinated massacre across the capital occurred.
Police are searching for one accomplice and a second fugitive believed to be directly involved in the carnage.