On the night he became an accidental French national hero, Salim Toorabally's daughter warned him to be "extra careful."
Toorabally said she was worried because an earlier bomb scare had forced the German team facing off against the French team at the Stade de France to evacuate their hotel. And this was his first time working security at the stadium, located in the Paris suburb of Saint-Denis.
"Okay, I will be (careful)," Toorabally recalled telling his daughter Yza, in an interview with NBC News on Monday.
And because he was careful, Toorabally is now being hailed as a lifesaver for preventing a suicide bomber from getting inside the stadium where French President Francois Hollande was among the thousands in the stands.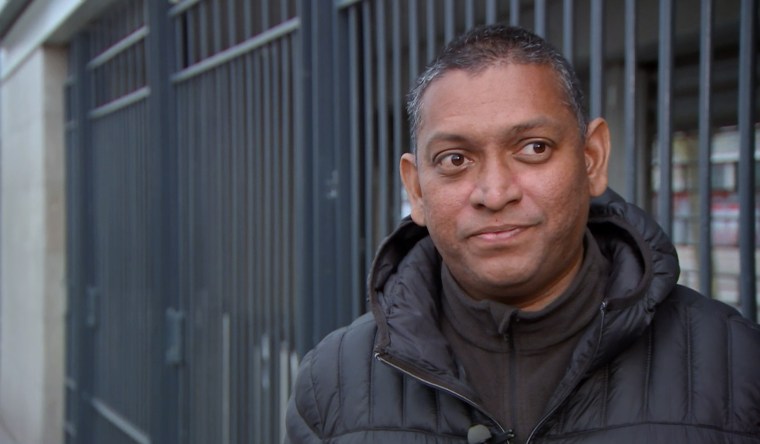 Toorabally, a 42-year-old Mauritian immigrant and devout Muslim, insists he's no hero.
"I was just doing my job," he said in French through an interpreter.
But the hard-working dad admitted that he was still rattled by his brush with baby-faced Bilal Hadfi, who killed himself on Nov. 13 when he detonated his suicide vest outside the stadium — but not the hundreds he was hoping to slaughter.
"I still hear those two explosions ... boom, boom," he said. "It stays with me. You could smell the explosion. The air was burning."
Toorabally, who works for an outfit called Maine Securite, said he was manning a turnstile at Gate L when a young man in a dark jacket tried to follow another ticket-holder inside.
"He didn't have a ticket, so I stopped him," he said. "I said, 'If you don't have a ticket, I'm not letting you in.'"
Toorabally said the man insisted he was meeting a friend inside who had a ticket for him. But the guard would not budge. He said he never laid a hand on the young man and described his behavior as "very strange."
But the intruder would not take no for an answer.
Toorabally said when he spotted the young man trying to pull the same stunt at another turnstile, he walked over and warned the guard at that spot not to let him in.
A few minutes later, Toorabally said he heard a blast.
"I felt the explosion right in the heart," he said. "I knew it wasn't fireworks coming from inside the stadium. But I didn't see anything happening in the streets."
Then was a second blast, even more powerful than the first, he said.
"It was like a volcano erupting," he said. "And I was really scared."
It was the start of a night of terror that left more than 100 people dead across the City of Lights and has shaken France to the core.
In the terrifying hours that followed what wound up being three explosions outside the stadium, Toorabally said he went to aid the guards who had been wounded and helped evacuate hundreds of people.
He said that later, when he was questioned by cops, almost as an after-thought he told them, "As a matter of fact, I stopped a guy who was trying to get into the stadium."
"I didn't pay attention to this clothes, but I got a good look at his face," he said.
It was only when police showed him a photograph of Hadfi that Toorabally realized how close he had been to death.
"I saw this man alive," he said he told police.
Toorabally said he will "never" forget Hadfi's face.
"I could have been a victim too," he said. "And there could have been hundreds more killed too" at the stadium.
Asked how it felt to be back at the scene of the crime, Toorabally looked stricken.
"Shocking," he said. "My stomach doesn't feel good."
Referring to Hadfi as a "kamikaze," Toorabally said he never imagined Paris would be targeted like this by terrorists.
"For me, kamikazes are in Syria, but never at home here, never in Paris," he said.