If there are any bad seeds among the Syrian refugees coming into the United States, we will weed them out, Secretary of State John Kerry told NBC's Lester Holt on Tuesday.
'"We have a very capable ability" to vet any migrants coming into the U.S." Kerry said. "I just think people shouldn't be hysterical here."
The Obama administration's plan to accept 10,000 Syrian refugees has come under scrutiny following the terror attacks in Paris. Officials have said a Syrian passport was found near the body of one of the suicide bombers at the State de France, the national sports stadium.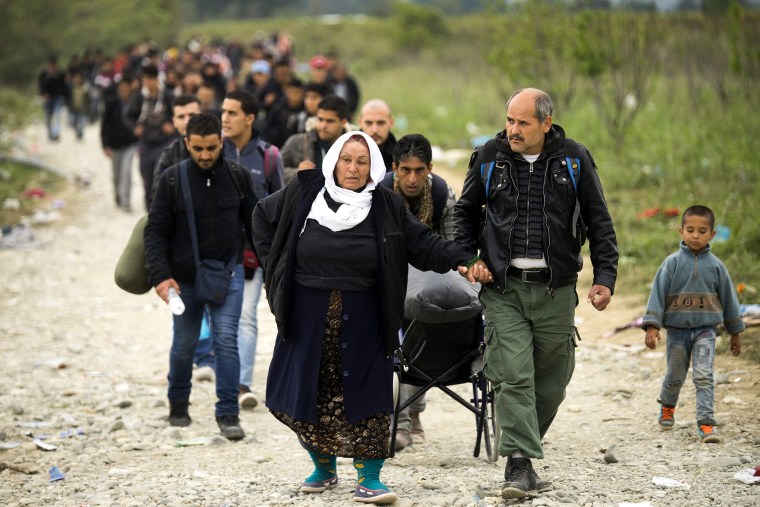 At least two dozen governors have said they do not want Syrian refugees to resettle in their states, citing fears of terrorists infiltrating America and wreaking more deadly havoc. President Obama on Monday pushed back against critics, saying that "slamming the door in their (refugees') faces would be against our values."
Kerry on Tuesday defended the U.S. screening process.
RELATED: Chorus Grows to Halt Syrian Refugee Resettlement in U.S.
"Since 9/11, we have allowed 785,000 refugees to come to the United States of America," he said. "Out of the 785,000, 12 people were found to perhaps be problematic with respect to potential terror, and they were arrested or deported."
"Do we need a process which is careful and deliberate and competent and guarantees that we know what we're doing? Of course. And that's exactly what we've been growing ever since 9/11."
Kerry also heaped scorn on the governors — mostly Republicans — who have vowed to bar any Syrians from their states.
"I think we've got to not run off, you know, half-cocked here in an early stage," he said. "I think it's appropriate for a governor to stand up and say I want to make certain, I want to protect my people," he said. "I think we have to be thoughtful about this, Lester, and I hope the that people will step back and think hard about how we can do this in a way that can keep faith with America's values as a nation."
The Syrians, Kerry said, are fleeing terrorism themselves.
"People who are under siege in a way that these folks have been under siege deserve more than a big closed door shut in their face," he said.
Kerry said he was shocked but not surprised by the bloodshed in Paris.
"That's why terrorists are called terrorists," he said. "They spread terror. They're trying to sew fear and intimidate people."
Asked about the most recent ISIS video saying that Washington is in their sites, Kerry said the Obama administration has long been operating under the assumption that the nation's capital and other key cities like New York are targets.
Kerry also pushed back against GOP charges that President Obama's ISIS strategy has been a failure, noting that ISIS now controls 25 percent less territory in Syria and Iraq. He said the answer is not American boots on the ground.
"We need people on the ground who live there, who are prepared to take back their communities," he said. "And working with us."
With Belgium now believed to be the breeding ground for the Paris terror attacks, Kerry said it"s "up to Europeans" to figure out a way of containing the terrorist threat within their open borders. He said both Russia and Iran also need to be part of the battle against ISIS.
"Which is why President Obama licensed me to make a special effort with respect to the political track we're on now to bring the countries together, including Iran and including Russia," he said.